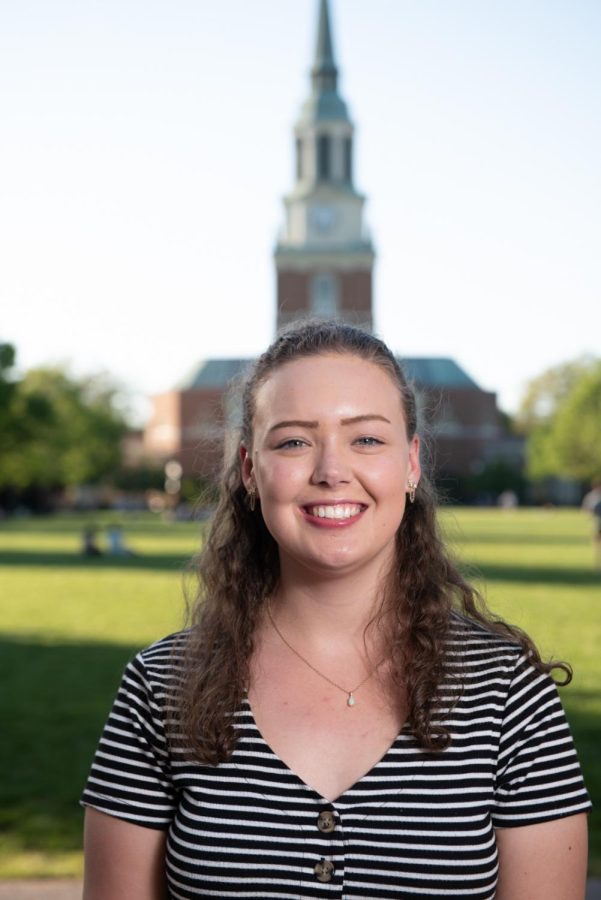 Business and Enterprise Management: Sarah Gerlach
If you could be a Renaissance person or a specialist, which would you choose? On one hand, you could perform many tasks well, or you could excel at only one task. Sarah Gerlach doesn't want to choose. She wants to be a jack of all trades in a niche field, which she has achieved by exploring the wide world of business through a German-speaking lens.
As Gerlach spoke about her two academic loves — marketing and the German language — she smiled from ear to ear.
"My internship over the summer was marketing," Gerlach said. "I basically did a project on the German translation of [Dimensional Fund Advisors'] website, and I tried to advocate for more translation."
She continued: "Because of that, I got to talk to people in Berlin. I got to present to people in London. My end goal is to either have daily communication with people in Germany or liaison between [Germany] and headquarters or move [to Germany]."
Gerlach's love for the German language and interest in marketing have presented her with a unique opportunity in the business world in which she can fill a language gap. Gerlach experienced a taste of such an opportunity as a rising junior in high school.
"I had the opportunity to go to Germany for three weeks and work in the marketing department," Gerlach said. "It taught me that I could do both of my passions together."
During those three weeks, not only did Gerlach recognize her ability to pursue her interests in unison, but she was exposed to the versatility of marketing.
"It was a really good opportunity to see how many different kinds of marketing there are, and that's the coolest thing about marketing," Gerlach said. "There's graphic design; there's strategic [marketing]. There's also online marketing; there's internal marketing, and there's experiential marketing. There are all kinds of things, so I think I chose marketing to give myself room to grow."
Dr. Denis Maier in the School of Business gave Gerlach yet another perspective on the intersection of German and business, as Germany is his native country.
"I got a chance to talk to [Maier] a few times in his office," Gerlach said. "We got to talk about all kinds of things, and it was in German sometimes, and that was really fun. That was another example for me of where Germany and business can interact."
Gerlach and Maier's relationship was not only beneficial for Gerlach but allowed Maier to have a tiny taste of home.
"I remember Sarah vividly, not only because she was an excellent student, but also the conversations I had with her," Maier said. "I admired her curiosity to learn about different cultures and her eagerness to find her own path in her life and her career….We spoke in my native language — also a good 'change of scenery' for me."
As Gerlach moves on to her position at Dimensional Fund Advisors in Charlotte after graduation, she will have ample opportunities to continue "to find her own path in life" as she maintains a hopeful outlook.
"I'm really excited to see what sticks and learn new things related to what I'm actually going to be doing and find something that is fulfilling," Gerlach said, "Because nobody wants to be in the dead-end cubicle job. I'm going to try to avoid that to the best of my ability."
She continued: "I think the way to do that is to keep it interesting, keep it exciting and actually like what you do. Hopefully I'll find that and try to do something with that specific job or that industry, whatever it may be."