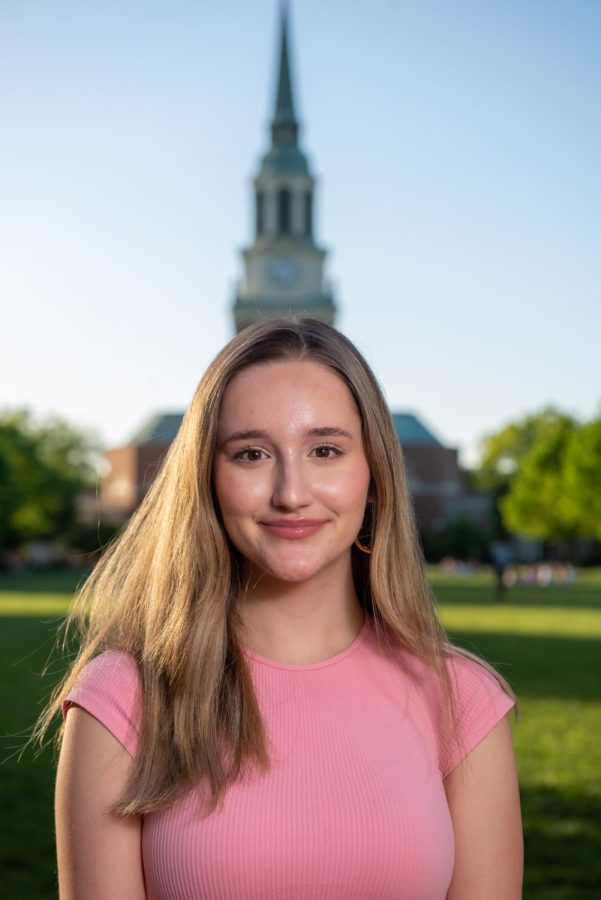 Finance: Lily Farr
Lily Farr, a senior from Charlotte, N.C., is someone who truly made the most of her time at Wake Forest. A finance major with a minor in psychology, Farr has loved learning about and understanding people, an attribute that will serve her well as she enters the business world. 
Math came easily to her in high school, and this made the most sense with the analytics piece of finance. She knew she wanted to be in business before arriving at Wake Forest and took full advantage of all her opportunities. 
"I've just loved the smaller classes," Farr said. "I feel like with a smaller campus, it's easier to make friends, and you know everyone in the class and get to know your professors better, and it's close to home." 
It's the relationship between her and her professors that has had the biggest impact on her time at Wake Forest. 
"In finance you really have to understand the conceptual piece, which sometimes I miss, and it goes over my head in class, and I have to go to my professors," she said.  
Fostering these important relationships in her classes with fellow students and her professors has benefited her throughout her time at Wake Forest. Farr loves to keep it real and is always quick with a joke.
"If the professor likes you, and you're on the edge, they might just bump you up a bit and give you those extra points," she said. 
One of her favorite classes was her finance elective entitled Advanced Finance with Dr. Tilan Tang. The case-based finance course involved looking at different companies and scenarios and analyzing their strategies. 
"They should really change the name, it's kind of pretentious," she said, jokingly. "You look at how companies are being successful or failing, and that just combines everything that I've learned throughout my time in the business school."
As all Wake Forest students can attest, seeing the fruits of your labor recognized after grinding for a midterm or a project is one of the best feelings in the world. For Farr, it's no different with finance. 
"It feels like a marathon, and so if you do well, you invested in this huge project, and it had major returns," Farr said. "Just putting it all together, why accounting was so important, combining accounting and finance really helped me in my internship at Regions Bank this past summer."
Within finance, the career opportunities are challenging, exciting and a little rigorous at times. Farr is sure that finance is a great foundation to propel herself in any direction with her future career. 
After graduating, Farr is taking up a competitive position for young people in business, working as an investment banking analyst in debt capital markets at Regions Bank in Charlotte. 
"The learning curve is about to be extremely steep, and the hours are long, but I'm motivated by the challenge," Farr said. "I'm ready to build up my toolkit, be on more deals and learn from all different kinds of people."