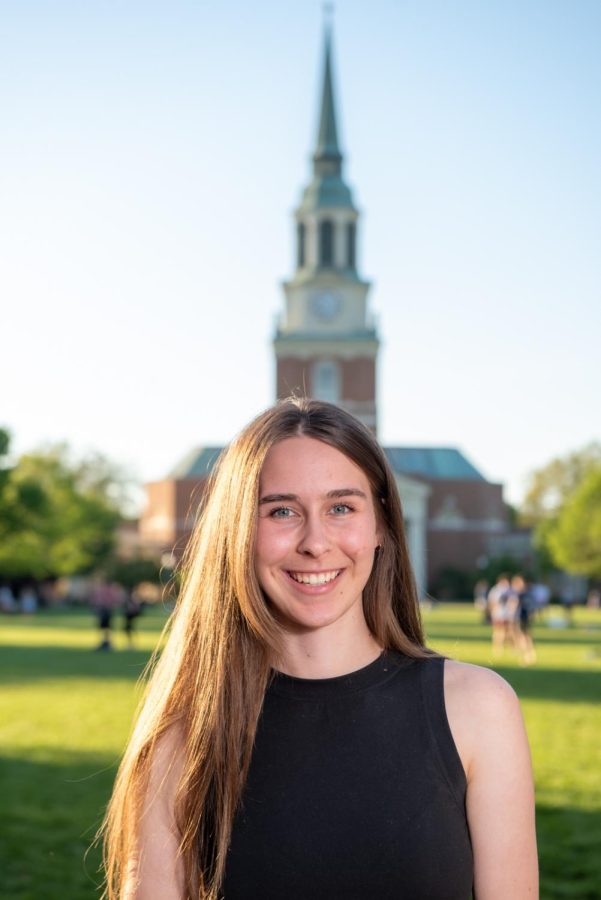 History: Katie Fox
Former Washington Post publisher Philip Graham once said that journalists write the first draft of history. To some, that's just a saying, but to Katie Fox, a history major, editor-in-chief of The Howler Yearbook and former photography editor of the Old Gold & Black, it is a mission.
"It's fulfilling to me both in the short term of being able to tell the day-to-day goings-on of the Wake Forest campus, and then in the long term of preserving what life is like, for history, [that's] super cool," Fox said. 
She said later: "So when I graduate, I'm going to donate a bunch of my photos to the special collections, so that I can continue contributing to that history."
Fox gave the senior oration at Founders Day in February and spoke at length about the view she gained of Wake Forest "through her lens." Fox's first view of Wake Forest, though, was through a lens of doubt.
"When I toured over the summer, my tour at Wake Forest was just aggressively mid," Fox said.
However, despite pouring rain on admitted students day, Fox says she was swayed by the education department's open house. Fox, who is also a schools, education and society minor, wants to be a high school history teacher.
"I knew I wanted to be a high school history teacher, and Wake Forest just had the best program for and a clear pathway set up for doing that," Fox said. 
During her time at Wake Forest, a lot has changed, and a lot of history has been made. In the Old Gold & Black, The Howler and her personal collection, Fox's photos tell the story of a campus navigating the pandemic, protests over interpersonal violence, fertilizer fires and more. In her senior research paper, Fox is incorporating what she has learned documenting this history to analyze the history contained in older editions of the Old Gold & Black and the Howler.
"I'm taking [my research seminar] with Dr. [Mir] Yarfitz, and it's about gender and sexuality in world history," Fox said. "And my world history is a study of how Wake Forest fraternities have perpetuated norms of masculinity. And all of my sources are just the Old Gold & Black and The Howler and then also some Student Government archives and administrative archives."
Yarftiz spoke to Fox's prowess as a historian.
"Even among history majors, her attention to the details of primary sources sets her apart, and she has spent many hours combing through the archives and pulling out significant details," Yarfitz told the Old Gold & Black by email. "This thesis will be of interest to future Wake Forest students, as well as the archivists, librarians and historians who prioritize the maintenance of these records."
In addition to her work in the classroom and her work for The Howler and the Old Gold & Black, Fox also sings in Minor Variation, an all-female, Christian acapella group, and takes photographs for the theatre department. 
"One of the reasons I have found my Wake Forest experience to be so fulfilling is because everything that I do, I deeply care about," Fox said. 
Fox will continue to do work she cares deeply about, as she plans to remain at Wake Forest and pursue a Master's in education.