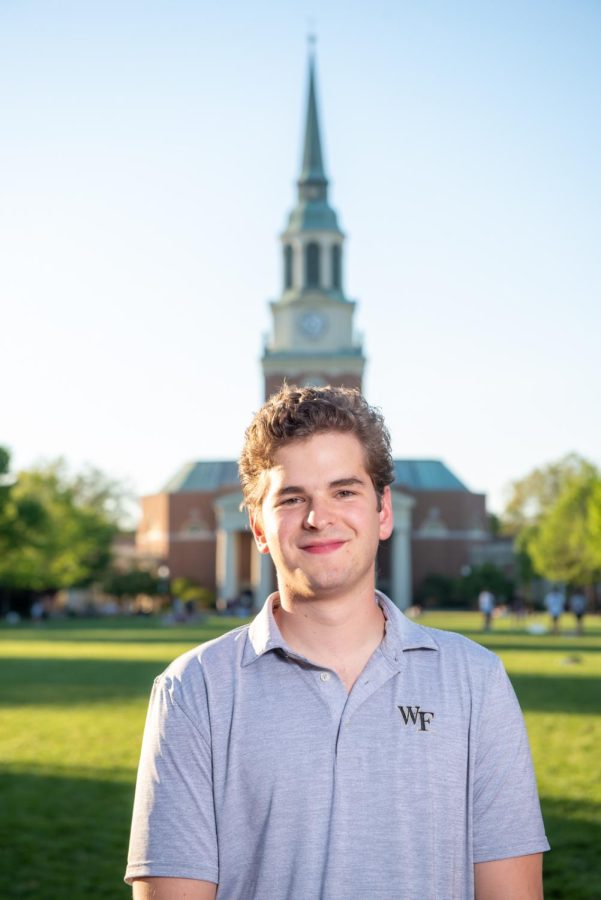 Mathematical Economics: Andrew Keller
Andrew Keller came to Wake Forest with one thing figured out: he definitely did not want to go to the business school. But as for most students who don't know what they want to do, and like science, he found himself pulled onto the pre-med track.
"That dream lasted six weeks," Keller said, all thanks to a class he took his second semester, freshman year, that completely altered his college trajectory. After taking his First Year Seminar, "Philosophy, Politics and Economics," he was able to thread the connection between his interests to major in mathematical economics.
Through building skills in his major, Keller has formed a deep appreciation for mathematical economics. He has enjoyed learning how to solve real-world issues analytically, which has come to the forefront of his academic journey as he started taking higher-level courses — strengthening his commitment to the field. 
Considering that Keller had a multitude of interests coming to Wake Forest, it's the manner in which mathematical economics is able to weave this curiosity into one major that not only drew him in but made him stay.
"Everything in the world is a lot more connected than I've realized," Keller said. "A lot of the things that happen in the business world, the economics world and the politics world are closely linked together."
This open mindset has allowed Keller to juggle multiple possible career paths, and he has not closed his mind off from any opportunity that may come his way. After graduation, Keller will be moving to Washington, D.C. to work in consulting — a city and profession he is hopeful will give him a multitude of exposure.
Keller refuses to wake up and do the same thing every day after graduating, resulting in his aspirations to eventually step into the business world, and who knows what else. 
"I need the ability to hop around from doing thing to thing," Keller said, "and I want to dip my feet into a lot of different pools before committing to a specific career track or specialty." Keller demonstrated his desire to be well-rounded through his extracurriculars as well.
During his time at Wake Forest, he was involved with Intramural sports, the Club Rugby team and Ambassadors in Admissions. Keller was most impacted by being the lattermost, having been on the executive committee for two years and running the organization in the current school year.
"I've really enjoyed getting to meet people from so many different areas of campus life, as well as meeting prospective students and families from across the states and the world," Keller said. His interest in life outside North Carolina has led him to accept the job in Washington D.C.
Although he's nervous to move to a new city, he is hopeful that the experiences he's had at Wake Forest will propel him toward success — specifically his classes with Dr. Fred Chen.
Keller described Chen as being a sounding board during class in a way that allowed Keller to strengthen his own understanding of new topics by using problem-solving skills and persevering with the information given to him. He is grateful to have developed this dexterity because he feels more prepared for post-graduation when he won't have people at every corner to help him.
"When there's no Math and Stats Center, and there's no Writing Center, and [my] first line of defense is 'Oh, I have to figure this out by myself,' that is going to be really helpful," Keller said.