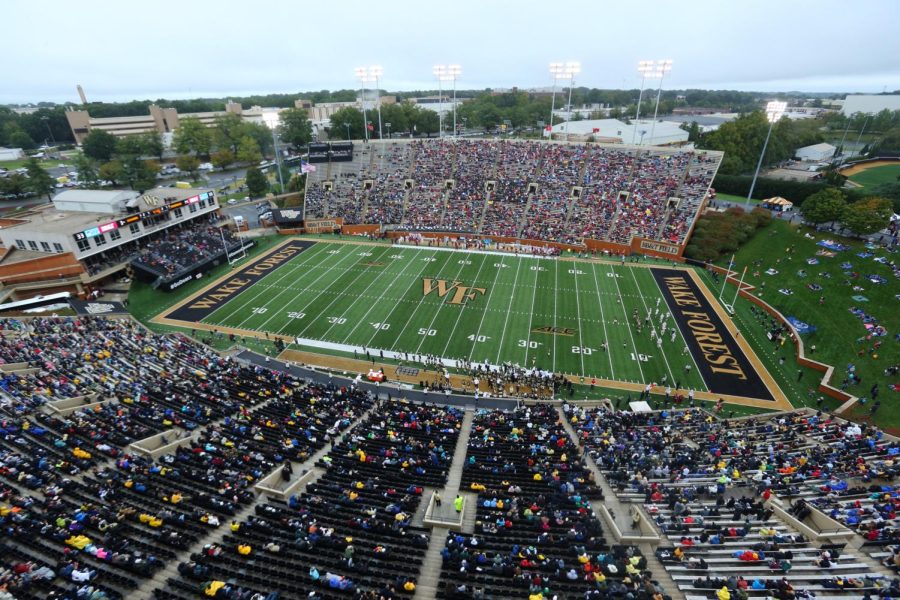 Courtesy of Wake Forest Athletics
Dave Clawson: The Struggle
"When you go from a MAC school like Bowling Green to an ACC school like Wake Forest, you expect all the facilities to be better. And none of it was better." -Dave Clawson
April 7, 2022
When Clawson was hired by Wake Forest, he saw the type of school that fit him as a head coach. It brought him back to his time at Richmond.
"There's a lot of similarities between the challenges at Richmond and the challenges at Wake Forest," Clawson said. "[Both] are small, private academic schools in what was predominantly a land-grant state-school league. We had tougher academic standards than most of our competition and it was more academically rigorous."
For many coaches, those academic standards would be a sour note. But, to Clawson, they were a positive one.
"A lot of [my coaching journey] has been shaped by where I went to school," he said. "[Williams] was academically rigorous, and yet sports was still important. Even though we were Division III, there was an expectation of high achievement in both [academics and athletics]. Those two things were capable of working together."
Because his stops often included schools that valued both academics and athletics, Clawson always looked at Wake Forest as a dream job.
"What Wake Forest did [under Head Coach Jim Grobe] was motivation [for me] that I could do it at Richmond," Clawson said. "I never thought the Wake Forest job would open. Grobe had a great run of success here and he seemed like he was going to be here forever. But it was always a place that I thought if that job would ever open, that would be a place I'd love to be at."
With the desire to coach at Wake Forest in mind, Clawson signed the contract with the Demon Deacons before ever visiting the school. A day after winning the MAC Championship, President Nathan Hatch and Athletic Director Ron Wellman visited Clawson at his home in Bowling Green. 
"[They] interviewed me and offered me the job, and said, 'we want you, but we need to get this thing filled. We're having a press conference tomorrow,'" Clawson remembered.
And so, Clawson accepted the job, sight unseen. He had always looked at Wake Forest fondly, and the opportunity to coach there opened at just the right time. But, for a program that had won the ACC Championship in 2006, the situation in Winston-Salem was surprising and concerning to Clawson.
"The facilities were awful," he said. "I was in shock. [Wake Forest] didn't have an indoor facility. Bowling Green did. The weight room at Bowling Green was far better. Our meeting rooms at Bowling Green were better, our offices were better. I was surprised by how poor the facilities were. When you see how poor the facilities were, you then understand why the football team had struggled."
With the facilities in Winston-Salem being worse than what he experienced in the MAC, Clawson was presented with a challenge. To him, that meant changing the culture, which began with recruiting. Clawson knew that Wake Forest, other than a great education, did not have much to offer at the time. The only other thing he could sell to recruits was playing time.
"We were talent deficient," Clawson said. "Not on defense. The defense we inherited was very good. But offensively, almost our entire offense at Bowling Green would have started at Wake Forest."
That talent deficiency led Clawson to bring players in who would play early and often. Players like John Wolford, Justin Herron and Phil Haynes — all three of whom now play in the NFL. Once Clawson was able to recruit talent, the goal was to make the program sustainable. That meant capitalizing on good times in the program in order to leverage growth in facilities.
"If you look at the history of Wake Forest football, there've been these little blips of success, one year or two years of good seasons, but it always fell right off," Clawson said. "I found that if we could have that one good season, the only way it would be sustainable is if we started building facilities."
It took time for that first good season to come. In both of Clawson's first two years at Wake Forest, 2014 and 2015, the team finished the season 3-9. Despite the poor record, Clawson knew he had a reason to stay in Winston-Salem.
"You know what? It wasn't easy," he said. "We were so young, but even though the record didn't change from 2014 to 2015, we were more competitive and the schedule was harder. We were in more games. We were getting to the third and fourth quarter, and they were still competitive games."
Clawson continued: "We came out of 2015 saying, 'Hey, if we can take that same step and have that same improvement, the goal in 2016 was to get to a bowl.'"
And in 2016, Clawson and Wake Forest did just that, going 6-6 in the regular season, and then finishing the season with a victory over Temple in the Military Bowl. The next year, Wake Forest won seven games in the regular season before taking down Texas A&M in the Belk Bowl. Then, another bowl win in 2018 over Memphis after another seven-win season.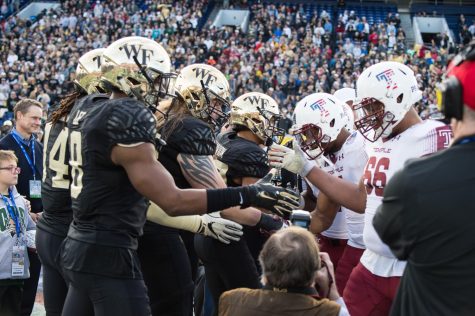 The 2019 season began promisingly for the Demon Deacons as well. The team started the season 5-0, including a primetime victory over North Carolina. But then, injuries set in, and what could have been a special season was not. Wake Forest finished 3-4 over their final seven regular-season games and then lost in their bowl matchup against Michigan State.
In 2020, the band was back together again to finish what they could not the previous season, except COVID-19 had something else to say. For a team that was prepared to make waves, Wake Forest played only eight regular-season games, winning four. A cataclysmic four second-half interceptions from quarterback Sam Hartman led to a bowl loss at the hands of Wisconsin.
But, for Clawson, 2020 was a lost year. The goal was ahead. 2020 was just a part of the process.
"My mind for the team in 2020 was, 'Let's not screw up 2021,'" Clawson said. "We had a chance to be good in 2020, but really good (author's note: one might even say 'great') in 2021. The goal was just to keep the team together."