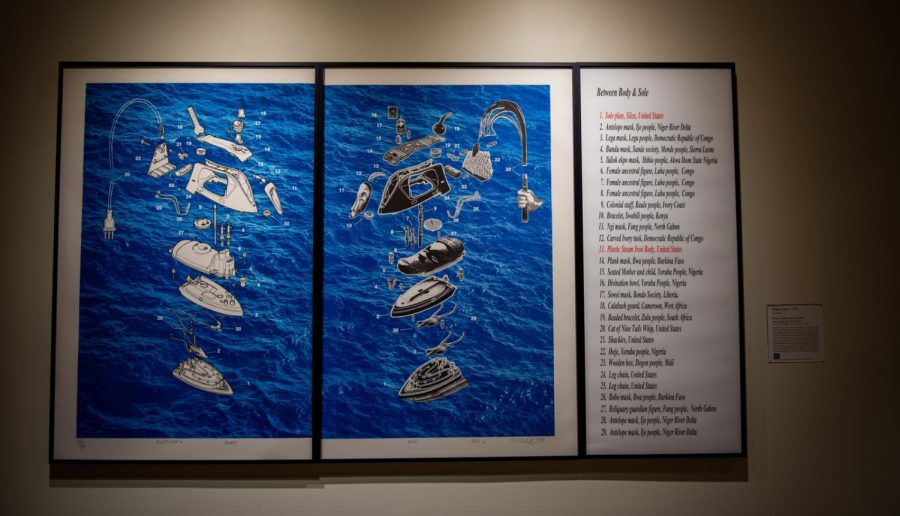 A daily intervention
April 12, 2023
Kayla Amador ('19) was one of those kids who scribbled on the walls. She remembers that, instead of yelling at her, her mother would say "We should take her to art school!" 
So when Amador arrived at Wake Forest, she immersed herself in the arts, taking as many courses as she could and working at the Hanes Gallery in Scales Fine Art Center. Amador went on a buying trip in 2017 as a sophomore, and she continues to work in the arts today as a freelance designer and visual artist. Having been one of the students who purchased art that went to live in buildings like Reynolda and Benson, Amador has thought deeply about the virtue of a work's home. 
"
I really tried to think about who's in different spaces and how the art can have an impact."
— Dr. Jennifer Finkel, University Art Curator
The accessibility of Wake Forest's art collection certainly has its benefits. It's like living in a gallery. Students don't have to drive off campus to experience incredible art. They don't even have to enter a museum, a space that can be off-putting to those who wouldn't call themselves art lovers. The art is where students study, work, eat and hang out. As Amador puts it, "It becomes part of your space, part of your home." 
Dr. Jennifer Finkel, the university's art curator, believes that art can be a "daily intervention in your life." 
"Whether we're going to Benson to study or pick up our mail, or to the copy center, or to get food, or [to] the Women's Center or the Intercultural Center — there could be this moment where you don't have to walk into a museum or a gallery to have an art experience." 
As curator, one aspect of Finkel's job is to decide where the art goes. She gives this great thought, considering who visits spaces the most and thinking about what art they want to see. 
"I think about who's in those spaces," Finkel said. "Who's going to the Intercultural Center? I wanted that to be more like a global representation of international artists, versus the Women's Center or the LGBTQ+ Center focusing on female-identifying artists and other artists. I really tried to think about who's in different spaces and how the art can have an impact."