Savarni Sanka – Spanish
For Savarni Sanka, Wake Forest's 14th Rhodes Scholar and student trustee, studying the Spanish language is both a means to an end but also deeply enjoyable.
"My favorite part of studying Spanish has probably been the geographic diversity," Sanka said. "I've been able to take classes on medieval Spain and also take classes on the Southern Cone. The major just gives you such a variety of options to choose from. And really, you can learn about so many different aspects of the Spanish language and the people who speak it."
Sanka chose to major in Spanish both because she loves it and because it will help advance her career goals of working with migrants.
"Here in the United States, we have a pretty significant population of Spanish speaking migrants," Sanka said. "So I know my learnings will come into good use."
Sanka said that the professor she found to be most influential in the Spanish department was Dr. Sol Miguel-Prendes. The two first met when Sanka sat in on one of her classes as a high school student. Later, Miguel-Prendes taught Sanka's SPA 280 class.
"I was able to take several classes with her and spend a lot of time with her in office hours, and learning from her has been really great," Sanka said. "She's been an awesome friend and mentor and teacher."
Miguel-Prendes, for her part, had incredibly high praise for Sanka. "Having Savarni in class was a joy, and I looked forward to chatting with her in the weekly conferences that she asked me to hold for her to practice Spanish," Miguel-Prendes said. "She is one of the most intelligent, inquisitive and compassionate students I have met, not to mention [she's so much] fun. During our conversations, I learned about all the teaching and volunteering that she had done over the years. She tutored ESL students and taught Spanish. She mentored Syrian refugees and Indian students, too."
Miguel-Prendes also shared a riveting story about Sanka's time abroad.
"After her first year at Wake Forest, she got a scholarship to spend the summer in Nicaragua. A few days after her arrival, violent protests started against President Daniel Ortega. [Sanka] wanted to stay to document the demonstrations but the situation became so dangerous that she was forced to leave the country," Miguel-Prendes said. "She had waited for so long that it was not easy — imagine a petite 19-year-old, alone in a cab taking an hours-long drive through unpaved back roads to skip roadblocks."
Miguel-Prendes recounted that the next semester, Sanka organized a conference on the Nicaraguan protests.
For prospective Spanish majors, Sanka had this advice:
"Take as broad of a variety of classes as you can to get that exposure to different regions and different time periods and learning Spanish in different contexts. The department just has so many great professors that if one [learns from] a lot of different professors, they'll be able to really expand the horizons of their language abilities and their understanding of Spanish and cultures that speak Spanish."
About the Contributor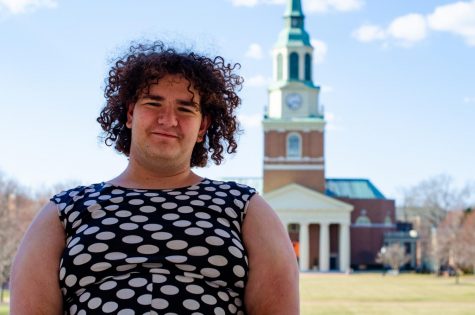 Aine Pierre, News Editor
Aine is a sophomore from Cherry Hill, New Jersey. She intends to major in Classics and Political Science. When not in the OGB office, you can find her...