Winston-Salem Holiday Gift Ideas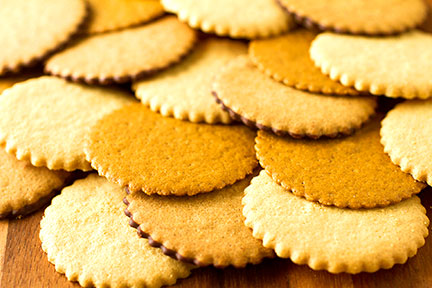 Moravian Cookies
Everybody loves food, especially cookies. One authentic Winston-Salem gift to get your family this holiday season is Moravian Cookies. They come in two basic flavors; Ginger Spice and Classic Sugar, but the Salem Baking Company has added other flavors like Pumpkin Spice and Classic Sugar dipped in mint chocolate. Moravian Cookies are a huge tradition in Winston-Salem dating back to the 18th century when the first Moravians colonized Salem. They created the thin cookies as a way to preserve molasses, allspice and ginger which were delicious ingredients that were also difficult to acquire at the time. Due to the shortage of ingredients and the time it took to roll out the dough, the cookies were only ever made around the holidays.
Krankies Coffee
For the coffee-lover in your family, a bag of locally-roasted Krankies coffee might be just the thing to bring a smile to their face. Krankies sustainably sources, roasts and packages their products, which are sold on Third Street in downtown Winston-Salem. Their beans are roasted in small batches and closely watched to ensure their quality. Winston-Salem locals consider Krankies to be one of the staple businesses in the area, given their quality and consistency."I always get Krankies at the Pit and at Campus Grounds, but I didn't know that Krankies sold small, one-pound bags. A small bag of whole-bean coffee would make a great stocking stuffer," said junior Katie Coleman.
Chad's Chai
Not everyone likes coffee, but do not worry — Winston-Salem comes through with loose leaf tea from Chad's Chai. Their special S'mores blend is a good choice for a holiday gift. A whole-leaf black tea blended with roasted chicory, cinnamon and marshmallow root gives this seasonal release a festive flair. "I love the S'mores blend," said junior Nick Hyman. "It's like a crisp fall night under the stars." S'mores is not the only unique tea blend by Chad's Chai, as they try to "think outside the bag" with each blend. Their Jamie's Grey tea is a black tea with bergamot a twist of lavender, which appeases the traditionalist but also keeps things interesting. While one bag would make a great little gift, Chad's Chai also offers tea samplers that would make a nice bigger gift for one of your loved ones.
Foothills
If you are buying for someone older than 21, you might get them one of the best seasonal offerings from Foothills Brewing — Frostbite Black IPA. This bitter and crisp IPA makes its way out onto supermarket shelves near the holidays and counters the typical spicy and malty Christmas Ales that other brewers release around this time. Unlike other IPAs, this one beckons to be drank very very cold to give it the "bite" that is so refreshing.
Camel City
Another Winston-Salem classic you can bring to your family over break is a Camel City Goods t-shirt. Camel City Goods is a small store downtown that sells Winston-Salem themed regalia. They mainly specialize in t-shirts, sweatshirts, hats and other accessories. The store was established in 2012 out of love for Winston-Salem. There were originally six designs revolving around various Winston-Salem traditions and historical landmarks. Most t-shirts cost $25 and hoodies cost $45.This is not an exhaustive list, there are many more things to bring to your family over the holidays seeing as though there are tons of authentic Winston-Salem presents to give. Whether your family members are into food, coffee or clothes, there are tons of Winston-Salem themed presents that you can bring home for the holiday season.