Welcome to Work Forest, freshmen. Amidst all the new friends, social events and extracirriculars, you will often find yourself needing a place to focus on your classes for an hour … or 10. Luckily, there are plenty of great study spots on campus, and whether you're the type of person who enjoys studying around people or the type that needs complete silence, there's a place for you.
1. ZSR Library
The most traditional of study spots, ZSR Library also tends to be the first one to fill up. Your best chance of finding a table or a desk on the first few floors is to be there very early or very late. If you know a few days in advance that you'll have a long night of studying ahead of you, try reserving a study room at zsr.wfu.edu/studyrooms.
These study rooms are located on the second and sixth floors, and you can reserve them for up to two hours at a time. This is a great strategy for group projects or speeches, if you want to practice reading them out loud.
Story continues below advertisement
If you're looking for a quiet, more secluded study spot, try the sixth, seventh or eighth floors — these are the designated "quiet floors" where the serious studiers are. Also, ZSR is open 24 hours a day during the week, so it's a great place for late-night studying.
2. Coffee shops
If you don't mind the noise, a coffee shop can be a great study spot. There are two Starbucks locations on campus, one in the ZSR Library and another in the North Campus Dining Hall. The North Campus Starbucks is a little smaller, so it likely won't be worth it to walk all the way across campus unless you know that there's an open table. The ZSR Starbucks, though, is filled with lots of comfy chairs and desks, and you'll probably be able to find an open spot somewhere. Campus Grounds is the student-run coffee shop on campus, located in Taylor Hall (the place where you probably bought your textbooks).
Like Starbucks, you can buy coffee here while you're working, and there are plenty of big tables to spread out your stuff, if that's how you prefer to work. Unlike Starbucks, there are couches for when you have a lot of reading to do, and it's generally more quiet.
3. Classrooms
During finals week, classrooms in Kirby, Manchester and other buildings will be left unlocked to provide more study space. This can also be a great spot to practice a group presentation, since you can be loud without disrupting those around you. Classrooms in the basement of Manchester are really big, and rarely fill up, so you will almost always be able to find a place to study here.
4. Top floor of Greene
On the very top floor of Greene Hall, where all the professors' offices are, there are two tables that are open study spots. The sunroof is directly above your head, there is basically no noise and there are at most two or three other people around. If there isn't anyone there, this can be an awesome spot for a multiple-hour study session, especially during midterms or finals week.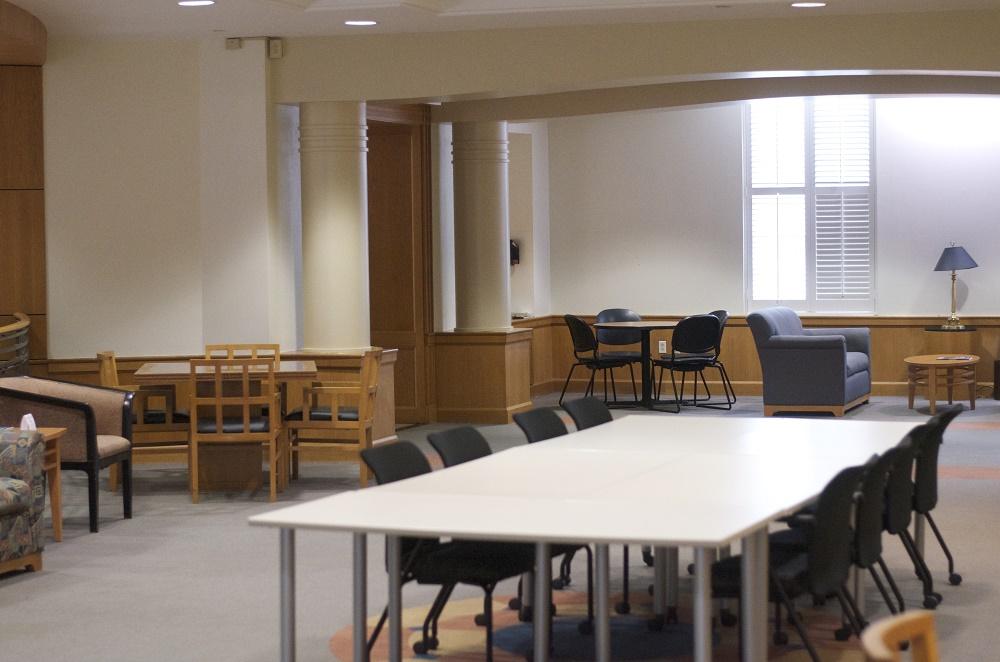 There are common areas in your dorm that can be great places to get work done without straying too far from your room. This is really convenient if you forget notes or a textbook that you need — if you're all the way in North Campus, or even at the library, it's a pain to walk all the way back to your dorm. However, this can be a very distracting place to study, especially if you're friends with a lot of other people in your dorm. It's probably not the best place to work if you have a big test or paper due the next day.
6. North Campus Dining Hall
During non-meal hours, the North Campus Dining Hall is just a giant room filled with tables, chairs and very few people. If you enjoy studying outside, there are tables on the patio outside the dining hall. If you try studying here during lunch or dinner time, though, there won't be any tables open, so plan accordingly.
7. Reynolda Hall
Directly above the Pit is a study room with tables and chairs and couches. There will be people walking through it to get to class all day, but it's generally quiet and easy to focus. Right outside this room, on the outdoor patio, there are tables and chairs overlooking the lower quad that can be great study spots during the warmer months.
8. Benson
There are multiple places in Benson that can serve as great study spots. There are spots right outside the main dining area that provide a lot of room to spread out your stuff, though it's not a quiet place to work.
Right above the dining area, there are more tables and chairs and it's a little more quiet. Finally, outside the post office in the basement of Benson, there are couches,  tables and chairs for studying. It can be quiet here, but if lots of people walking to the post office and back will be distracting to you, this won't be your best choice. However, there will almost always be an open table.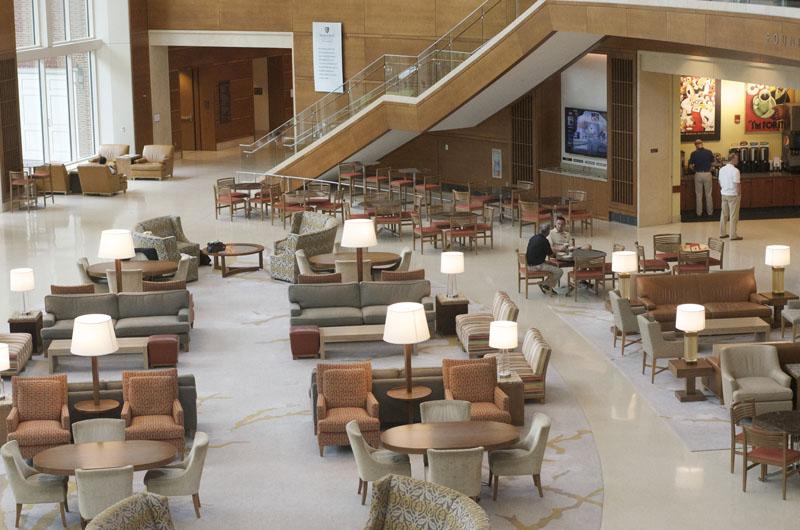 9. Farrell Hall
Finally, Farrell Hall near the North Campus Dining Hall can be a great study location. However, it is often packed because it is the number one study spot for business school students.
Farrell is one of the newest and most beautiful buildings on campus, and it also houses Einsten's Bagel Company. There are tables and couches on the first two floors that are open to everyone, as well as rooms for business school students only on the second floor.
On the top floors, there are chairs and smaller tables that provide a more quiet atmosphere for studying. Additionally, when it's warm out, there are comfy chairs and tables on the porch outside the building that have outlets near them.
Of course, your room will have a desk in it, so you can study there too! However, lots of people get distracted if they try to study in their rooms, especially if they get along well with their roommates. Check out any of these spots and find out which one makes you the most productive student you can be!