When I found out I would not only be living in Bostwick (the second oldest dorm) but also living in the basement (key: it has a funky smell), I dreaded move-in day. I was so excited to start my next chapter at Wake, but not getting the dream room I'd seen over and over on my Pinterest news feed made me nervous.
Yet after living a year in an underground concrete box with a window that had a view of a gutter and brick wall, I can wholeheartedly say I wouldn't have wanted to live anywhere else on campus — even South.
How I personalized my space and the relationship I made with my hallmates is something I wouldn't trade for anything. Adding your personal flair will make your room feel less like a white-walled cell and more like a comfy haven — however, don't expect it to transform overnight. It's a bit of a work-in-progress but to make your planning a little easier, here are some tips to think about as you style your room.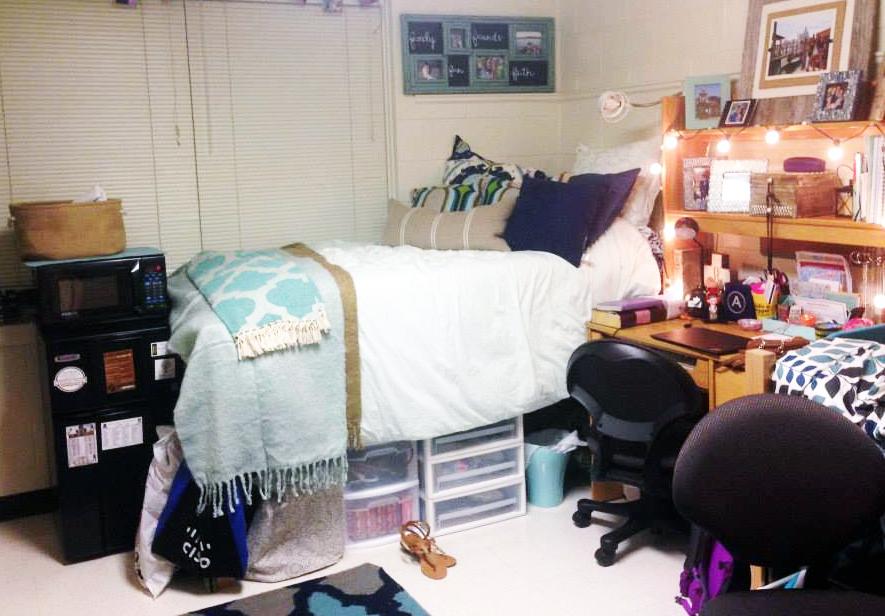 Create a Cozy Bed
Story continues below advertisement
If there's anything you should focus on in your room, it should be making your bed as comfy as possible. Sleep is one of the most crucial elements to surviving college. As you get accustomed to both the workload and social life of Wake Forest, you'll realize that a good night's rest becomes rare. A mattress topper should be at the top of your dorm shopping list. It's one of the simplest but most noticeable things that will make your bed 100 times comfier. Your comforter and pillows also dictate exactly how comfy your bed is. Make sure you choose a comforter wisely since that will be one of the focal points in your room.
"I wouldn't do a white comforter because it's so easy to get a comforter dirty in a dorm room," said sophomore Christina Thompson. "You should do brighter colors in a dorm room since the transition to college can be hard. I get homesick easily, so having a brighter room helped keep me from getting too sad about being away from home."
Room Layout
Take the time with your roommate to figure out a floor plan that accommodates both of you. You want to maximize your amount of floor space, but you also want to make sure everything is accessible.
"Bunking your beds definitely gives you more floor space and works for a lot of people," said sophomore Kate Lair. "However, I couldn't imagine climbing up to the top bunk every night, so my roommate and I put our beds in an 'L' formation to give us more space."
In addition to floor space, you'll also need storage space. Most rooms are pretty small, so closet space and storage can be tight.
"I lifted my bed using the tallest risers I could find," said sophomore Emma Bowden. "That way I could store stuff under my bed."
Rug
Waking up in the morning is hard enough. You definitely don't want that cold tile to be the first thing your feet hit every morning. Rugs are an easy way to make your room feel homier and maybe add a pop of color.
"Rugs are a must-have for your dorm room," said Bowden. "But it will get gross, so make sure to get a vacuum, too."
Lighting 
Let's be honest, the fluorescent overhead light is not the most charming. It also isn't very practical when one roommate is trying to sleep. Look for an alternative light source to brighten your room. Good options are lamps or Christmas lights!
Don't Forget to Make the Room Your Own
Don't get lost in only making your room functional and forget to add your personal touch. The items that are special to you will be what makes the space the most inviting.
"I spray painted a wooden monogram cutout to hang above my bed as a headboard," said Lair. "It really tied my room together because it matched my bedding and it made the space feel homey."
Also remember you always have the power over the color scheme in your room. If you don't like the colors of the walls for instance, find a tapestry you like to cover them.
"I covered my huge, bland bulletin board with a light gray fabric and then I used colorful clothing pins to hang pictures of my family and friends," Bowden said. "This made my side of the room have my personality."
If all else fails, just let your room embody your individuality. Just because Wake Forest is your new home doesn't mean you have to leave your personal style behind. Envision what you want your room to look like and do whatever you can to make it look as close to your idea as possible. If your taste is different from your roommates, just make your side work for you.You might have to get creative, but that will be what makes your room special.