Podcast discusses gender in the workplace
The female CEO of Barstool Sports started a podcast about female leadership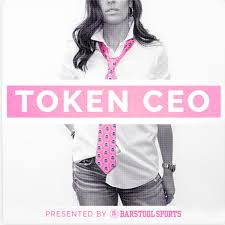 Erika Nardini, CEO of Barstool Sports, offers a glimpse into her life as the first female leader of Barstool Sports with her new podcast, Token CEO. With an impressive business pedigree, excellent sense of humor and interesting insights on the world, Nardini offers listeners an excellent source of entertainment through her new podcast that is worth a listen no matter your interests.
When Nardini first took on the role of CEO at Barstool Sports, the world was shocked. Up until her arrival, Barstool Sports was a notoriously male-dominated company with an often questionable reputation. When she arrived in July 2016, both Barstool's fans and the mainstream media were taken aback by her hiring. Fortune.com titled their article on the move: "Barstool Sports Names New CEO and It's Not Who You'd Expect." Both Nardini and Barstool immediately received criticism for their newfound union as many critics assumed her hiring was just a publicity stunt for the male-dominated company. She was subtly dubbed a "Token CEO" by many in the industry, a jab at both Nardini's intellect and the intentions of Barstool. Instead of being bogged down by this narrative, Nardini, the former Chief Marketing Officer at AOL, let this fuel her. In her time as CEO, Nardini has seen Barstool grow exponentially, helping lead to Barstool's $450 million acquisition by Penn National Gaming. Barstool's employees openly give Nardini raving reviews for both her leadership and intelligence as the company continues to succeed under her tutelage.
When the COVID-19 pandemic struck in March, Nardini was holed up at home just like the rest of us. In her new normal, she decided to take her previously coined title of "Token CEO" and turn it into a podcast. Since March, Token CEO has become a hit show where listeners can go every Monday and Thursday to hear business news, life advice, personal updates and interviews. What makes the Token CEO podcast so great is the way Nardini refuses to shy away from difficult topics in business, politics and life in general. She candidly discusses what it's like to be a female leader in a male-dominated industry through interviews with guests and stories of her own. She also incorporates regular segments about the current state of the business world, offering her view on the markets and latest business trends. Whether it's the latest viral TikTok or the presidential election, Nardini offers her insights on what exactly is going on in the outrageous year that is 2020.
In addition to her own dialogue, Nardini regularly incorporates interviews with fascinating guests into her episodes. While they started out as mostly Barstool employees, Token CEO has quickly invited a wide array of guests to the show. Some of her most notable guests have included A-Rod, Barbara Corcoran and Erin Andrews. While these interviews are enticing, she does not stop with just A-listers, often incorporating interviews with guests like small business owners or her Mom and Dad. She also loves to chime in about the drama of her day to day life leading Barstool and offered impeccable commentary amidst the famous Call Her Daddy drama.
Whether you are looking for a source of inspiration, business news or lively commentary, look no further than Erika Nardini and Token CEO. You will not regret it.