Celebrating 50 years of women's sports
Wake Forest finds new ways to support female athletes after 50 years of women's sports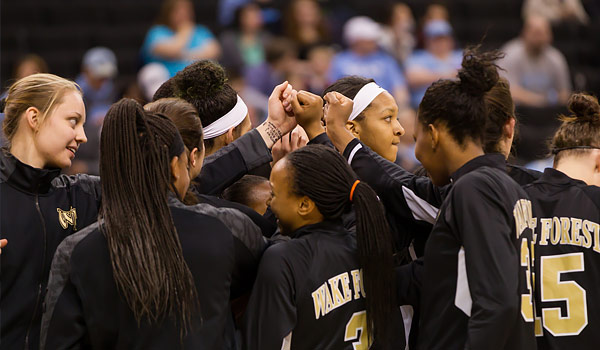 This year marks 50 years of women's intercollegiate athletics at Wake Forest. As the university celebrates half a century of women in sports, organizations across the community look to commemorate the contributions of past female athletes while supporting current women's sports teams.
One way Wake Forest has already focused on uplifting diversity and inclusion is the Women's Center, which opened in January 2013.
The Women's Center has worked to form connections across campus networks and create collaborative projects while developing signature initiatives. The Center has declared its main focus on creating sustainable, measurable programs and services that support the mission of not only the Women's Center but also the university as a whole.
During the 2020-21 academic year, the Women's Center was in contact with 3,348 people through 109 events, and in addition, sponsored 10 student-led programs related to gender equity. In the past six years, the center has increased its location's space and digital footprint by 300%. The Women's Center has resources to support their current work and has made it one of their goals to expand on in the future.
"The Women's Center is proud to support our women athletes through an ongoing partnership with the Student Athlete Advisory Council and our Wake for Women initiative to recognize and amplify women's leadership on campus," Director of Wake Forest Women's Center Stephanie Trilling said.
Current Demon Deacon athletes are doing their part to commemorate this 50-year milestone by dominating in their respective sports. On Oct. 10, tennis doubles partners senior Anna Brylin and sophomore Brooke Killingsworth made history by becoming the first Wake Forest team to win the ITA All-American Doubles Championship.
In soccer, Wake Forest holds a 14-3 record and opened the season with an eight-match win streak. Most recently, the team picked up a 2-1 win against the Pittsburgh Panthers on Oct. 24 to make their ACC record 6-3.
Field hockey has had a less stable season and currently holds a 7-8 record. Ranked No. 17, the Deacs performed well enough against Richmond on Oct. 24 to defeat the Spiders 4-1. Their next matchup is against ACC opponent Boston College on Oct. 29.
Though it's still the fall, the Wake Forest women's golf team, including junior Rachel Kuehn, swept both the team and individual titles at the Ruth's Chris Tar Heel Invite, hosted by UNC-Chapel Hill earlier this month. At the tournament, the Deacs had four players finish in the top 21 in the individual standings and shot a 17-under par 847 total.
The women's cross country team recently achieved their own success, coming in at No. 17 at the Pre-Nationals Invitational at Apalachee Regional Park. Graduate student Carolien Millenaar secured the best finish for the Deacs with a time of 20:36.5, placing No. 43 out of 246 competitors.
Volleyball has had mixed results with a record of 11-10 so far, though they have nearly a month left to improve it. Their next matchup is on Oct. 29 at Pittsburgh.
With all the impressive accomplishments Wake Forest women's athletes have made this season, it's important to remember those who paved the way over the last half-century.
"Wake Forest's achievements in women's athletics include 87 individual and 12 team ACC championships, three individual and three team NCAA championships and 16 ACC Players of the Year awards earned," Director of Athletics John Currie said. "Even more impressive is the character of these women and their impactful and accomplished post-graduate careers."
Currie continued: "The past year has reinforced the value of the student-athlete experience and the power of being a part of something far greater than oneself. With the support of dedicated coaches, trustees, Deacon Club donors, faculty and administrators, five decades of Wake Forest women student-athletes have played a significant role in strengthening our nine intercollegiate teams in pursuit of our goal of a world-class student-athlete experience."