Local communities support Afghan refugees
Winston-Salem organizations work to support the influx of Afghan refugees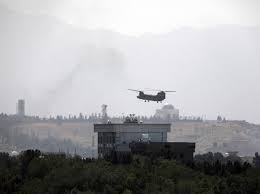 Two weekends ago, a large family streamed off a plane after arriving in Charlotte, N.C. They were refugees from Afghanistan. Tired, relieved and with the loss of home settling over them, they made their way to a car waiting to take them to their new home: Winston-Salem.
World Relief Triad, a branch of a Christian organization that operates in High Point and Winston-Salem, drove the family often to Winston-Salem. The organization provides services including housing, ESL training and community-building to this family, as with 30 Afghan individuals that are expecting to arrive in the coming months.
Hannah Rehm, World Relief Triad's Volunteer Program Manager, noted that though all refugees have different experiences, the loss of home echoes deeply in many of them.
"As a whole, for those individuals coming from Afghanistan, it is not as joyful of a time to be here," Rehm said. "They're obviously thankful and glad to be here, but there is that sense of sadness of having to flee their homes so abruptly. There's the sense that they're losing their homeland and what was important to them. They're having to start over."
In the coming months, Forsyth County will receive even more refugees. Since late September, Afghan refugees have begun trickling into the area, and potentially hundreds more are expected. They are fleeing violence in their home country, where the government collapsed in mid-August. As U.S. troops evacuated the capital of Kabul, chaotic scenes forced even more refugees from a country where war had already displaced millions.
They are not alone. Every year, millions of people flee their homes, as that Afghani family did. Most years, many arrive in Winston-Salem, N.C., seeking refuge in the mid-size Southern city. They come from Myanmar, Syria, Iraq, the Democratic Republic of the Congo and other countries. Arriving in North Carolina, they are helped by government services from the U.S. Department of State in partnership with nonprofit organizations like World Relief Triad.
"Because of COVID-19 and the past [presidential administration], we have not been able to settle as many refugees in the Winston area," Rehm said. "But now, as President Biden's determination has increased and the crisis in Afghanistan unfolds, we are expecting to see a huge jump in numbers of refugees that need resettling."
Though World Relief is by far the largest operation in the Piedmont Triad, others strive to serve refugee populations as well. At Wake Forest, the Student Association for the Advancement of Refugees (SAFAR) works to tutor local refugee children.
Haley Harris is a sophomore politics major who works with SAFAR. She tutors a child from Syria.
"I tutor once a week with one of the families that SAFAR works with at their house," said Harris. "They are so loving, literally my favorite people in the entire world. They have lived here for four or five years. They have five sons, and I tutor the middle child."
SAFAR has recently been able to continue its work in person, according to club president Conor Metzger.
"We work with the refugees in Winston-Salem at the most basic level, which is a sense of community and support on an individual and family basis," Metzger said.
He continued: "We offer a range of services, including tutoring and small-time fundraising. We have a couple of students working with someone, trying to get her into cosmetology school. We have a couple of students helping refugees with citizen tests."
SAFAR has two events planned for November, including a fundraiser for the 30 Afghan refugees World Relief Triad is taking on.
For refugees, SAFAR is another pillar of support in an unfamiliar country and local community. For its members, it is a way to connect with parts of the community not often represented at Wake Forest.
"It is the place on campus that I feel impacts me the most," Harris said. "I get to see the people that I'm working with in their homes. I love tutoring because at the heart of most things is education. Being able to help somebody in that way is really special."
SAFAR works closely with Every Campus a Refuge (ECAR) which is led by Wake Forest faculty. Since 2017, ECAR has operated a house in Winston-Salem for refugees. They work closely with the Wake Forest Provost's office, which pays for rent and other essentials like electricity. The house plays a crucial role in a community with little to no affordable housing, according to Alessandra Von Burg, a Wake Forest communication professor and ECAR's co-founder.
"In Winston-Salem, there is a huge housing shortage, which makes things really tough right now," Von Burg said.
Von Burg continued: "There's no affordable housing, even for those who are not refugees. And refugees, they don't have a credit history, they don't have an employment history."
Across Winston-Salem, other organizations work to support refugees, too. These include religious centers like mosques and churches, as well as other community organizations, like the YMCA.
Ellen Gallimore, the literacy director at the Robinhood Road Family YMCA, manages ESL programs.
"About 50% of our ESL students are Latino, but we also serve a lot of immigrants from Myanmar," Gallimore said. "We're also planning to help the Afghan refugees when they get here."
Gallimore continued: "Of course they'll take the time to settle in before they get ready for classes. We talked to World Relief and said we have the ESL classes here and are willing to start a class just for the Afghan refugees [they are serving] if they have enough students. So, we're just kind of waiting right now to see when they get here."
As more refugees begin arriving in the area, they face a daunting challenge: managing life in a new city with a sparse refugee population, while also learning a new language and culture.
However, the work of these organizations is done with the hope that when refugees step off the airplane and into a brand new country, they can take comfort in knowing that they are not alone and that others are willing to help.