WakerSpace celebrates its third anniversary
In three years, the space has grown to include more supplies and to reach more students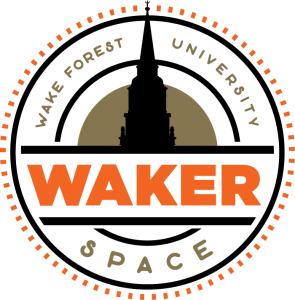 Tucked between Magnolia and Dogwood residence halls lies WakerSpace, a collaborative space filled with creative outlets for WFU students and staff on the Reynolda Campus to use free of cost. On Nov. 18, after a three-and-a-half-year planning process and years of collaboration with departments in diverse academic and administrative departments, WakerSpace celebrated its third anniversary.
WakerSpace has been used by visitors to work on projects which range from podcasts to 3D printing, leatherworking, printmaking and creating jewelry. It is also available for professors to hold class in and has been used for nine classes this year. For instance, sections of the Spanish department have used the Space to create puppets for upcoming presentations. The only rule: if you are in the WakerSpace, you have to make!
As students walk through the doors of WakerSpace, they find that the room is immediately teeming with life: house-made artwork lines the walls, a brightly colored bulletin board advertises the Space's upcoming initiatives and armchairs positioned around a central table provide space for students to socialize and create together.
This sense of community is a pillar of WakerSpace — the program is staffed almost exclusively by student volunteers, who welcome visitors and show them the ins and outs of what the program has to offer. Anyone is welcome to join in – WakerSpace is always accepting new volunteers.
"I enjoy working at WakerSpace because, especially this year, everyone here is really good friends," junior Jazmin Aguliar said. "We have a really good group of people."
The welcoming environment and the wide variety of materials available at WakerSpace is the product of several years of work. The idea for the Space was first pitched in 2014 by a team of Wake Forest students and two employees — Paul Whitener and Sophie Bredice — known as the Technology Innovation Program (TIP).
The concept of the WakerSpace is partially inspired by the "MakerSpaces" that the group studied on college campuses within the ACC and throughout the United States. Vice President of Information Systems Mur Muchane aided in coordinating meetings with the appropriate administrators, and, after the group refined and perfected the pitch, the idea was approved and WakerSpace was born.
"The students did all the work, they deserve all the credit for getting everything up to the administration," WakerSpace Assistant Director Paul Whitener said.
At the peak of the COVID-19 pandemic in March 2020, WakerSpace was one of the few common areas on campus that remained consistently open for in-person visits. While students navigated the transition to online learning, WakerSpace adapted its programs to align with COVID-19 protocols. WakerSpace implemented "Take 'n Make" crafts, in which picked up materials in-person and put the artwork together over Zoom. The space also organized the creation of 5,500 3D-printed facemask clips, which were donated to Baptist Hospital and WFU Student Health Services.
Despite the interruption of COVID-19-related changes on campus — during which the space still saw an average of 14-15 visitors a day — the Space has experienced exponential growth in the number of daily visitors. WakerSpace has also added equipment, including four additional 3D printers, an additional laser cutter and a store-bought CNC router that will debut in the Spring 2022 semester.
"There are so many supplies available in one space — it's amazing," freshman Bella Reyes said.
As WakerSpace continues to grow, the Space's staff hopes to make the facility a more permanent home on campus to accommodate its expanding array of equipment and more frequent visitors. The Space is currently hosted in "modulars," a building created several years ago when six trailers were glued together and occupied by a branch of Student Health Services.
To support students and staff during "finals season" as the semester comes to an end, WakerSpace has organized additional events to promote stress management; notably, the "Art of Relaxation", which will take place on Wednesday, Dec. 8 from 10 a.m. to 3 p.m., will invite visitors to enjoy music and each other's company while working on paintings of their choice. In keeping with the spirit of WakerSpace, the event will be open to all.
"We're very focused on continuing to collaborate with people from every school on campus," Whitener said. "Everyone is welcome at WakerSpace."
Correction: An earlier version of this story referenced current Faculty Director Pete Santago as a founding team member, when it was in fact Sophie Bredice who was on that team.