Beyond excellent, 'Everything Everywhere all at Once' is important
The A24 production's impact on the film industry is pronounced
A24's "Everything Everywhere All at Once" has solidified its place among the best of cinema, sweeping seven Academy Awards at the 2023 Oscars. Claiming Best Picture — along with awards in acting, directing, editing and screenwriting — the movie strengthened its popularity and influence. Grossing $111 million worldwide at the box office, the film is praised for its crossing of genre boundaries. The film has greatly impacted the industry and viewers alike, portraying a diverse and primarily Asian cast at a time when anti-Asian hate has been at a relative high. 
"​​I think what the film portrayed really well is the background setting of typical Asian families," freshman Anita Xu said of the film. "Parents often refuse to communicate with their children about their inner thoughts and emotions."
She continued: "They often blame their children for everything — even blame or insult them for their physical appearance, and very few parents acknowledge and even hate the LGBTQ community, let alone if their own children are members of it. I think the film is very realistic about this kind of f****d up relationship."
There was an eruption of applause when the film was announced Best Picture. Throughout the awards ceremony, the camera centered upon the cast and team of "Everything Everywhere All at Once," who held their hands above their heads in the shape of the infamous bagel — a show of the love and connectedness shared by those who worked on the film.
Michelle Yeoh, star of "Crouching Tiger, Hidden Dragon," won Best Actress, her first Oscar after a long and impressive career. Daniel Kwan and Daniel Scheinert — or "the Daniels," as they call themselves — won both Best Director and Best Original Screenplay for their vision and execution of the film.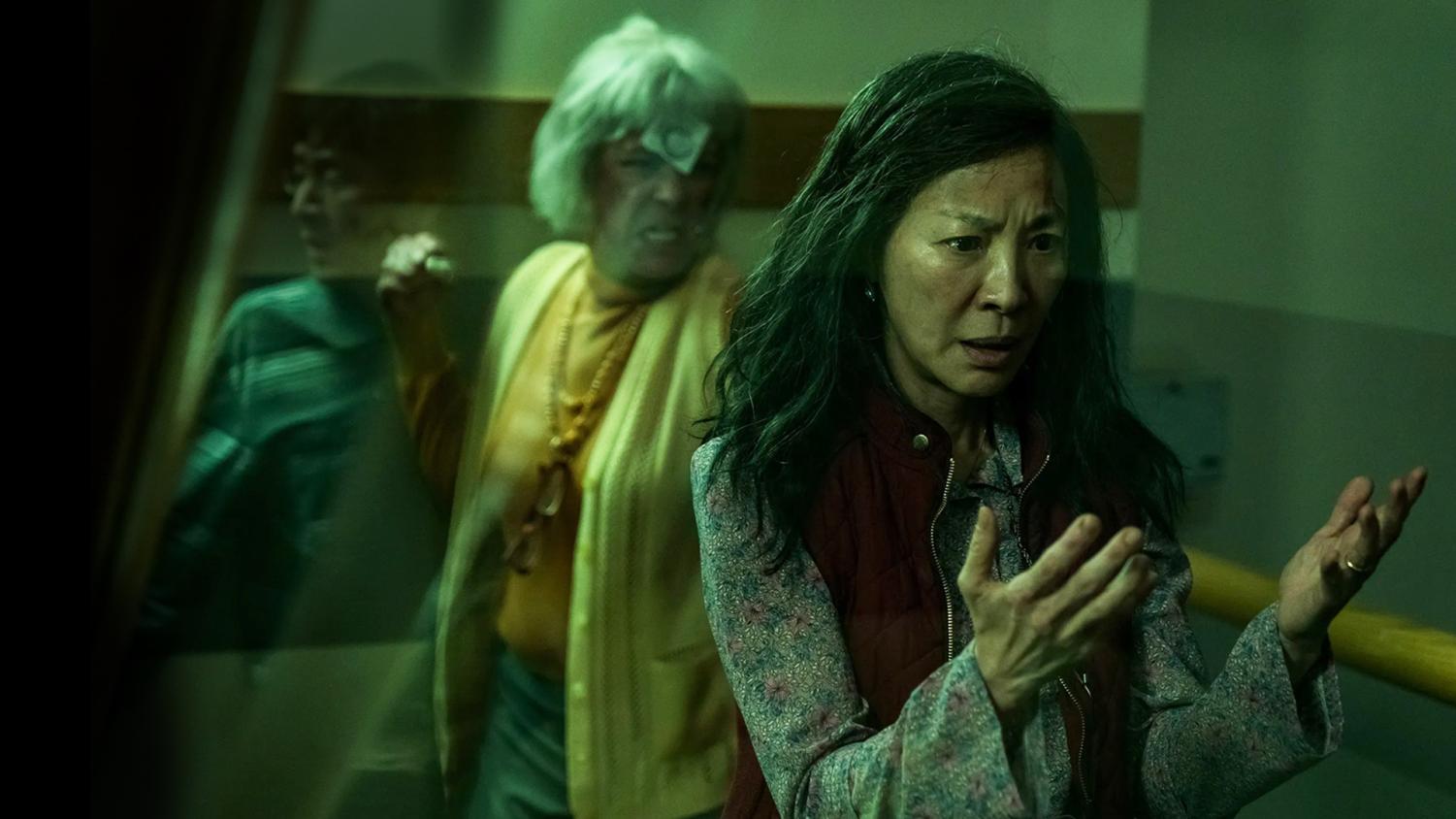 Jamie Lee Curtis, whose long career includes starring in movies such as "Freaky Friday" and "Knives Out," won her first Oscar for Best Supporting Actress, nominated alongside co-star Stephanie Hsu. Paul Rogers claimed Best Film Editing for his work on the action-packed comedy. 
Best Supporting Actor was won by another "Everything Everywhere All at Once" star, Ke Huy Quan, who gained some fame as a child actor for his role in "Indiana Jones and the Temple of Doom" as the titular character's sidekick. In a full circle moment, former Indiana Jones star Harrison Ford embraced Quan after announcing the Best Picture winner. 
The film was nominated for 11 awards in total, including Costume Design, Original Score and Original Song, "This Is a Life" — performed at the Oscars by Hsu and David Byrne in a captivating show just as absurd as the film itself.
"Everything Everywhere All at Once" follows Yeoh as Evelyn Wang, a Chinese-American immigrant who owns a struggling laundromat with her husband, Waymond Wang, played by Quan. Evelyn is in the midst of coping with a failing marriage, her formerly estranged father Gong Gong — played by James Hong — is now living with the family and her rebellious daughter Joy — played by Hsu. On top of all this, Evelyn and Waymond prepare papers for the IRS's audit of the laundromat, meeting with their grumpy auditor Deirde, played by Curtis. 
Suddenly, the film takes a dramatic turn. In order to prevent the destruction of the multiverse by the being Jobu Tupaki, Evelyn must connect with alternate versions of herself in parallel universes to save the world. The world becomes a place where fingers turn into hot dogs, and Evelyn is a martial artist. The film is many things all at once: absurd, comedious, heartfelt, action-packed, vulnerable and exciting. 
"How 'Everything Everywhere All at Once' incorporated so many issues smoothly into one film stuck out to me," junior Annie Phan said. "A dying marriage, financial struggles, language barriers, burdensome expectations, generational differences — I could go on. Nothing felt out of place."
"
Watching it felt healing. Somehow, seeing Evelyn and Waymond express contentment in their lives as it is was both the most beautiful and most saddening moment to have watched.
— Annie Phan ('24)
The budget of $25 million produced incredible results. Filming took place rapidly in only 38 days, and the praised special effects were carried out by the Daniels' team of five artists, working largely on Adobe After Effects. The majority of the fight scenes and stunts, inspired largely by Hong Kong martial arts movies, were performed by the actors themselves, who trained extensively in preparation. 
This film will undoubtedly change the film industry, providing a portrayal of an incredibly honest Asian-American immigrant story. A large Marvel movie-sized budget was not needed to create the magic of the film.
"'Everything Everywhere All at Once' feels sacred to me as a piece of art," Phan said. "Watching it felt healing. Somehow, seeing Evelyn and Waymond express contentment in their lives as it is was both the most beautiful and most saddening moment to have watched. And both because it is something that I, and I'm sure many other children of immigrants, have wanted to hear from their parents our entire lives. To finally hear it — even if it's coming out of a TV from another mother to another daughter — was indescribable."
"For all the little girls and boys who look like me watching tonight, this is a beacon of hope and possibilities," Yeoh said in her acceptance speech for Best Actress. "This is proof that…dreams do come true."
She continued, addressing her character's status in the film as a middle-aged mom who becomes the hero — an uncommon portrayal in Hollywood: "I have to dedicate this to my mom, [and] all the moms in the world, because they are really the superheroes, and without them, none of us would be here tonight. She's 84, and I'm taking this home to her."
The film did not need awards to show its importance and significance to its cast members, directors, crew and adoring community of viewers. But seeing Yeoh at last with a golden Oscar in her hand, the world feels right.