The path to success is anything but simple. At least, that was the case for Notre Dame starting quarterback Sam Hartman.
Hartman, who spent the last five years at Wake Forest, many of them as QB1, announced that he was transferring to Notre Dame back in January. His decision to leave Wake Forest wasn't a shock but still broke the hearts of Demon Deacon fans.
Many thought the 24 year-old was heading to the NFL, but instead, he decided to take advantage of his last year of NCAA eligibility. Financial compensation in the form of NIL money may have sweetened the deal, but Hartman says his main motivation was the opportunity to play for one of the most legendary college football programs of all time.
While Hartman has had plenty of time to enjoy his successes as a Demon Deacon and has so far shown that his starting spot for the Fighting Irish is well-deserved, the native of Charlotte, N.C. has seen his share of difficulties.
Story continues below advertisement
All the leadership aspects, all the challenges you face. Trying to stay on top of school, studying the playbook, staying healthy, trying to lead guys. The spotlight.
— Sam Hartman
"My career was anything but a straight line," Hartman told Wake Forest professor Justin Catanoso's sports journalism class on Monday, Sept. 4 when talking about his gratitude for Wake Forest's continuous support.
He could have been referring to any one of the challenges he faced during his football career in Winston-Salem. From losing his starting position in the 2019 season to a 2022 blood clot that nearly kept him from ever stepping on a field again, Hartman is no stranger to adversity.
Even when he was healthy and playing, the Wake Forest offensive strategy took a toll on his body.
"I would say I don't miss getting hit all the time," Hartman said as he reflected on the differences between the Fighting Irish and Demon Deacon playbooks. "The beating you take in that [Wake Forest] offense is always challenging." 
But the difficulties are more than just physical beatings in the pocket.
"All the leadership aspects, all the challenges you face. Trying to stay on top of school, studying the playbook, staying healthy, trying to lead guys. The spotlight," Hartman gave a glimpse into his juggling act.
These responsibilities are now accompanied by a larger spotlight in South Bend, Ind., home of one of the country's most famous college football teams and most devoted fan base. How could anyone handle the pressure coming from so many different directions?
Hartman found solace in prioritizing his mental health and seeking a therapist. By opening up about his mental health and advocating for more conversation about the topic among athletes, Hartman has shown a vulnerability that is rarely seen among college athletes — football players in particular.
It was when his adoptive older brother, Demitri Allison, took his own life back in 2015 that Hartman started his self-reflection journey.
"It's not always the guy who's sad and upset," Hartman told the class. "It can be the guy who's smiling but who's carrying the heaviest weight on his shoulders, and he's just really good at hiding it. I'm sometimes that person." 
This vulnerability, unfortunately, has given ammunition to those who want to see the quarterback fail. An invasion of privacy occurred during Hartman's last season at Wake Forest when his phone number got leaked. He woke up the morning of the highly anticipated Clemson game to hundreds of messages from fans waging personal attacks on him and his loved ones.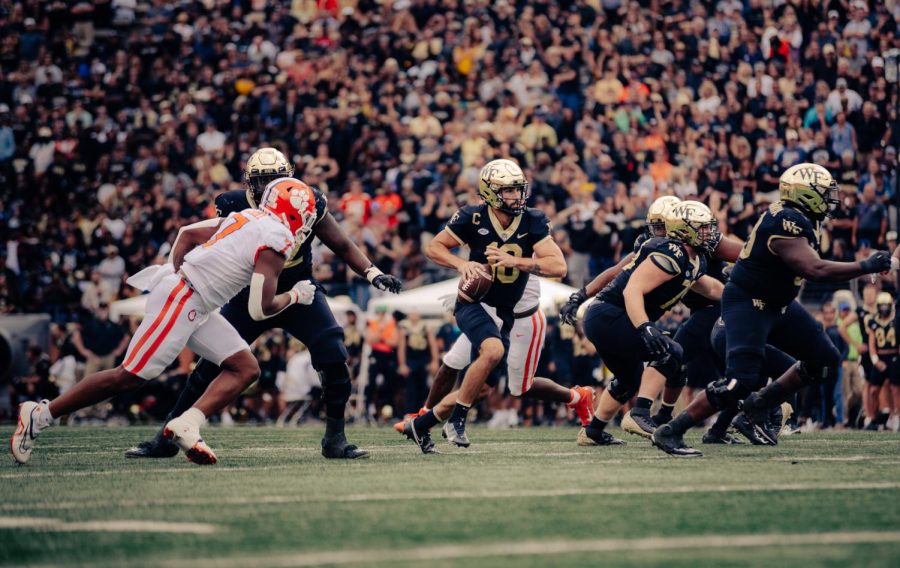 Hartman's strategy to detach himself from the negativity that exists in the depths of the college football fandom is simply staying grounded.
"If you hold on to the compliments, then you also have to hold on to the complaints," he continued, "and that's not going to take you very far."
Hartman credited his Wake Forest coaches and teammates for teaching him one of the greatest life lessons he's learned.
"Water always finds its level." 
In a world where Hartman can't control what people say about him, he chooses to maintain focus on what he can control.
Putting his best foot forward and giving his strongest efforts each week, Hartman pushes past the outside noise and bumps in the road to show up for the people relying on him — his family, friends, teammates, coaches and fans, be they at Wake Forest or for one more season, Notre Dame.