Around 9:32 a.m. this past Saturday, I descended upon First Baptist Church, where the 18th annual Bookmarks Festival kicked off. I strolled inside with a press pass of indeterminable power and freshly watered hair, as a thick, pleasant mist had been falling all morning. I arrived late, so I had to sit up in the balcony, which proved to be the optimal spot for admiring the church architecture and doing a little people-watching below. The whole church was packed. There were more than 250 people crowded together, wearing masks, scooching into cramped pews just to watch two paid professionals speak about books. It was a little unbelievable.
The keynote was a discussion between Celeste Ng and Jason Mott. The two fiction writers came to discuss their latest novels — Ng's "Our Missing Hearts" and Mott's "Hell of a Book" — but the conversation quickly pivoted to the craft of writing and the importance of public libraries. One of the main topics of discussion was their shared frustration with the literary world's insistence on labeling them as minority writers. 
Ng, whose parents immigrated from Hong Kong, said that there is no such thing as the Asian American experience, and thus she could not possibly write it. Instead, she invoked the metaphor of a sculpture in a museum — you can never see all of the sculpture at once, but you can walk around it, view it from different angles and then try to piece together an image of the entire structure in your mind. She conveyed how in her writing, she tries to do something similar, letting each character speak to a different truth, so a more holistic cultural image might be produced.
Ng is reminding us that the subtle use of the definite over the indefinite article has the potential to be a violent act when it reduces entire cultures or ethnicities to a single entity. Mott was in agreement. He talked about how, in our current world, we tend to over-simplify things for the sake of convenience. When we hear that someone is Black or Asian or LGBTQ+, we like to imagine that we know everything about that person, even though they are so much more.
Story continues below advertisement
Between events, I wandered along the rows of tents, chatting with attendees as I went. There was a fairly clear consensus — attendance was slightly down this year, probably because of the rain. Most of the people to whom I spoke were not there for any writers in particular but were general supporters of the event.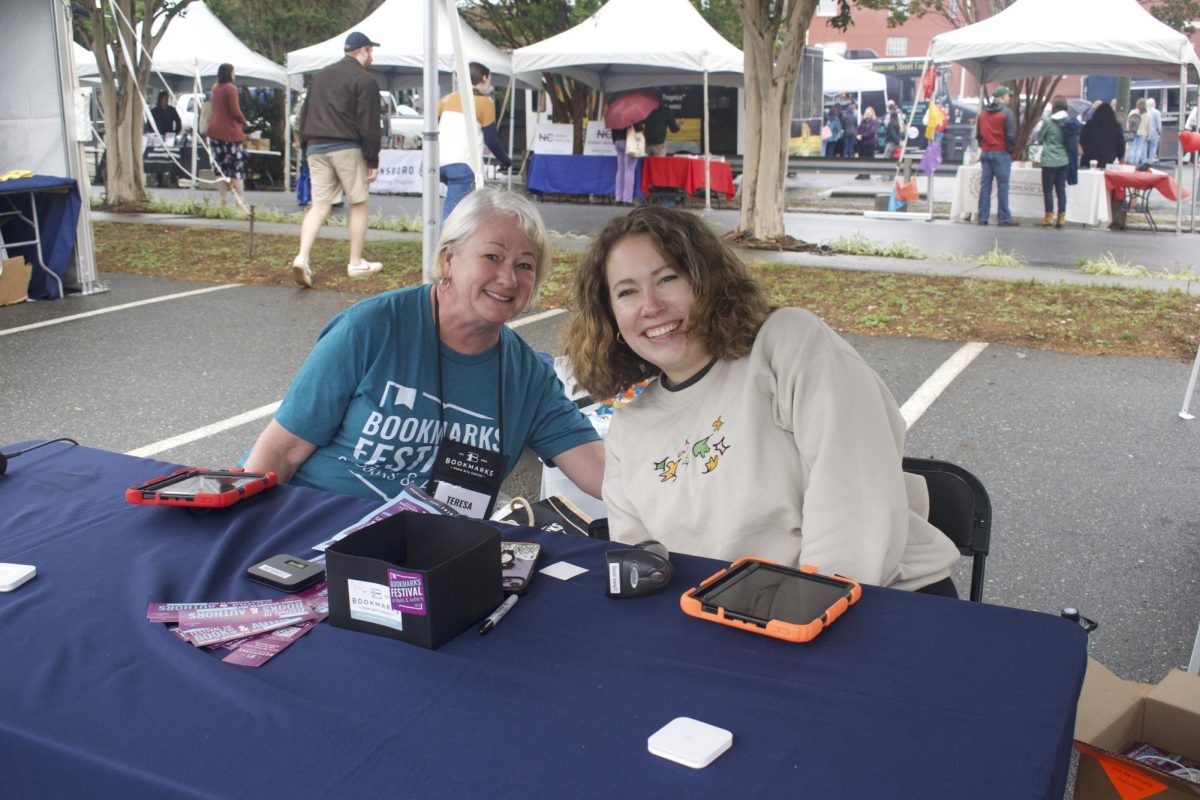 Indeed, I think everyone was just happy to be a part of a literary celebration. There were customers carrying comically large piles of books, parents reading to their children, a book-signing line that seemingly extended into infinity and a great deal of consumption by the food trucks. Despite the weather, everyone seemed to be having a blast.
After the keynote, I headed to the "Your Voice Matters" panel, featuring Willie Edward Taylor Carver Jr., Jonathan Conyers and Crystal Simone Smith, all of whom have faced some form of censorship for their work. 
Carver Jr., a gay man living in Kentucky, was bombarded with threats after he won the Teacher of the Year award in 2022. Smith, whose poetry collection used George Saunders' "Lincoln in the Bardo" to respond to the murder of George Floyd and the subsequent Black Lives Matter protests, was censored by Random House, even though Saunders pushed to get her book published. Conyers spoke about his non-profit work, as well as the political importance of giving a platform to minority and LGBTQ+ voices. 
But what struck me about this panel was the inspirational current running underneath the bigotry. All three writers told stories of overcoming unbelievable obstacles, as well as their sense of duty to propagate those stories to the younger generations. I got the sense that they viewed themselves as living testaments to the power of marginalized voices when combined with hope.
What makes the festival special is not the big names that Bookmarks draws in every year, or even the astonishingly large crowds, it's the potential energy created by the proximity of the two."
My final event of the day was "Hell of a Panel," featuring Jason Mott, Brando Skyhorse and R. Eric Thomas. This was by far the most light-hearted of the panels I attended, mainly because R. Eric Thomas is so effortlessly hilarious. His humor spread among the rest of the group, and pretty soon all three were cracking jokes about how people should go buy their books (which I sense is the ultimate fourth-wall break for these kinds of events).
This panel also seemed to keep coming back to hope — or the necessity of art that articulates some strain of it. Thomas spoke about how, while his book, "Congratulations, The Best Is Over!" is often dark and grief-stricken, it also attempts to provide a lot of light.
"If I can't imagine a better world, then I'm not going to stick around for long," Thomas said.
And while this could be interpreted negatively, the atmosphere of the panel seemed to say that fiction writing is one of the most effective vehicles for exactly that kind of imagining.
Organizations like Bookmarks do the equally crucial work that exists on the other side of the novel. Books are great because of their ability to give and challenge ideas, but without a readership, those ideas might as well be locked away underground. 
What makes the festival special is not the big names that Bookmarks draws in every year, or even the astonishingly large crowds, it's the potential energy created by the proximity of the two. Inherent in all of the wonderful conversations, extravagant book purchasing and thoughtful listening was a tiny pocket of hope, a reminder that the book-reading community is not at all voiceless. 
At least not when everyone comes together.