After allowing a University of Pittsburgh go-ahead touchdown with 90 seconds left of Saturday's slugfest, it looked like Wake Forest was knocked out. After third-string quarterback Santino Marucci threw an interception straight into a Pittsburgh defender's chest on the next series, it seemed like Wake Forest was down for the count — but there was no bell yet.
With 40 seconds remaining and one final shot at scoring, Marucci (12-for-21, 151 yds, TD, 2 INT) marched the Demon Deacons from midfield to the end zone with two prayers to Ke'Shawn Williams, including a 24-yard 4th & 1 conversion and a game-clinching dagger to Cameron Hite. The 21-17 victory broke Wake Forest's three-game losing skid and was the team's first conference victory of the season.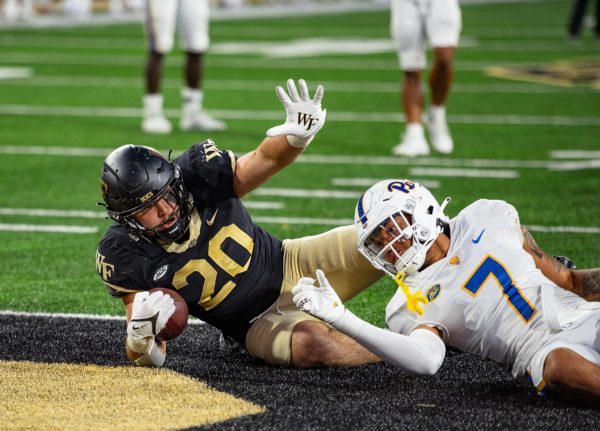 "We've had some great wins here," Head Coach Dave Clawson said. "You know, wins to be bowl eligible or to get to the ACC Championship, and we've had bowl wins. I'm not going to say that it's the greatest win we've ever had, but I don't know if I've ever been more proud of a football team."
There was uncertainty — at least in the public eye — about who would be under center for Wake Forest coming into the game. Redshirt sophomore Mitch Griffis was benched during the second quarter of the previous week's 30-13 loss to Virginia Tech. Redshirt junior Michael Kern finished the rest of the game, but he was not listed on the depth chart against Pittsburgh. 
Story continues below advertisement
During Clawson's Tuesday presser prior to Saturday's game against Pittsburgh, he said that Kern would "be out for a couple weeks" and the coaching staff were "not 100% sure of [Griffis's] availability." This propelled Marucci — a redshirt sophomore who was recruited as a quarterback but moved positions to running back, safety and back to quarterback over the summer — up the depth chart, although nothing official was said until an hour before kickoff. 
"We pretty much knew all week it was going to be [Marucci], and obviously we didn't want [Pittsburgh] to know that," Clawson said. "So barring a miracle it was going to be [Marucci]. Tuesday [practice] was shaky, Wednesday was a little better, Thursday — I think Warren Ruggerio did a nice job of limiting the offense to things that [Marucci] understands and things he can do."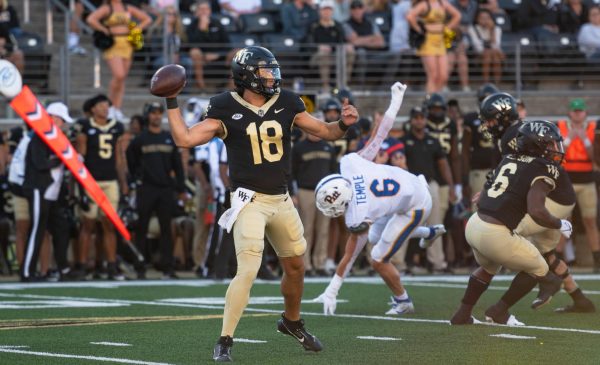 The game plan was conservative, to say the least. The offense relied heavily on running backs Justice Ellison (20 rush, 60 yds, 1 rec, 5 yds) and Demond Claiborne (14 rush, 96 yds, 1 rec, 22 yds, 2 TOT TD), and when Marucci was called on to pass, it was either a quick screen or deep shot along the seams. Going into the half, 68 of Wake Forest's 92 offensive yards were gained on the ground, and 90 of which were gained by the rushing duo. 
Pittsburgh's offensive play calling was similarly conservative. Junior quarterback Christian Veilleux (28-for-45, 302 yds, 2 TD) was starting in only his second career game, but his connection with the offense was steady. Their nearly seven-minute, 13-play opening drive was a blueprint of what was to come the rest of the game — four penalties and plenty of short routes and handoffs to chip away at the defense until a shot could be taken over the top. 
Kenny Johnson (4 rec, 31 yds, TD) reeled in the Panthers' first touchdown of the day in the first quarter, but the production would soon plateau. Wake Forest forced Pittsburgh to punt on six of their next nine drives and forced two turnovers on downs. The Demon Deacon defense could not register any sacks or turnovers, but consistent pressure from Jacob Roberts (9 tackles, TFL), Quincy Bryant (7 tackles, 2 TFL) and Kevin Pointer (4 tackles, 1.5 TFL) allowed for solid coverage defense to hold.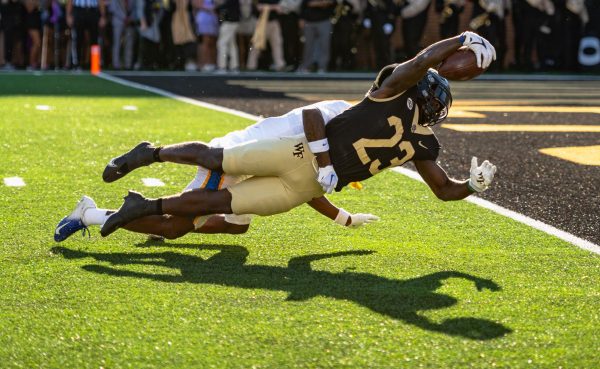 For Wake Forest, Claiborne provided a necessary spark to the otherwise middling offense during a two-play drive in the second quarter. The sophomore caught a Marucci screen, zipped 22 yards upfield and had his helmet yanked off on the way down. Claiborne was on his way off the field, but Clawson kept him in the backfield for the next play where he barreled 18 yards through the defense and dove past the goalline for the score. 
In the second half, the focus on rushing remained heavy — Wake Forest finished the game with twice as many carries (41) as passes (21) — and Claiborne could not be contained. With three minutes left in the game, the sophomore ran 42 yards untouched on his way for a go-ahead score, his second of the day. Until Hite's touchdown to close the game, all of Wake Forest's five previous touchdowns dating back to the game against Georgia Tech on Sept. 23 were scored by Claiborne. 
The lead would not last long as Veilleux orchestrated a cross-field comeback drive, capped off by a 22-yard connection to Bub Means (9 rec, 109 yds, TD), to put the Panthers up 17-14. The Demon Deacons would have one last shot to score to either tie or win the game, sealing Marucci's status as a campus hero or just another backup.
With 90 seconds and 75 yards to gain, Marucci was forced to throw — quick and deep — something that wasn't connecting often. After a scramble and a penalty that set up a new set of downs, Marucci found a streaking Jahmal Banks (2 rec, 59 yds) on the far sideline for a 26-yard pickup. The third-stringer was trying to squeeze it back to Banks on the next play when Pittsburgh's M.J. Devonshire (6 tackles, 0.5 TFL, INT) picked him off at the Pittsburgh 28.
A foul for unsportsmanlike conduct moved the Panthers back to their own 14, allowing Wake Forest to send heavy rush fronts. The first two attempts were stuffed at the line of scrimmage, but on 3rd & 8 Veilleux squeaked out for a sneak. In a controversial spot, the quarterback was ruled to have started his slide before crossing the first down marker — as it had appeared he did — forcing Pittsburgh to punt and giving Marucci one last chance at heroics. This attempt was successful.
"When [the interception] happened, there's still time on the clock, and we are just on to the next play," Marucci said. "They're in a bad spot, and our defense capitalized on it, and the game's not over till there is 0:00 on the clock."
Marucci continued: "I mean, we've got a lot of playmakers around the field, and I just had to put the ball in a place and then go make a play. Hats off to [Hite], our offensive line, running backs, everyone was blocking. They did it — I just gave them a chance."
As Hite said, Wake Forest was "never out of the fight."
Wake Forest (4-3, 1-3) will play No. 4 Florida State (7-0, 5-0) at home on Oct. 28. Kickoff is set for noon and will be televised on ABC.