The London International Film Festival is one of the biggest movie celebrations in the world, with this year alone showing over 250 titles in eleven historic theaters across the city. I had the incredible opportunity to attend this event and see three films — two of which were premieres — and an intimate screen talk with the infamous director Andrew Haigh. In this article, I will provide reviews of the three films I had the pleasure of seeing. 
Film Reviews – In Order of Worst to Best 
"The Killer" Directed by David Fincher
David Fincher's films have always been hit or miss for me, with my first viewing of "Fight Club" being a huge disappointment and his lesser known "The Game" being an exciting, mind-bending adventure. "The Killer" unfortunately falls into the former category, as its plot is your run-of-the-mill revenge story — a guy's girlfriend gets hurt, and the guy goes after bad people. The storyline is not done terribly; in fact, the fight scenes are well-choreographed and shot masterfully. However, it's the fact that "The Killer" offers nothing new to this genre that really ruins Fincher's newest film for me.
Not helping the unoriginal plot is the forgettable script that barely characterizes the main character, portrayed by Michael Fassbender, let alone the painfully underutilized ensemble cast. At least you can look forward to Fincher's signature thrilling twist ending… oh wait — you can't. The film literally ends on the most boring note possible. To be completely honest, my favorite part of the film was its depictions of Paris and New Orleans, which were still disappointingly cut short. It's a shame I do not have more to say about a film I surely thought would be the talk of the town. Unfortunately, this has to be the most uninteresting film by the usually over-the-top Fincher, so if I were you, I'd save my time by skipping its Netflix release on Oct. 27. 
Story continues below advertisement
Final score: 5/10
"May December" Directed by Todd Haynes 
"May December" was my first premiere of the festival, so I had the privilege of listening to Director Todd Haynes and writer Samy Burch introduce the film. Nothing could have prepared me for what I was about to see — this was indeed a disgusting rollercoaster ride that I will not forget anytime soon. 
As my former remark might suggest, "May December," is not for the faint of heart. The film follows the sexual and emotional relationship of a housewife (Julianne Moore) and her teenage son's friend (Charles Melton) 20 years after their tabloid scandal was uncovered. The story thus begins when an actress (Natalie Portman) infiltrates this relationship to carry out an intense character study of the housewife in preparation for a new film about the scandal. 
What I most appreciated about this film was its originality, as its thoughtfully disturbing script had my eyes glued to the screen from its mysterious beginning to its disappointing end. Expertly delivering this unique script is Portman's unsettling performance that beautifully brings out Moore's hidden sadistic persona. These two characters are connected by Melton, who does a good job of depicting the groomed teenage boy who is now lost in a complex marriage with a woman 20 years his senior. 
My overall problem with Melton's performance rests in his final minutes on screen, which were sadly underacted due to an unpolished ending. "May December"  needed a strong ending that tied its many themes into one complete bow, but it sadly tries to balance too much at once. Although the score was too overpowering at times, and its ending was not neat, "May December" delivered a solid, compelling drama laced with hilarious dark comedy, thus creating a thought-provoking and unnerving watch. 
Final Score: 8/10 
"The Holdovers" Directed by Alexander Payne
I definitely saved the best for last when I decided to attend the European premiere of Alexander Payne's newest film, "The Holdovers." This heartwarming comedy-drama stars newcomer Dominic Sessa as the troublemaker teen who finds himself stuck with Paul Giamatti's insufferable teacher, Mr. Hunham, over winter break in 1970. With the film being shot on '70s-era film cameras, you are instantly greeted with the nostalgic sounds and scenery that transports you to the quaint campus of a preppy Connecticut all-boys boarding school. 
Although I have a personal bias towards the incredible '70s vibes, I can guarantee you that anyone will have fun — and may shed a few tears — in "The Holdovers." Putting the perfect setting aside, the performances are all-around home runs, with a standout being Da'Vine Joy Randolph as the more-than-meets-the-eye school cafeteria manager. I am definitely rooting for both her and Giamatti as Best Supporting Actress and Best Actor in a Leading Role this upcoming awards season! 
Another highlight of this film is its hilarious and poignant dialogue that constantly fills the audience with warmth in a sometimes somber story. When the film was introduced, it was clear that Payne and scriptwriter David Hemingson had the necessary comedic chemistry to pull off what could have been an overly cheesy, run-of-the-mill Christmas tale. Instead of taking the easy way out, this dynamic duo breaks through these confines to create an unforgettable holiday experience. 
The many highs of this film are met with one small issue: its somewhat lengthy runtime of two hours and 13 minutes. If a few moments were cut from the larger picture, I believe the integrity of the film would still be intact. However, this is a miniscule problem that should in no way dissuade you from seeing the film at your local cinema. And yes, you should see this one at the theater to get the nostalgic experience; trust me — you won't regret it. So grab your hot cocoa and tissue box, and make sure to be the first in line to see "The Holdovers" on Oct. 27!  
Final Score: 9.5/10
Screen Talk with Andrew Haigh   
Andrew Haigh is known as one of the 21st century's pioneers in queer filmmaking, and his screen talk was inspiring yet grounded — two characteristics I would use to describe his personality as a whole. The interview consisted of analyses of Haigh's filmography throughout the past 15 years, with conversation and questions following each viewing. Starting with a reflection on the beginnings of his filmmaking journey, Haigh discussed how his first piece, the small 2011 independent film "Weekend," was inspired by his desire to portray "an honest gay experience." With a 100,000 pound budget and three people who showed up to the film's original premiere, Haigh never dreamed of the film's commercial success. 
Following his victorious debut, Haigh took on a big commercial project, HBO's "Looking," while simultaneously working on his Oscar-nominated "45 Years." When discussing these projects, Haigh grounded his skyrocketing career by making a surprising remark, saying that he "writes for the film to be made." As someone who greatly values independent filmmaking, I was stunned to learn that these small studios still withhold well-known directors' creative visions from the final product due to fears of a lack of profit. Such a comment put into perspective the filmmaking industry's focus on money over creativity, something that we see all too often at the movie theater but fail to comprehend.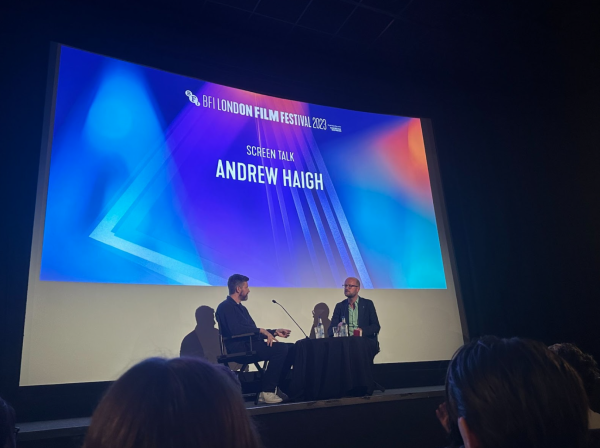 After Haigh's reality check, he discussed his newest film "All of Us Strangers," starring Paul Mescal and Adam Scott, and how, in addition to gay storytelling, his work seeks to confront loneliness and loss. Haigh put into perspective the realities of filmmaking with both big and small studios as well as offered a thoughtful, creative discussion. As such, this was an experience that I will never forget. I would like to extend a thank you to Haigh for not only inspiring but humbling us young creatives at the London International Film Festival.
From seeing three sold-out films at the gigantic Royal Festival Hall to meeting a trailblazing director, my time at the 2023 London International Film Festival was an experience that I will never forget. Thank you to all who contributed to this fantastic extravaganza and for supporting artists from around the world! I cannot wait to return to this extraordinary festival.