The date long circled on calendars has become a date many Demon Deacons may soon want to forget since it now marks a 38-point road beatdown from former Wake Forest quarterback Sam Hartman and the rest of the Notre Dame Fighting Irish. 
Wake Forest (4-7, 1-6) lost by six scores, 45-7, to No. 19 Notre Dame (8-3) on Saturday afternoon, despite being tied with the home team midway through the second quarter. 
"Notre Dame is just a really, really talented and physical football team," Head Coach Dave Clawson said. "Sometimes you have those games [where] if you did A, B and C, maybe you find a way to win. I mean, right now, they're just a much better football team than us."
The Irish offense easily found success through a mixture of perfectly placed passes thrown by Hartman (21-for-29, 227 yds, 4 TD) and bruising angry runs by Audric Estime (22 rush, 115 yds, TD) while the Fighting Irish defense was able to limit any of Wake Forest's offensive production to two second-quarter drives. During the first quarter, Notre Dame outgained the Demon Deacons, gaining 110 yards while Wake Forest had a net loss of four yards.  
Story continues below advertisement
Wake Forest rebounded in the second quarter with an unconventional, seven-play, 72-yard scoring drive. Fifth-year senior Michael Kern (11-for-21, 81 yd, 8 rush, 11 yd), who earned his first career start after redshirt sophomore Mitch Griffis was benched following last week's demoralizing, 26-6 loss to NC State, wasn't the only Demon Deacon quarterback as wide receiver Jahmal Banks (5 rec, 35 yd) connected with Ke'Shawn Williams (2 rec, 22 yds) for a 17-yard pass down the sideline. Later, it was Williams' turn to play quarterback as Kern threw it to his left for the wideout to throw downfield. The passing options quickly dissolved, but Williams was able to scamper the ensuing Irish defenders for a 20-yard gain, setting up a 9-yard Tate Carney touchdown run to even the ballgame.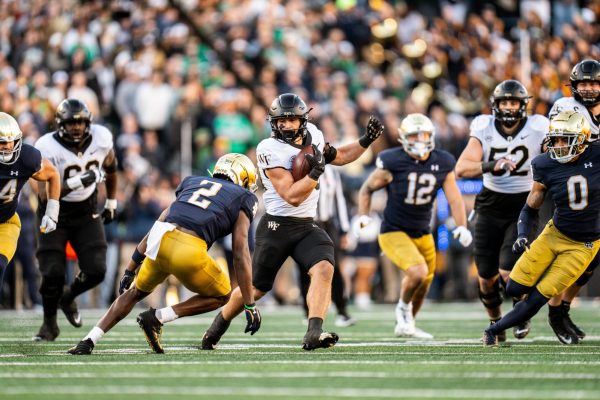 "We called a couple of other plays today that we have never called before," Clawson said. "Some of them got us first downs. Some of them didn't work. But we did feel like we had to expand the playbook a little bit given the nature of the opponent."
Hartman quickly answered back with a 35-yard lollipop dropped straight into the hands of Tobias Merriweather, but Wake Forest did not seem rattled. Kern and running back Justice Ellison (15 rush, 63 yds) traded positive yardage plays down into Notre Dame territory, before being stopped at fourth-and-1 from the 12-yard line. Clawson elected to kick the field goal — a 30-yarder — but it was blocked at the line of scrimmage and picked up by the Fighting Irish. 
Any hope of a close game between the two teams was squelched as Notre Dame marched down the field and kicked a field goal, extending its lead to 10.
"It was just one of those games that you wanted to hang in," Clawson said. "At the end of the second quarter, it was 14-7, and I thought if we could kick a field goal, make it 14-10 and then you start in the second half with the football. It's a one-score football game.… Even at halftime, 17-7, I felt like we played well. We were playing hard. Our M.O. this year is we turn the ball over."
On the second play of the second half, that M.O. showed. Kern fumbled after being sacked by linebacker JD Bertrand (6 tackles, sack, FF), and the ball was recovered at the Wake Forest 19-yard line. One quick play and another Hartman touchdown pass later, Notre Dame was up 24-7. 
The down Deacons turned all-out defeated when Notre Dame recovered a surprise onside kick the very next play. Wake Forest would force a three-and-out, but the damage had already been done. 
"I'm sure [Notre Dame] saw [the frontside tackle] open up early the time before and had that opportunity, but that was the exact onside kick that we practiced against in practice," Clawson said. "We recovered it, but I guess it doesn't matter if you get to the game and you can't carry it over. Doesn't matter what you did in practice. Obviously, that's a little bit of a recurring theme for us this year."
We recovered it, but I guess it doesn't matter if you get to the game and you can't carry it over. Doesn't matter what you did in practice. Obviously, that's a little bit of a recurring theme for us this year.
— Dave Clawson, Head Football Coach
Hartman would score twice more before being taken out during the fourth quarter for sophomore Steve Angeli, who tacked on a touchdown himself for good measure. With his four passing touchdowns on the night, the all-time leading passer for Wake Forest moved into sole possession of fourth place on the all-time NCAA career touchdown leaderboard with 132.
"He's a really good player," Clawson said. "That's why Notre Dame went out and got him. They're a program that has the ability to go do that, and they got themselves a good quarterback. That's one of the reasons they're having success this year."
Clawson continued: "Once the game started, I wasn't even thinking that [was] Sam Hartman — he was just No. 10 for the other team. But he played extremely well, and we saw him do that for us for a number of years."
Wake Forest will travel to Syracuse, N.Y., on Saturday, Nov. 25 to face the Orange (5-5, 1-5) in the season finale. Kickoff is scheduled for 2 p.m. on the CW Network.