A 50-year Flashback to Memorable Music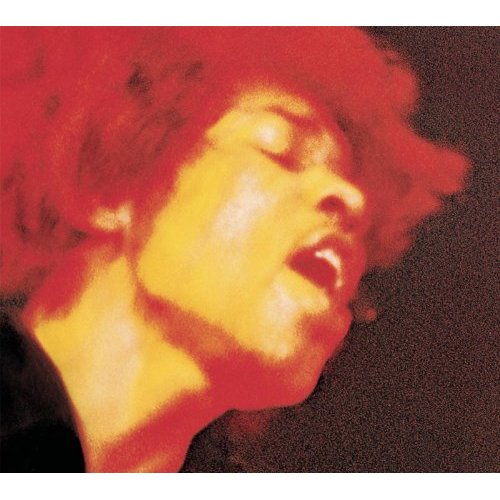 Electric Ladyland– Jimi Hendrix
Electric Ladyland is a double LP, and the last to be released with the Experience. It features many of Jimi Hendrix's most famous songs, and with Hendrix increasingly getting involved with production on this album, his perfectionism and studio abilities shown through. As a personal favorite, I, and many others, believe that he was one of the greatest innovators in rock music and is regarded as the one of the, if not the, best rock guitarist around—he did take the #1 position in Rolling Stone's "100 Greatest Guitarists of All Time" issue. While his guitar abilities were well known, he was remarkable shy, quiet, and humble—in a rare television interview, Dick Cavett stated, "you are considered one of the best guitarists in the world", to which Hendrix responded, softly, "oh no… How about the best guitarist sitting in this chair?". Hendrix was known to speak more through his music, which is especially apparent in his rendition of "The Star-Spangled Banner" at Woodstock, he was self-conscious about his voice as well, and would sometimes even record his vocals whilst hiding behind studio screen, with nobody available to watch. His vocal abilities can be seen especially on "Have You Ever Been (To Electric Ladyland)"—on which even Hendrix stated he was happy with his vocals on that song.
Electric Ladyland features aspects of traditional rock, psychedelic rock, some funk, and blues, all combined in a unique way that only Hendrix could pull off. Hendrix was also a big fan and admirer of Bob Dylan, and in perhaps the most famous cover ever, Electric Ladyland features a cover of Dylan's "All Along the Watchtower", which is full of beautiful solos with magnificent use of his cry baby wah pedal, and outstanding fills between singing lines, with a climactic ending. Dylan, who is notoriously blunt, misanthropic, and difficult to interview, has even stated that Hendrix's version "overwhelmed" him, and that Hendrix "had such talent, he could find things inside a song and vigorously develop them", "he found things other people wouldn't think of finding in there"—words of high praise coming from the first musician to win a the Nobel Prize in literature. Hendrix also displays his mastery of the wah pedal, and some guitar swells, especially apparent in "Burning of the Midnight Lamp", which is accompanied by a smooth drum beat by Mitch Mitchell. In "Voodoo Child (Slight Return)", his guitar talent is physically palpable, there is nothing else out there like it. In the extended jam version, "Voodoo Chile", Hendrix invited Steve Winwood of Traffic to play organ as well as Jack Casady of Jefferson Airplane to play bass—along with Experience drummer Mitch Mitchell. "Rainy Day, Dream Away", and it's follow up, "Still Raining, Still Dreaming" are the perfect rainy-day anthems, featuring a conversation at the beginning, groovy music, and a relaxing melody sung by Hendrix. The increased studio experimentation is most apparent in "…And the Gods Made Love" as well as "1983…(A Merman I Should Turn to be)". Hendrix's innovations changed the shape of rock music, and he set the standard for all guitarists to follow.
The Beatles (The White Album) – The Beatles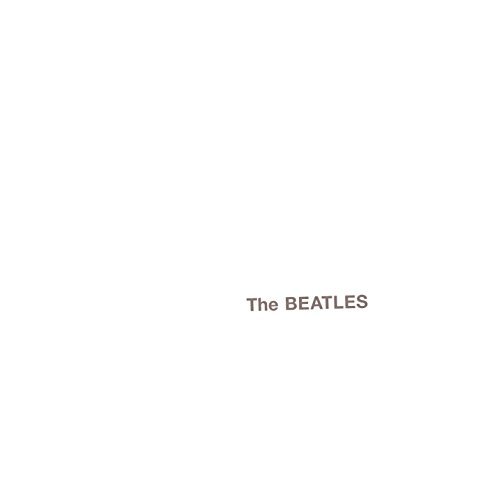 The White Album, officially titled The Beatles was a sober follow up to the Beatles' previous Sgt. Pepper's Lonely Hearts Club Band. The White Album came after a trip to study Transcendental Meditation with the Maharishi Mahesh Yogi in India, and it topped both the U.S. and U.K. charts. The White Album features distinct rock and roll, folk, pop, and experimental pieces—this double LP features a wide array of styles. The fairly self-explanatory reason why this album is usually referred to as The White Album was because of a purposeful decision to not include any art to provide a direct contrast to their previous album covers. The White Album Features many hits, including the McCartney driven "Back in the U.S.S.R."—a parody on Chuck Berry's in the U.S.A.", and features influences from the early Beach Boys vocal harmonies, apparently at the urging of The Beach Boy's Mike Love, who had joined the Beatles to India, and many tasteful lead guitar licks throughout by George Harrison. The Beatles, especially Lennon, had a reputation for a fun sense of humor and were well aware of people trying to find hidden meaning in their lyrics (most infamously is Charles Manson's misinterpretation of "Helter Skelter"), with Lennon even writing the earlier "I am the Walrus" in response to hearing a high school teacher had students analyze Beatles lyrics, so Lennon decided to write a song with as confusing lyrics as possible. On The White Album, he references his previous "strawberry fields" and potentially tried to confuse listeners even more, by stating that "The walrus was Paul". Later in Lennon's solo career, he solidifies the notion that the Beatles would not reunite, in Plastic Ono Band, he states on "God", that, "I don't believe in Beatles, I just believe in me", and later goes on to state "I was the Walrus, but now I'm John". McCartney's "Blackbird" will forever remain a classic and is a song with profound symbolism reflecting the social/political climate at the time. It also features recordings from a real bird's natural song. Lennon's future political statements and protests can be seen in their infantile stages in his melodic "Revolution 1", which also features a bluesy intro and a beautiful brass arrangement provided by producer George Martin. George Harrison, whose songwriting ability was often and unfortunately overlooked by the McCartney-Lennon dominated early ages, shines on a personal favorite song, "While My Guitar Gently Weeps", which inspired by Eastern concepts, especially from the Book of Changs, I Ching. The lyrics are remarkably poetic and gives listeners a taste of Harrison's songwriting ability—which would shine in just a couple years, especially with his solo album All Things Must Pass. The most outstanding feature on this track is the guitar playing—Harrison had asked his friend and collaborator Eric Clapton to play on the track—and between Harrison's gentle rhythm playing and Clapton's wailing lead riffs, one can actual conjure up the notion of their guitars weeping. Despite its beauty, lyrically "While My Guitar Gently Weeps" begins to show the breakdown of the relationships between the Beatles.
While the Beatles had previously been collaborative, especially the Lennon-McCartney relationship, The White Album features much less of this—most songs were written and recorded almost entirely by the primary songwriter. There were even times when different members would be recording different songs in the same studio but different rooms, something that would not be common in their earlier albums. Lennon also began breaking one of the band's policies– no girlfriends or wives in the studio—by bringing Yoko Ono into the studio, much to the dismay of the rest of the Beatles. Both McCartney and Lennon made statements during this period regarding that The White Album was a clear sign of the beginning of the end of the four working together. This became especially apparent while recording "Back in the U.S.S.R.", with McCartney criticizing Ringo Starr's drumming, and in combination with a tense atmosphere amongst the band, the usual peace-loving Starr abruptly left the studio, with intent to leave the group, feeling that his role in the band was overlooked. McCartney, Lennon, and Harrison eventually urged Starr to come back, and upon his return Harrison had sweetly laid flowers over Starr's drum set. Lennon and McCartney were also vocal about their dislike of each other's new songs. Despite all the tensions, the Beatles released an outstanding album that has influenced and shaped music thereafter, and it will continue to for young musicians everywhere.
White Light/White Heat– The Velvet Underground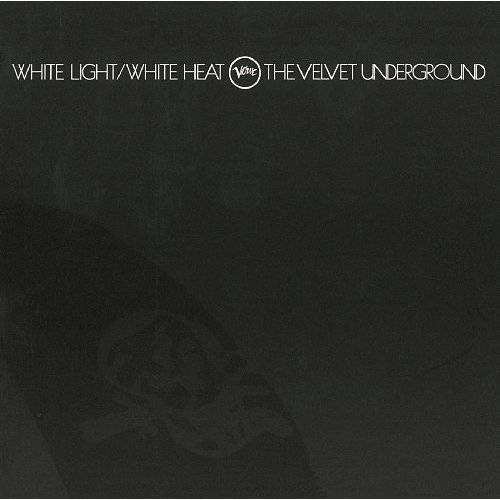 The Velvet Underground's second album, White Light/White Heat, gave listeners a departure from the few softer songs from their debut, aside from the soft and sweet "Here She Comes Now", and kept the tracks on White Light/White Heat raw, experimental, and avant-garde. John Cale has even stated that in comparison to their debut, White Light/White Heat "was consciously anti-beauty". This time period also marked a departure with Andy Warhol (producer) and Nico from the group, leaving the original four members, Lou Reed, John Cale, Sterling Morrison, and Maureen Tucker, to their distortion laden drone style music. White Light/White Heat features poignant lyrics, Lou Reed was avidly anti-Beatles (despite a rare underground recording of the Velvets doing an extended jam loosely based on "Day Tripper", but there is no evidence that Lou Reed was in the studio at the time). Reed did not like mainstream pop and was quite vocal about his disapproval—he felt that most musicians were not writing about anything of meaning, nothing real or of significance. Reed wrote about the grittiness of life, with poignant, powerful, and often, controversial lyrics touching subjects ranging from drug abuse, prostitution, death, lobotomies, nontraditional romantic relations, transvestites, and The Velvets often trying to emulate these topics through the music as well as the lyrics. White Light/White Heat was the last Velvet album to feature John Cale, and the main reason their first two albums are so unique and wonderful was from the differences between Cale and Reed, and much more avant-garde than the Velvet albums without Cale, is because there was a collaboration between Reed, who leaned towards more traditional rock and roll, and Cale, who was very experimental, often used drones and can be heard playing a screeching electric viola at times. Cale left the band because Reed believed Cale's ideas were too out there, too wacky.
On White Light/White Heat, the title track features more traditional rock and roll, coming more from Lou Reed's angle throughout most of the song, but towards the end the song gets more experimental, ending it with a bass solo over a drone to try and get the listeners to feel a throbbing "rush"—to simulate amphetamine use musically. "The Gift", when listened to properly, features an extended jam from the right speaker and a deadpan Cale speaking, in his Welsh accent, a short story written by Reed through the left speaker. The song is about a boyfriend trying to mail himself to his girlfriend to save money, judging that with "a few airholes, some water, perhaps some midnight snacks", he would be fine, but upon arriving at his girlfriend's house, a reckless opening of the package led to a tragic end for poor Waldo Jeffers. "Lady Godiva's Operation" features singing by Cale in the beginning, and then an interplay between Cale and a deadpan Reed, about a botched lobotomy, with dark humor laden lyrics—this song also features the band imitating surgical equipment vocally. After a number of distortion laden songs, "Here She Comes Now", a title many believe to be a double entendre, is a soft song featuring lighter guitar and Reed singing less harshly.  The softness of "Here She Comes Now" creates a stark dichotomy with the following track, "I Heard Her Call My Name", which is brash, overwhelming, and purposefully atonal at times. White Light/White Heat, along with The Velvet Underground & Nico, will forever remain as innovations in avant-garde rock, and they opened windows to songwriting that was honest and unedited. The Velvets introduced the world to raw uncensored music and were the first to show that traditionally taboo topics, which had been present in literature for ages, could be used in song as well—there were no rules or boundaries for The Velvet Underground.
Waiting for the Sun– The Doors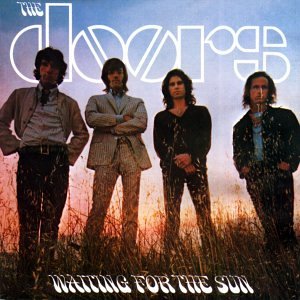 The Doors are a band consisting of Jim Morrison as lyricist and vocalist, Robby Krieger on guitar (as well as bass in the studio), John Densmore on drums, and Ray Manzarek on the keyboard (who would often play the bass parts on the keyboard during live performances). Morrison was known for his rock star lifestyle, his appearance– as he was a sex symbol/icon of the 60's– his raunchy stage performances, surrealistic poetry, rebellious nature, and his interesting nicknames: The Lizard King and Mr. Mojo Risin', which is an anagram of his actual name. Morrison would later go on to try and rid himself of this image, he always wanted to be recognized for his poetry, not his looks or stage performance—he went so far as to become hermit-like, gaining weight, famously saying, "fat is beautiful", and growing a long thick beard to cover his face. Manzarek became famous for bringing an organ component into rock music, and Krieger originally studied flamenco guitar, which can be heard on "Spanish Caravan", as well as his finger picking style.
Waiting for the Sun is a fantastic album in its own right, but many rock critics have opined that The Doors themselves had set the bar so high with their debut and that there hasn't been much musical growth since. While their debut was fantastic, I do believe that there was musical growth, especially for Krieger, Densmore, and Manzarek, musically—creating more complex song structures and crafting even more of a "cloud", so to speak, for Morrison to dance upon. For Morrison, I believe many were just upset with a slight change of style, he began to show his smooth baritone voice with less wailing and yelling compared to their earlier work. Waiting for the Sun's first track, "Hello, I Love You", was the Door's second #1 single, the first being their previous "Light My Fire", and was inspired by a beautiful woman Morrison had seen walking on Venice beach, despite never meeting her. "Love Street" was inspired by an actual love street Morrison and his girlfriend at the time lived at, having stated that they used to sit on a balcony and watch the hippies walk through, as it was a popular location for that crowd. Krieger's guitar shines on "Spanish Caravan", showing off his flamenco abilities, and even sounding phasic at times, on "Not To Touch The Earth", his licks produce a daze like quality in the listener, on "Yes, The River Knows", he gives higher pitched, lowered tone, swell sounding licks, similar to his relaxing, gentle playing on "Summer's Almost Gone". This album also featured two military/war-based songs, "Five to One" and "The Unknown Soldier". On "The Unknown Soldier", Manzarek plays an eerie, unearthly organ bit to begin the song, throughout the song they play with loud/soft noise dynamics. About midway through the song Densmore would begin a traditional military drum roll, there are sounds of rifles being loaded, a sergeant counting off, and then the sound of rifle shots. The song then goes quiet for a few seconds, only to come back stronger. During live renditions, Krieger would point his guitar at Morrison, to simulate a rifle, Manzarek would give a signal by raising then abruptly lowering his hand, Krieger would pretend to shoot Morrison with his guitar, and Densmore would simulate a gunshot sound using his drum kit—usually breaking his drumsticks in the process. Upon being "shot", Morrison would often have his mouth filled with water, he would expel the water and fall to the floor hardly, taking the mic with him, to sing, on the floor, a poignant line: "Make a grave for the unknown soldier". Morrison wrote this as a reaction to the Vietnam War and how it was being portrayed in American media. Morrison grew up in a military family, and during his years with The Doors his father was an Admiral off the coast of Vietnam. Waiting for the Sun, along with The Doors' other albums, have secured their position as rock innovators and icons.
Notable Mentions
There were many other fantastic and influential albums released in 1968, not all of which could be covered in this article. The Rolling Stones' Beggars Banquet features their famous "Sympathy for the Devil", Simon & Garfunkel released Bo okends, containing the first rock song to win Record of the Year, "Mrs. Robinson", Van Morrison released Astral Weeks, Otis Redding released The Dock of the Bay, with his classic "(Sittin' On) The Dock of the Bay", and Fleetwood Mac released their debut. Influences from all of these bands can be found in all modern music, these men and women were innovators and will forever remain musical icons.
A shorter version of this article appeared in print on April 5th, 2018.