Review: Apple Releases New Products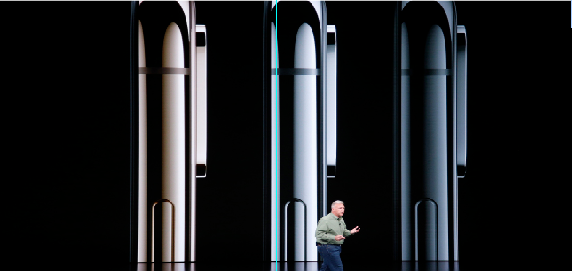 It's a wonderful time in the technology world. New gadgets and gizmos are being announced left and right, and I, for one, am very excited. Last Wednesday was one of the most anticipated tech-releases of the season. Apple unveiled its latest series of products in the Steve Jobs Theater at their headquarters in Cupertino, CA.
The list of upgraded products includes the flagship iPhone XS Max, its little brother the iPhone XS and the iPhone XR — a more affordable alternative to the flagship devices. The Apple Watch also received an upgrade, now called the Series 4, which includes a larger screen in a slimmer body. Here's my review:
iPhone XS and iPhone XS Max:
Nearly identical devices, the more immediate successors to last year's iPhone X come with surgical-grade stainless steel in three finishes: Gold, Space Gray and Silver.
The XS, which comes with a 5.8" Super Retina OLED display, boasts a 30-minute longer battery life than its predecessor. The XS Max, which comes with a 6.5" Super Retina OLED display, boasts an hour and a half longer batter life.
They both have faster Face ID unlocking and their dual 12-MP rear cameras record in 4K video with up to 2x optical zoom, playing it back with a wider-than-ever stereo sound field.
Another notable feature is the newly upgraded processor chip: the A12 Bionic. It is the first 7 nanometer processor which promises to launch apps up to 30 percent faster than 2017 devices. Their next generation neural engines dedicate machine learning to everything from augmented reality to photography.
Lastly, one interesting feature for international travelers or business men and women is the dual SIM cards, which will let people have two phone numbers on the same device. For instance, one can be a local or a personal number, and, the other an international or business number; the primary service can be changed in the settings app depending on your preference.
iPhone XR:
iPhone XR is Apple's more cost-effective alternative to the XS and XS Max. Powered by the same A12 Bionic chip, this device is by no means less powerful. One main difference is its LCD display, which some argue is less crisp and energy efficient than an OLED screen. Still impressive, though, even if it lacks 3D Touch, this 6.1" display is described as the most advanced and color accurate in the industry.
Another salient difference between the XR and this year's flagship devices is in the camera. Instead of the dual-12MP cameras that were introduced on the iPhone X last year, the XR only includes one rear camera. Don't fret, though, the XR cameras still have an all new depth-control for stunning portraits, as well as 4K video recording. 
Apple Watch Series 4:
With the largest display yet, the new 40mm and 44mm displays, with narrower borders, enable a viewing area over 30 percent larger.
The Watch crown is re-engineered to deliver haptic feedback, contributing to the slimmer watch face. More so, the all new S4 processing chip, a fourth generation CPU that is up to twice as fast as its predecessor, provides a seamless experience for the user. A new speaker provides higher quality sound up to 50 percent louder than before, and the microphone has been relocated to reduce echo for clearer communications.
Perhaps the most intriguing feature, however, is the ability to take an accurate electrocardiogram — a test that can show abnormalities in heart functionality — and share it with your doctor at any time. One more health-related feature unique to the Series 4 is the fall detector. With the new accelerometer and gyroscope, Apple Watch can detect when you've fallen and will automatically call emergency services if you are unresponsive after 60 seconds.
Prices:
Apple products have long been known to have steep price tags, and unfortunately this year is no different. The Apple Watch Series 4 starts at $399 for the 40mm display, and $429 for the 44mm display. Both have cellular capabilities for an additional $100.
The iPhones come in different storage sizes: The XR starts at $749 for 64GB, $799 for 128GB, and $899 for 256GB. The XS starts at $999 for 64GB, $1,149 for 256GB, and $1,349 for 512GB. The XS Max starts at $1,099 for 64GB, $1,249 for 256GB, and $1,449 for 512GB.
Recommendation:
iPhone: My ultimate recommendation for someone looking to upgrade is the iPhone XS. It's beautifully designed and manufactured well. The XS is perfect for someone who wants a powerful smartphone that will last the test of time … at least for a year or two. The XS Max just feels too big for the average user, and the XR, though powerful and well put together, is not as durable as the iPhone XS.
Apple Watch: With the release of the new Series 4, last year's watch has come down in price substantially (starting at $279). For anyone who doesn't mind a slightly smaller screen or skipping out on the built-in echocardiogram feature, the Series 3 is an excellent device. That said, I pre-ordered the Series 4, so my advice might be taken with a grain of salt.