Campus Sustainability Promotes Local Food Security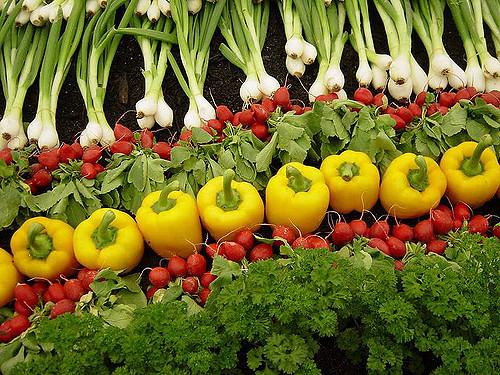 Oftentimes, food is grown, packaged, transported and sold only to be thrown away and sent to landfills.
However, at the same time, a growing number of people face food insecurity.
What is needed to address both issues is what experts call a circular food economy.
"When you don't finish the cheeseburger, it's not just that organic waste going to the landfill generating methane," said Nathan Peifer, caretaker at Campus Garden.
Fossil fuels are involved in every part of eating and throwing away that cheeseburger — from preparing the land to growing the food to distributing the food to refrigerating the food. The whole system requires significant energy.
The joint effort of two university nonprofits helps to promote sustainability by reducing food waste in the Winston-Salem community. Campus Garden and Campus Kitchen both strive to create a circular food economy. Campus Kitchen picks up food from local grocery stores, food markets and Campus Garden and then repurposes it.
The spoiled food collected is then composted back at Campus Garden.
"We seek to engage students in understanding how agriculture impacts global climate change — both positively and negatively," Peifer said. "Agriculture can emit a lot of carbon into the atmosphere or it can be a way to sink sequestered carbon back into the earth."
Roughly 72 billion pounds of food are wasted every year in the United States, according to Feeding America. These two campus nonprofits aim to repurpose, rather than waste, excess food by feeding individuals facing food insecurity, therefore reducing the amount of food in landfills and conserving natural resources.
Winston-Salem contains numerous food deserts. According to the USDA, food deserts are neighborhoods with no access to grocery stores within a one-mile radius, limiting the amount of fresh foods available. However, this issue is not unique to only Winston-Salem.
One in eight people struggle with food insecurity in America. Yet, while many communities face hunger, 40 percent of food is still wasted. In landfills, the decomposing food produces methane gas, which is 25 percent worse for the environment than carbon dioxide, as reported by the EPA. Methane's high absorption of energy forms a "blanket" over the earth trapping the energy in the atmosphere, consequently warming the earth's temperature.
Junior Alice Romanov of Atlanta, Ga. first became aware of the local issue of food insecurity when she volunteered with Campus Kitchen her freshman year. Wanting to get more involved in addressing this issue, she applied to be a shift leader her sophomore and junior years.
"Not even a mile from campus, there are people who don't have access to fresh foods and we're here at the Pit with unlimited food access," Romanov said. "I think the partnership of these two organizations exemplifies Pro Humanitate. Considering the divide that exists between the 'Wake bubble' and the community, I think these two organizations help to bridge that gap."
Producing food alone will not solve societal hunger, so Campus Kitchen strives to locate and address the root causes of food insecurity and supports local organizations' initiatives by redistributing fresh foods.
"We're trying to leverage the food that we collect to support folks in our community who may be struggling with food insecurity," said Brad Shugoll, director of Campus Kitchen. "A lot of our work is centered around trying to support community nonprofits that have educational programming, employment help and housing assistance. The vision is that if we use food to support nonprofits, then they will help create a community that's stronger."
Campus Kitchen and Campus Garden's symbiotic relationship began in 2009 and has gained a positive reaction among students. The two organizations rely on volunteers, and many times students sign up for routine shifts.
"It's a nice escape from school to go work out in the garden, get my hands dirty and be in the sun, which is why I love it," said sophomore Annabel Clark. "I try to recruit more people to come and volunteer with me, too."
Clark and Romanov both notice that the same people typically volunteer at the two organizations. They both would like to see greater representation from the student body, and they agree that education on food waste and food deserts is key to engaging students.
"It boils down to education," Romanov said. "Many freshmen don't know about the food desert," adding that even she did not know about it until she started volunteering with Campus Kitchen.
Together, Campus Kitchen and Campus Garden's efforts have been educational both environmentally and socially.
"I do think Wake is making strides in the right direction," Romanov said. "But there is always more to be done."