Review of Tailgate Fashion
As the seasons change and summer turns to fall, college football is still as popular as ever. For Wake Forest students at football games, the only thing more important than the football game itself is their tailgate outfits. Between knitted sweaters and denim apparel, Wake Forest students show off all the latest trends while they tailgate. Here are a few classic looks that will help you come up with some new fashion ideas for tailgate season.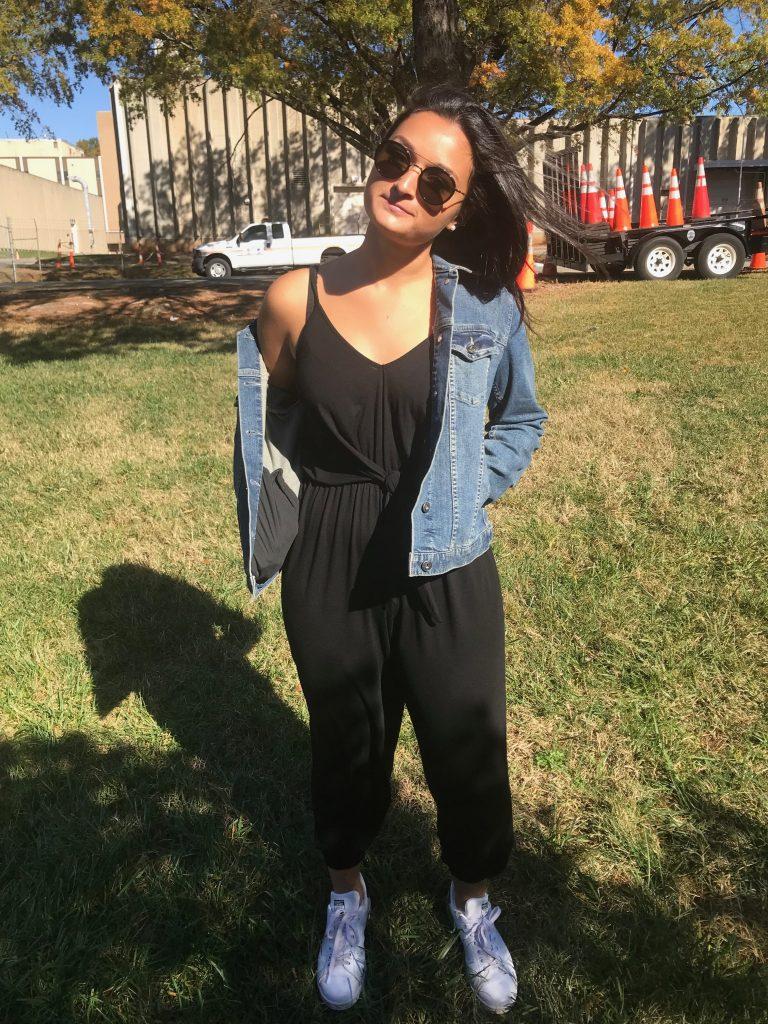 In this photo, sophomore Kaveri Reddy wears a black jumpsuit with a blue denim jacket and white sneakers.
A black jumpsuit is the perfect tailgate outfit. As the weather shifts, nobody wants to tailgate in the cold, but looking cute is still a must — that's why jumpsuits are so perfect. It's the best combination between comfort and style, allowing you to look fabulous with no stress.
"I felt like I was wearing pajamas, but it looked like I had actually tried. It was so easy to put on and the jean jacket was just a simple add-on," Reddy said.
To complete her look, white sneakers were the perfect shoe choice. White sneakers are one of the hottest trends of 2018. They go well with everything from leggings to t-shirt dresses. Also, they are extremely comfortable, allowing you to stand comfortably for a few hours at the tailgate and the game.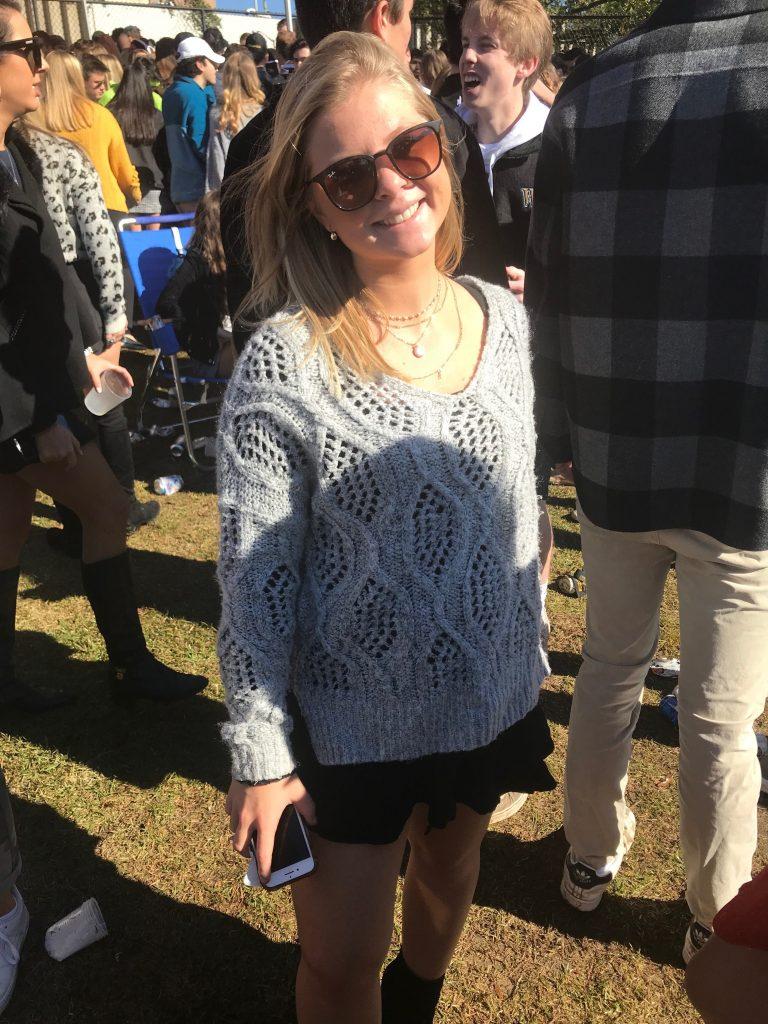 Sophomore Lynn Huffard models a gray knitted sweater, with a black skirt and black booties.
A tailgate is a great opportunity to sport new looks like this sweater-skirt pair. This outfit takes the classic fall knitted-sweater outfit and makes it perfect for a tailgate by adding a cute, flowy skirt.
"[Tailgates give] the chance to play with texture and layering. The wool texture mixed with the suede of the shoe and the smoothness of the black skirt was fun," Huffard said. 
The gray and black look are perfect colors to wear when transitioning to the fall.
"I like to keep the colors I wear pretty consistent with each other," Huffard said.
Her outfit was then tied together with black booties, which are both a fall and winter fashion staple. These booties are some of her favorite shoes to pull out for tailgates.
"They make every outfit look more sophisticated, which is always a look I am going for," Huffard said.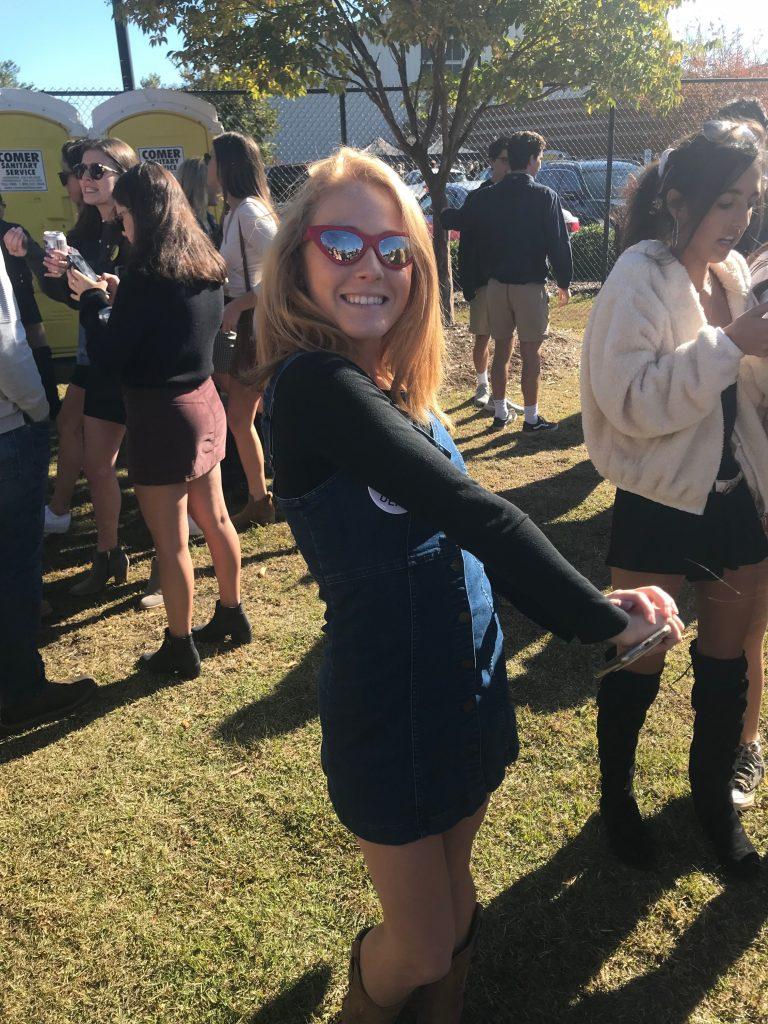 Sophomore Georgia McLean wears a denim overall dress on top of a black shirt with red "cat-eye" sunglasses.
If you are a fan of vintage looks, McLean's outfit is the perfect throwback look fit for a tailgate. 
"I love to wear shirts under dresses because it feels like it really channels my nineties style icon Cher Horowitz from Clueless," McLean said.
McLean made the tailgate her personal runway by rocking one of the most stylish outfits. Vintage looks, like overalls and t-shirts under dresses, have been a popular trend in the past few years. By taking inspiration from celebrities of the past, McLean was able to pull off this unique look that is cute for the tailgate, and even for any other fall day.
Aside from the nineties-inspired outfit, McLean's "cat eye" sunglasses are the real showstopper. The red accessory complements her denim look perfectly while adding some glamour as well. If you ever feel like your outfit needs more of a flare, sunglasses always add a subtle addition that makes an outfit really stand out.