University Cleans Up Carbon Footprint, Literally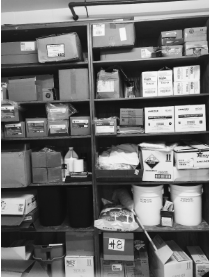 Just six years ago, Wake Forest was using toxic chemicals to clean facilities that burned the eyes of the maintenance staff as well as the earth's ozone layer.
"It was [not until two years] ago that major sustainable changes have been made in the cleaning industry on campus, to be honest" said Stephanie Poskin, director of Facilities Support Services & Operations.
Cleaning supplies, such as toilet paper, chemicals and vacuums, have a huge impact on the rapidly warming Earth. The more obvious waste stems from toilet paper and paper towels, which are created from trees and add to ongoing deforestation. Trees are the primary helpers in soaking up the carbon emissions and recycling clean water back into the atmosphere. According to National Geographic, the world's rainforests could completely vanish in 100 years at the current rate of deforestation.
Many cleaning chemicals contain volatile organic compounds, such as phosphorus, that contaminate water when they are rinsed down drains, showers or toilets. Additionally, most cleaning supplies come in plastic containers that get burned after being used, giving off toxic fossil fuel emissions. These emissions add to the earth's greenhouse gases that are warming the planet to a dangerous extent.
"My personal opinion regarding any petroleum products is that they should not exist, more because of methods of extraction and interaction with the above-ground environment," said senior Maggie Powell, president of student-led environmental organization Cultivate Environmental Consciousness. "However, plastic is a cheap, durable material and getting rid of it would be difficult. I think using more paper or compostable containers would help this."
Poskin agrees, which is why in the past two years Wake Forest has ordered from PortionPac, a cleaning materials company whose mission is to make sustainable products. The biodegradable packets that the solutions come in can be filled with tap water, eliminating Wake Forest's old necessity to buy large plastic water bottles.
When taking inventory of all the cleaning supplies two years ago, Poskin and her staff found many products that were not environmentally sound nor sustainably packaged. They were also surprised to find many green supplies on the shelves that were not even being used.
"Most of the products we actually had already; we just didn't have a process in place that made it so that we could successfully use them," said Associate Vice President for Facilities and Campus Services John Shenette.
The new system involves cleaning every day with environmentally friendly solutions, compared to Wake Forest's old way of cleaning once a week with harsh chemicals.
"There's a little more elbow grease, but it's definitely better for the students, the employees and our environment," said Poskin.
In terms of paper, everything is biodegradable, all toilet paper is recycled and 78 percent of paper towels are recycled.
Microfiber towels have also been a successful accomplishment made by Wake Forest in reducing the amount of paper used on campus. The maintenance staff waits to pull the four-sided towels from multiple facilities in order to launder in large loads with high-efficiency machines. These machines are placed in different locations on campus such as residence halls, Scales and Tribble to prevent the use of vehicles or gas to transport them.
"I think if the rest of the industry used a microfiber or a towel as opposed to paper towels, that would make a huge impact in terms of deforestation," said Poskin. 
In the next two years, Poskin hopes to completely get rid of all old vacuums on campus and replace them with backpack vacuums. The current vacuums use a beater bar, which regularly beats the carpet to get the dust up through the vacuum and into the air. The new backpack vacuums would include triple heptra filtration, which pulls the dust from the carpet straight up into the vacuum, rather than into environment.
Additionally, Poskin and Shenette are working together to implement a one-ply instead of a two-ply tissue for rolling the Quad. They want the celebratory experience to look and feel the same but only use half as much paper.
"If we made this much sustainable change [just last year], imagine what we can do in the next couple," said Shenette.