Campus clubs aim to put fast fashion out of style
An exploration of the environmental and social benefits of investing in secondhand clothing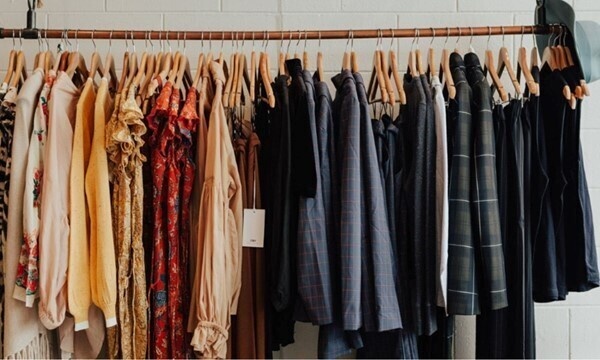 It is human nature to try and look like everyone else and fit in with certain groups. The problem with this is that "fitting in" or being "stylish" without harming the environment, can be difficult. 
According to The Conscious Club, just one cotton shirt requires almost 3,000 liters of water to produce — the equivalent of 900 days of drinking water. The vibrant colors from clothing dyes are the second largest polluter of clean water in the world. 
Don't forget the water that washing machines use or even the water used to grow cotton. As a matter of fact, the production of clothing accounts for over two-thirds of water use globally. 
"Anything we care about doesn't exist on a dead planet," said Madeline Mayr, a sophomore at Wake Forest who has created her own upcycling clothing brand.
The abundance of carbon dioxide emissions from human activity is contributing to a climate crisis that has the earth barrelling towards a temperature increase of approximately 1.5 degrees Celsius. The fashion industry contributes to 10% of global greenhouse emissions, according to the U.N.
Wasteful fashion brands have been a significant contributor to the crisis, and the "in-group" nature of universities like Wake Forest supports the accelerated shifting of trends that fast and cheap fashion accommodates for.
"It's hard to resist … it makes looking cool so easy," said Elsa Maurizi, a sophomore at Wake. 
Anna Price, a senior at Wake Forest and the Office of Sustainability's Sustainable Consumption intern, admits that environmentally friendly clothing is frequently expensive and difficult to find. 
"So many college students are thinking 'I have a 10-page paper to write … I don't have time to read ingredients," she said.
So, to combat this, people like Price and other members of the Office of Sustainability introduced on-campus alternatives. Price organized an extremely successful clothing swap last semester and is looking forward to another Sustainable Clothing Exchange this semester from April 4 – 8 in the Magnolia Lounge.
In preparation over the past few months, Price has facilitated a campus-wide collection of clothes for the exchange. During the event, she and other volunteers will display the donated clothing on racks for students to peruse. In order to take a piece of clothing, anyone interested has to donate a piece of clothing in return. 
"We still want people to see clothes as valuable," Price said."There needs to be a mindset shift. People are detached from where their clothes come from." 
The campus organization Greeks Go Green has representatives from every sorority on campus and most fraternities who are meant to serve as peer educators for their chapters about sustainability.
Three sororities have sustainable clothing-related goals for this year and have suggested many ideas to combat the overconsumption often associated with Greek life, including an incentivized viewing of a documentary about fast fashion, clothing upcycling workshops, and clothing swaps within each chapter.
Despite so many alternatives on and off-campus, the cyclical and short-lived nature of fast fashion trends still permeates Wake Forest's campus. However, some students are trying to shift the style culture on a more sustainable direction. Recently, thrifting has become more of a trend and has allowed second-hand clothing — which does not require any new production — to become socially acceptable. 
Mayr's company, as mentioned before, capitalized on this romanticization of second-hand clothing with her brand "Where's Dat From?" Her customers can send her Pinterest boards with their dream outfits and ideal colors to wear, and Mayr thrifts for an array of clothing for a "style pack" that her customers may like. 
Both Mayr and Price noted the importance of altering social norms to increase sustainable consumption. The glamorization of thrifting, something that had been previously stigmatized as "dirty" or as something for people with lower incomes, is the epitome of "in-group" mentality shifts for the better. 
Paige Bryan, the Office of Sustainability's Greeks go Green intern, recommends clothing resellers like Depop and the Design Archives store in downtown Winston-Salem for sustainable clothes. 
Bryan also notes that although "people like to be cool … finding your own style is the best way to combat fast fashion."