Six Hundred Degrees provides upscale dining in Winston-Salem
Two local chefs join forces to run an all wood-grill restaurant with locally-sourced food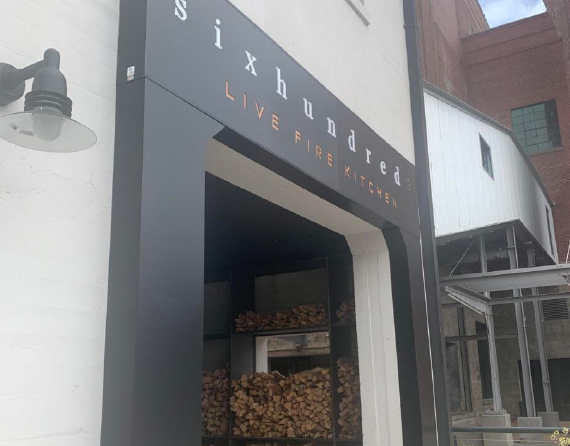 Winston-Salem's Innovation Quarter has its newest addition: an upscale restaurant with a live-fire kitchen and bar.
After working for both River Birch Lodge and Willow's Bistro and planning for three years, Travis Myers and Ryan Oberle opened their restaurant, Six Hundred Degrees, on March 8. Their favorite aspect of the restaurant is its live-fire kitchen, which is fitting, as the restaurant's name emerged from the fact that 600 degrees Celsius is the temperature at which charcoal is created. 
"My partner and I have just always envisioned this plan of an all wood-grill restaurant," said Myers, the restaurant's head chef. "Everything we cook is like our ancestors did. We are basically blending old with new, so old craftsmanship with new variations and new ideas." 
Their vision for locally-sourced food can be seen through their menu, as some of their dishes include classic North Carolina shrimp and grits or trout. Some of their dishes fuse Asian flavors with Southern roots, such as spicy cucumbers and Korean-style pork short ribs. 
Myers got his start in the culinary world at an early age as his first introduction was watching his mother cook traditional southern dishes at home. From there, he had an interesting turn as he spent 15 years working retail for the GAP. Although he said that some people will "mock" him for his time in retail, he found it to be crucial in his development and work in the restaurant industry later. 
"It decided who I was going to be as a person," Myers said. "They helped me with core management structures. When I went to college, that solidified my goal. I knew what I wanted to do."
After leaving retail, he attended the Culinary Institute of America located in Hyde Park, NY, which is known as the top culinary school in the US. After he graduated from the institute, he returned home to North Carolina and started at the River Birch Lodge, where he met Oberle. From there, they moved to Willow's Bistro where Myers was the chef and Oberle was the general manager. 
In August of 2018, Myers won the Chef of the Year award from the North Carolina Restaurant and Lodging Association (NCRLA). He competed in the association's 'chef showdown' with his specialty dish "duck two ways", which incorporated many of North Carolina's homegrown ingredients and won him the title. The momentum from winning this title led Myers to start looking for a place to start his own restaurant, he said. 
After meeting with a broker and being introduced to their new space in the Innovation Quarter along with its landlord, Myers and Oberle felt this was the spot for their new restaurant.
Much of the essence of Six Hundred Degrees is rooted in the owners' connection to the North Carolina community. From local architects like Stitch Design Shop, which designed their interior, to local artists like Mona King, whose work hangs inside. 
"We are honored to hang Mona King's art in our home," Oberle said. "We are so grateful that our city is rich in cultural arts. Everything is sourced from our backyard."
Myers drew on his memories from going to Disney World in Florida with his family. While he described the trip being at times chaotic, fun, or difficult, when he left at the end of the day carrying his daughter who was fast asleep from all the excitement, he realized that at the end of the day, every moment was part of the overall experience and feeling. 
"We create an experience. It all happens from the moment you make the reservation," Myers said. "It transcends from the host from when you first walk in. It's the experience and that's what we sell. I want great food, and I want great service and great cocktails and great desserts but that's all part of the experience. That's the package."
So far, Myers and Oberle have seen a positive attendance in their restaurant and are looking forward to what lies ahead for Six Hundred Degrees. 
"We really welcomed them to the downtown community," said Jason Thiel, President of the Downtown Winston-Salem Partnership said. "It is really nice to see folks making such a big investment in downtown. It shows positively for us."