Deacon 'Sportlight:' Jewel Spear
Women's basketball star talks WNBA, this season and pineapple on pizza
Junior Jewel Spear of the Wake Forest Women's basketball team is a member of the 2022 All-ACC First Team, the ACC's 2021-22 leading scorer and a gold medalist in the FIBA U19 Women's Basketball World Cup. She currently averages 15.9 points per game and is a key leader in Head Coach Megan Gebbia's system this season. I was able to sit down with Spear last week to talk basketball — and play basketball as well. 
How did you get into basketball?
I got into basketball through my family. I have two brothers. My older brother is currently playing at Robert Morris University, and my younger brother is a freshman playing at the same high school that I attended. I've been around the game for a while watching them both play. Both my parents played basketball as well, and my mom also played volleyball. We're a very athletic family, and that's really how I got into the sport.
Did you play or follow any other sports growing up? How do you think that has influenced you as an athlete?
I played softball for around five to six years. It interfered with basketball, so I ended up having to choose. My mom got me into competitive swimming and really wanted me to be a swimmer, which helped with my conditioning and allowed for my body to take a break joint-wise. It improved my fitness and lung capacity, too. I also ran track growing up. I did long jump, triple  jump, the four by four relay and the 400 meter, which was my favorite race.
How did you first hear about Wake Forest?
I got recruited by Wake Forest, but I was actually unfamiliar with the university, until my family in Greensboro who introduced me to Wake Forest. When I went on my visit, they came along with my immediate family to show me around.
Touch on your recruitment process — what motivated you to come to play basketball for Wake Forest?
I wouldn't say I was heavily recruited when I first started getting looked at. In my class' ESPN Top 100 rankings, I was either 86 or 88, which was low in my eyes. I really believed that could have been higher. I also wasn't actually listed until the last rankings. So I grew up with a chip on my shoulder, just knowing from the work that I put in that I could be really good. [I also knew] that I would have to go to a program that maybe wasn't established yet but trying to make a legacy, and I'd have to put my foot into a program and make a difference. So I can't wait to make a difference and leave a legacy. Wake Forest has great academics as well, which puts me around great people. 
Were you a big college basketball fan when you're growing up?
Yes, I was a really big college basketball fan. Everyone would always ask me, "do you have a dream school? Did you have a dream school?" I really didn't have a dream school, but I always grew up as a Tar Heels fan on the men's basketball side. My family rooted for them because of Roy Williams. I find it really funny that I now go to Wake Forest, and UNC is a rival now. 
How has the adjustment been with new Head Coach Megan Gebbia?
It's definitely been different, especially coming from Coach Jen [Hoover], who was a great coach that I respect very much and wish nothing but the best. With her system though, the ball was in my hands the majority of the time — almost every play. With Coach Meg [Gebbia], it's  a different system. We utilize a lot of motion, and different people are touching the ball. We constantly make different reads, so the ball might not stay in my hands at all times, which keeps the defense on their toes. Other teams can't really scout me as much as they did last year because they never know what I'm going to do, and where the ball is going to move. I think the system is different, and it's been an adjustment; we're still learning as a team and as individuals. I think it's coming along, and we're able to see the growth.
Can you tell me about the most memorable basketball game that you've ever played in?
So there's actually two. It used to be our game at Chapel Hill my freshman year at the ACC tournament. I think I had 27-something points, maybe six threes. My immediate family was there — my mom, dad, my younger brother and my cousins. That win against UNC was needed for us to make the NCAA tournament that year, which was very memorable. This year, though, our away game against Minnesota is up there. I hit a stepback at the buzzer to win the game. It was insane. I shot it, thought I got fouled, and it still went in. I was like, "what just happened," and doing that on the road is just even more exciting because the home fans were just silent.
In 2021 you won gold at the FIBA U19 Women's Basketball Championship, playing alongside the likes of Caitlin Clark of Iowa and Azzi Fudd of UConn, some of the biggest names in college basketball right now. So talk to me about how your role on that team was different from your role here at Wake Forest.
Yeah, I mean, I really enjoyed playing with USA basketball. You have talents like you said, Caitlin [Clark], Azzi [Fudd], Te-Hina Paopao from Oregon and various others I can name, like Sanaya Fagan from South Carolina, Payton Verhulst who is now Oklahoma, Sonia Citron who's at Notre Dame and Diamond Johnson at NC State. You have all of these top-tier names in the class that you get to play and share your talents with, so instead of me having to score 20 points, maybe I only need to score six points because there's other people that can score. I believe my role on that team was more defense and shotmaking, so like a three-and-D player. Knowing that Caitlin's gonna get hers and other people are gonna get theirs allowed me to just play my role and have fun while not having to stress as much because you have so many great players around you. You only have to do so much. It was definitely a great experience and a lot of fun. I really appreciated meeting different people and players within the conference, as well as outside the conference. I still keep in touch with my teammates today.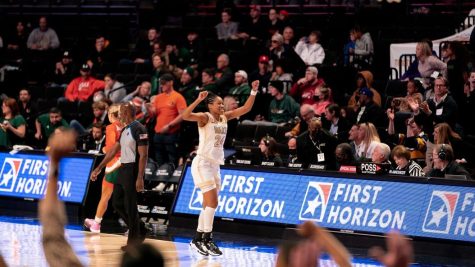 In the world of basketball and sports, there's no denying that there's disparities in representation between men and women's athletics. A lot of people rally around the argument that more people go to men's events. What do you have to say about this difference? And how do you address people that hold those views because a lot of the time they miss the forest for the trees? 
Yeah, I feel like people's views are valid. I think women's sports are growing. The WNBA can be an example. I think when games are put on TV, people will watch, but when games are not on TV or not represented then it's harder to watch and harder to get views. Even though we might not get as much attention as the men's team, respectfully, I think basketball is basketball at the end of the day. We're a community here at Wake Forest, and we all have the same goal of just trying to embody that community mindset and work toward a common goal. We're all coming together to win, and we're all coming together to have fun. I think as we continue to win and as we continue to build this program, more fans will come. 
There's been a recent implementation of NIL [name, image, likeness] into collegiate sports. Have you seen any impacts on women's basketball or any kind of reverberations from that addition?
Yeah, I actually think NIL is a great thing. I think it's great to be able to monetize the value of your name. I think it's cool that you can hold camps back at home. Like say, I go back home, I can hold camps at my high school. I think it's cool that you can make your own merch, too. I got the saying "Fear The Spear" from Kelly Gramlich who works at ACC Network, and everybody says that when they see me now. With NIL, I can make shirts and benefit from that financially. I think that's really cool because it's growing the game and the fan support, so I really think it's a great idea. I think women are doing a great job in that aspect. The idea of NIL kind of gets lost when people just associate it with men's football and basketball. There are really good examples such as the ones I have mentioned — Azzi Fudd and Paige Bueckers, who I'm close with right now just through USA women's basketball. So it's cool to see how people can use their platform as well with NIL.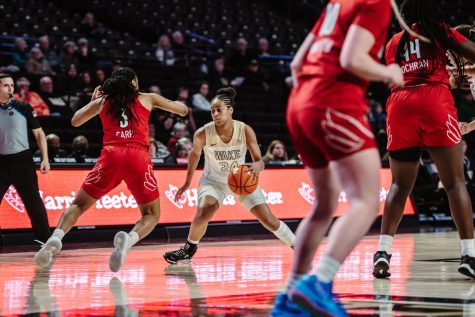 What are your future plans after Wake Forest?
My future plans are to play professionally. I want to get drafted in the WNBA in the States, but whether or not that happens, I'd like to at least play pro professionally and see what happens from there. But definitely playing pro in the WNBA is the plan.
The recent incidents concerning Brittney Griner have shed a light on the fact that many WNBA stars have to go abroad to supplement a substantial income. What do you make of that and how do you think it might impact your career path?
I think the WNBA is growing like I said, money-wise, but I think most athletes in the WNBA do understand that there is more money and bigger contracts overseas. With the Brittney Griner situation, I think it shed some light on who might go overseas. Not everyone will go overseas now, not only because going abroad is hard due to things like being away from your family, the time difference and stuff like that, but also the situation itself was really bad. I think it opened people's eyes to what can happen abroad and reflected the differences between basketball in the United States compared to other countries. So with myself, honestly, I'm thinking I want to play pro in the WNBA. That's my ultimate goal, and then from there, I'll just have to see how things play out. I don't think I have a set answer to whether or not I would play somewhere else, but playing pro is playing pro. I think it's a great opportunity to meet other people, see other people's cultures and be able to learn about that aspect within basketball. Both sides have their positives.