Coffee date? If you Sayso
A local coffee shop focuses on making 'excellent' coffee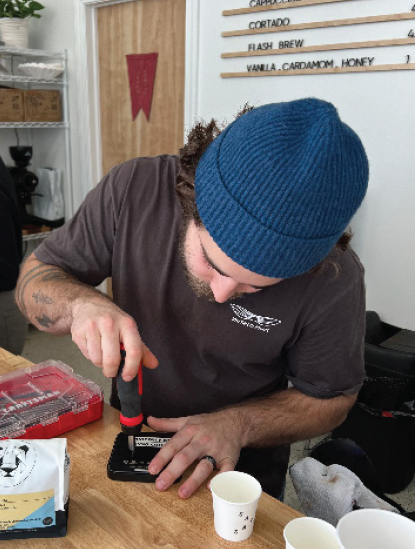 It is a Saturday afternoon, and you need to get work done. You pull up to Louie & Honey's Kitchen only to find that the line is out the door, and all the tables are taken.
Where do you go now? Let me introduce you to Sayso Coffee.
Sayso Coffee recently relocated to a permanent location in Winston-Salem this year. Previously, they shared a building near Carolina University, but now they are located off Brookstown Avenue, close to Old Salem. This new space has allowed the owners of Sayso Coffee to add creative touches to their business while also promoting their dedication to great-quality coffee.
With a magazine library, local art for sale and comfortable seating, Sayso Coffee provides an incredible space for people in Winston-Salem to gather, work or pass time.
The vibey music, plants, natural lighting and friendly staff all contribute to the creative and welcoming atmosphere of Sayso Coffee. But the most important aspect of the shop is its coffee.
"This is definitely the best coffee I have had in Winston[-Salem]. It's like artisan coffee — they put care into it. It's not too sweet, it's not too strong — it's quality," junior Kate Upchurch said. 
Sayso Coffee, compared to other Winston-Salem coffee shops, is coffee-centric. Kylan Reasoner, an owner of the coffee shop and a qualifier for the 2020 U.S. Barista Competition, explains that "Sayso Coffee was founded to make excellent coffee." This mission stands in contrast to most Winston-Salem shops such as Bobby Boy, Louie & Honey's Kitchen and Krankies, which promote baked goods and food first.
This is not to say that Sayso Coffee does not create delicious baked goods (because they do), but it is not their primary goal. Their mission is to serve excellent coffee, create a welcoming, friendly environment and use high-quality local ingredients.
So, what makes their coffee the best?
According to Reasoner, Sayso Coffee's baristas triple-weigh shots for each drink, ensuring that they are crafted perfectly and consistently. Sayso Coffee also uses Black & White Coffee Roasters — who are local to North Carolina— because the company emphasizes the unique qualities found in different coffees. By using Black & White Coffee Roasters as their source, Sayso's coffee has a fruitier, distinguishable taste that is more craft and high-end. Lastly, Sayso Coffee handmakes all of its syrups, again highlighting the care they put into each cup of joe.
Though the location is particularly coffee-focused, Sayso does also serve some baked goods to compliment their drinks.
"One of the reasons we moved to this spot was because we could add a kitchen," Reasoner said. "Our specialty is definitely cake…and so we are trying to make sure we use high-quality ingredients that create something that you won't regret eating or make your stomach hurt."
Even though the new Sayso Coffee space will not be finished until late spring, hop in your car (or steal…I mean borrow…your friend's car), drive to Sayso, order a cappuccino or cardamom latte and enjoy the creative environment. Sayso Coffee rejects the all-too-common, sterile, industrial vibe by not being too curated of a space. Between the wooden pillars, colorful posters, large plants and fun rugs, the white interior is sprinkled with character.
Immerse yourself in coffee shop culture not only because it supports local businesses, but also because coffee shops cultivate community, collaboration and creativity. These seemingly unimportant spaces add value to society as they allow individuals to meet together and provide a "third home" for people to work, study or rest.
So, go. Meet a friend. And enjoy your coffee.