Looking back on football's pandemic season
Coach Dave Clawson reflects on the 2020 campaign three years later
A tease of Wake Forest football is just around the corner. The spring game on April 15 will bring the Demon Deacons back to the gridiron for the first time since the end of the 2022 season. This week, the team will hold their first practices in preparation for its return to Truist Field.
Three years ago, it was a similar story. In March 2020, the team practiced just twice before spring break. Those practices would never resume once the faculty and students learned on March 11 that the onset of the COVID-19 pandemic would delay the post-spring break migration back to campus. 
Everyone can recall the ways in which their daily lives were uprooted by COVID-19, but as the Demon Deacons look ahead to their spring game, I wanted to learn more about the canceled game that began the strange 2020 college football season. I spoke to Head Coach Dave Clawson about his team's experience navigating the pandemic.
"We had spring break, and then all of a sudden during spring break is when the pandemic happened," Clawson said. "They said not to come back to campus, and at that point we had no idea if it was going to be a week, two weeks, two months or two years. And then when the rest of the semester was canceled, at that point we didn't even know if we were going to have a football season. It was just about sharing the information that we did have, which wasn't much."
The standstill that came about as a result of COVID-19 could be summarized as just that — a search for information. Every facet of society was pressed to use each day's breaking news to form long-term plans on how to handle the novel situation. Clawson was presented with this herculean task as leader of his football team, and the first step involved creating a communication network.
"This is when we learned how to implement Zoom, and we got to a point where we had weekly meetings," Clawson explained. "We tried to get [the players] back on schedule by having positional, offensive and defensive meetings. We were worried about how some of our players didn't have access to WiFi. We had one player that would have to pull his car up to the local library and try to access the WiFi from the parking lot."
The issue of maintaining consistent contact with players extended to the high school class of 2021 — the junior-year recruits with which Coach Clawson and his staff had to familiarize themselves. Not only were in-person visits off the table, but so was film on these players' senior seasons because they may have never happened.
  "Everything became virtual with the 2021 class," Clawson said. "The other problem was that a good percentage of the country didn't even have a senior football season. So it was really, really hard to evaluate. There were players that we liked as juniors, but we wanted to see them play as seniors. They never got that chance to play."
Just as high school seniors had to wait in uncertainty to learn whether or not they would have a football season in fall 2020, NCAA teams across the country scrambled to form their own plans. At one point in the summer, Power 5 conferences such as the Big Ten and PAC-12 had declared their initiatives to delay the season until the spring.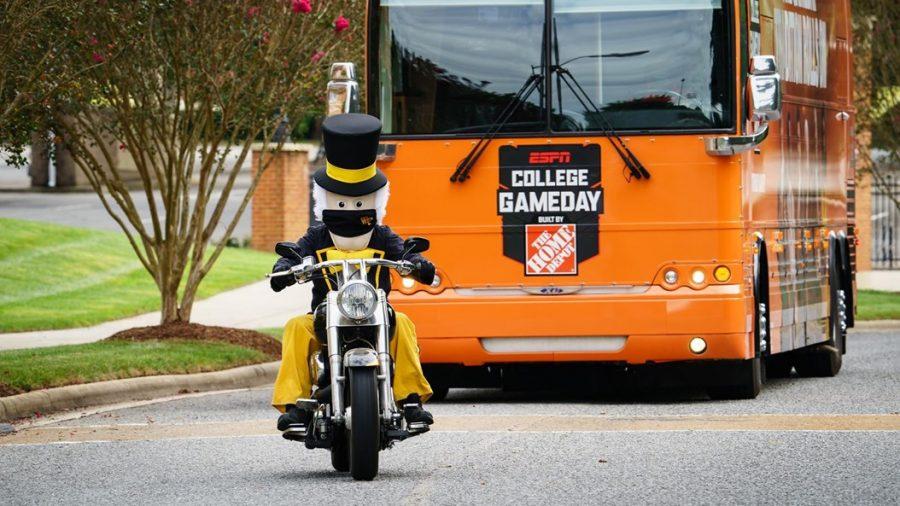 All the while, ACC teams, including Wake Forest, were making long-awaited returns to campus with no confirmation of a season in sight.
"I believe Duke, Virginia and us were the last three teams to come back," Clawson said. "We were not only still figuring out the schedule, but our players also got back so late that instead of them having gotten into shape in the summer, we were straight to preparing for the season."
He continued: "We had to really adjust what we did in camp. It became the most responsible thing to change those practices so that there was less risk of injury for players who hadn't seen much wear and tear yet. We still weren't sure we were going to play, so I wasn't comfortable having our team scrimmage and tackle for a season there was still a very good chance that we weren't playing."
Concerns about his players' health encompassed more than just their physical wellbeing.
"Especially before we came back, the many Zooms were just about trying to keep the players engaged," Clawson explained. "We were very worried about their mental health. We were very worried about the isolation."
The August announcement that the ACC would play in the Fall came with the caveat that the once pre-determined schedules were completely rearranged. Teams would play just one non-conference game, and that change dramatically bolstered Wake Forest's schedule and made preseason preparation even more difficult.
"We'll usually plan in the preseason for our first three to four opponents, and those all changed," Clawson said. "We had done a lot of work for teams that we ended up not playing, and then we had to rush and prepare for games we weren't expecting to play."
 The erratic transformation of schedules did not end once the fall season actually began. Surges of COVID-19 cases led to three game cancellations for the Demon Deacons — contests against Duke, Miami and Florida State — and the effects of these occasions wore on the mental health of both players and coaching staff.
"It was hard because we had put in all that work, and then the games were getting canceled, and some of them, like the Florida State game, got canceled last minute," Clawson said. "We put in all that work, all that preparation, all that practice time, and there was no reward. That became very hard on the players, and it took a toll on them. It took a toll on all of us."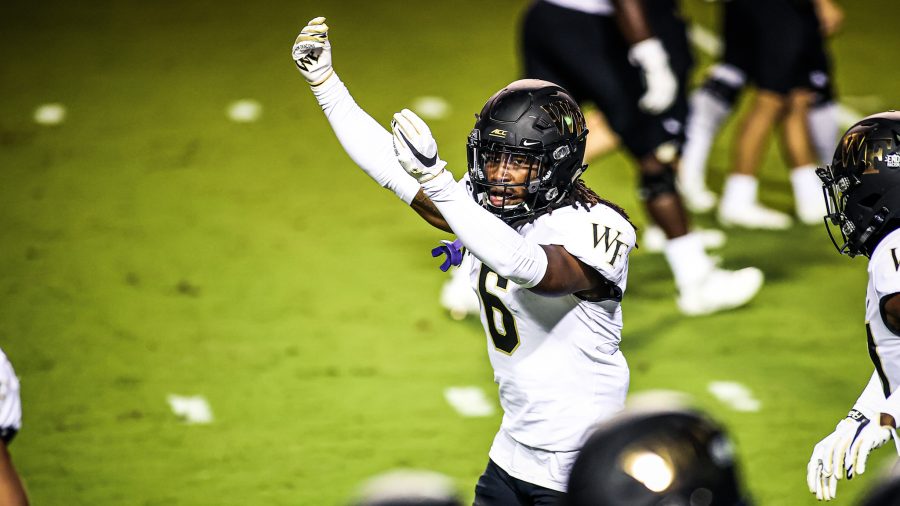 Despite the adversity that the 2020 campaign presented, Clawson expressed pride in the way his team handled the uncertainty of the season.
"I think that one of the positives was that we finished when a lot of teams opted out," Clawson said. "We had very few players opt out. It's not that we didn't have moments when I'm sure they wanted to, but I was proud that our football team stuck out the season. And getting some guys back with an extra [year of eligibility] was great."
The Demon Deacons finished the 2020 campaign with a 4-5 record, capped off by a loss in the Duke's Mayo Bowl against Wisconsin. The results fail to paint the full picture of the work the team put in during such a chaotic season. The development that occurred over the season was apparent in 2021, however, which saw Wake Forest's best record — 11-3 with a Gator Bowl victory — since 2006.
"In a lot of ways, I believe the struggle and the challenge of COVID-19 and 2020 set us up to have a great 2021," Clawson said. "I thought we had some leadership emerge. I think that what happened is we had some of the players — like Luke Masterson, Sam Hartman, Ja'Sir Taylor and Miles Fox — find their voices and become strong leaders for us. And because those guys came back in the 2021 season, we had very, very strong internal leadership. So there were definitely some silver linings."