Deacon Profile: Derick Mejia Torres
A Wake Forest junior advocates for the undocumented
For junior Derick Mejia Torres, tracing the roots of his activism for undocumented immigrants is easy. He reflects on being in middle school, where, shortly after making the 2,000-mile journey as an unaccompanied minor from Honduras to New Orleans, La., to join his mother, peers bullied him for not knowing English.
"I decided I would defend myself," Mejia Torres said. "And then when a couple kids would go and bother someone that wasn't documented and didn't speak English, I was there to help them and translate them and get them out of the situation."
It would have been easy for Mejia Torres to turn a blind eye to his peers' struggles. On top of his own issues with classmates, he was struggling with an education taught in a language he didn't know, getting reacquainted with a mother he had only known through the phone for most of his life and recovering from a five-day stay in a migrant detainment center, which he described as a cold, unhygienic, windowless prison. 
Still, his drive to help others remained undimmed: "Activism is just something I do naturally. I have to do it because I know what it feels like to not have the help and resources that you want," he said. 
The advocacy work he began in middle school continued through his high school years. Since then, it has blossomed into many variations — whether at the local school board or the Department of Justice.
In October 2022, as part of Youth Justice Action Month, Mejia Torres spoke to a council representing the U.S. Department of Justice — including Liz Ryan, administrator of the Office of Juvenile Justice and Delinquency Prevention, and Vanita Gupta, associate attorney general of the United States.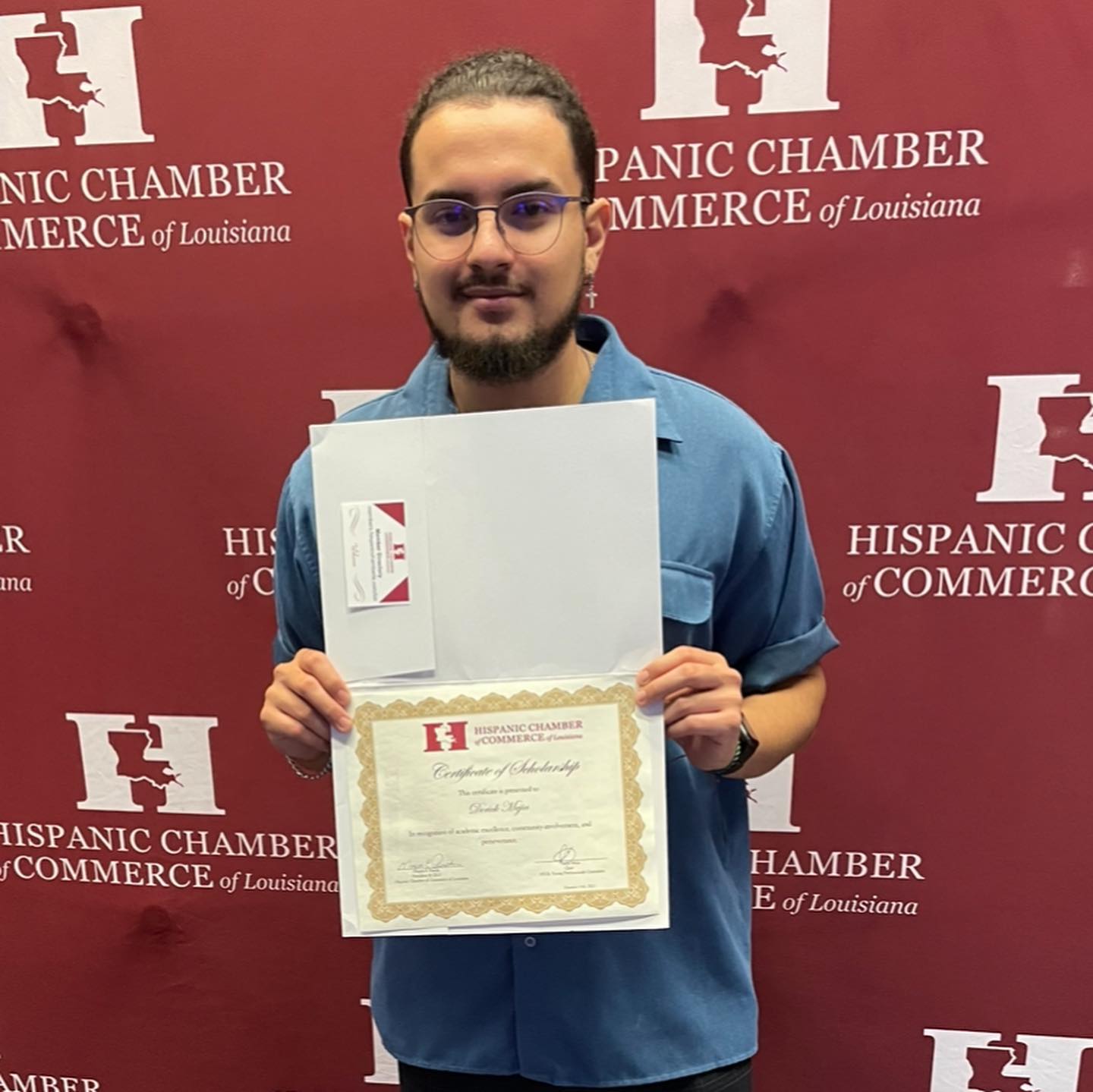 "Sometimes when we think about the criminal legal system and immigration system, we think about them [as two things] that are completely separate from each other, but they have a lot of crossovers," Mejia Torres said, discussing what he shared with the Department of Justice.
Mejia Torres pointed out that in Louisiana, his home state, undocumented immigrants are unable to get driver's licenses or license plates for their cars. Driving without a license is a crime, and many immigrants will drive to other states and pay extra money to use other people's addresses to get license plates.
"The way that the immigration system is set up right now is making us all criminals, even though we don't want to be," Mejia Torres explained. "Sometimes we have to make those decisions. For example, if you want to eat or take your kids to school, and you don't have a driver's license, you're going to do it no matter what because that's a need. It's not a desire."
Mejia Torres noted that one of his goals is to ensure that all states provide a universal driver's license so that immigrants don't have to worry about deportation while driving.
In his own community in New Orleans, Mejia Torres works with Free ALAS, a nonprofit organization that helps educators connect undocumented students with pro bono legal representation and advocates for students to stay in school before trials in immigration court. 
Because those who appear in immigration court are not entitled to a public defender, securing one's own legal representation is often a critical factor in immigration court cases. According to AP News, only 8% of immigrants who appear without an attorney win their cases, compared to 88% of those who are represented by an attorney.
Some of Mejia Torres's specific work with Free ALAS involves accompanying the organization's founder, Lisa Maria Rhodes, to local schools and training educators on how to best assist students that have been affected by the immigration system. He shares his experiences of what it is like to be undocumented and the value of having a teacher's guidance. 
He has also spoken to local New Orleans school boards, advocating for increased resources and different paths to graduation for undocumented students in the United States. Many students come to the United States as high schoolers, and while they might know the content being taught, they cannot express their knowledge in English.
"The language barrier there sometimes makes [these students] seem like they don't know anything," Mejia Torres said. "We should have a different path to graduation that, instead of taking standardized testing in English, maybe some type of portfolio can allow them to show that they have the math skills, sciences skills and reading skills that they need, but they might need some time to learn the language first."
On a more personal level, he has also worked with local New Orleans youth through the ASPIRE Fellowship, which he helped found through Free ALAS. The ASPIRE Fellowship brings together Black and brown students and helps them remove barriers to education and advocacy imposed by immigration and criminal court systems. The six-week program was divided into traditional learning and experiential learning days. During the former, students learned about a concept — such as anger management, what wellness looks like or how to be a board member of a nonprofit. 
"
I use the tools that I have because I feel like it's my duty.
— Derick Mejia Torres ('24)
The experiential learning days focused on putting principles into practice, which included activities such as advocating for undocumented students to the superintendent of New Orleans schools and meeting community activists. Participants were introduced to figures such as Malik Rahim, a founder of the New Orleans chapter of the Black Panthers, and Dave Dennis, a civil rights activist who helped organize the 1964 Mississippi Freedom Summer and directed Mississippi's Congress of Racial Equality.
"The philosophy that I have, and that I know ALAS has, too, is that those closer to the problem are closer to the solution, so putting youth in places of power will make change," Mejia Torres said. "When I was talking to [Dennis], I asked how he made that big of a change. He told me that activism is just like playing basketball. When you want to achieve a goal, sometimes you have to start alone. And then someone else likes what you're doing and asks to play with you. And then [someone else asks]… Then without realizing, you have two teams and can play a match."
In addition to Dennis, Mejia Torres credits his mother as one of his inspirations.
"She's always helping people. Sometimes she doesn't even know who she's helping. I get that characteristic from her," he said. "She's the best at trying really hard. She's sent a lot of people in Honduras food, clothing, stuff like that. I want to ensure that wherever she is, she has the best resources."
Mejia Torres recently received his U.S. citizenship, and though he has not yet decided what he wants to do after graduation, he knows it will involve advocating for and helping others. 
"I understand the place of privilege that I have because I'm a college student that has documentation. I'm able to access a lot of spaces that other people can't, maybe because of the language barrier or sometimes just because they don't have the connections. I use the tools that I have because I feel like it's my duty."