Spotlight: Ian Harkes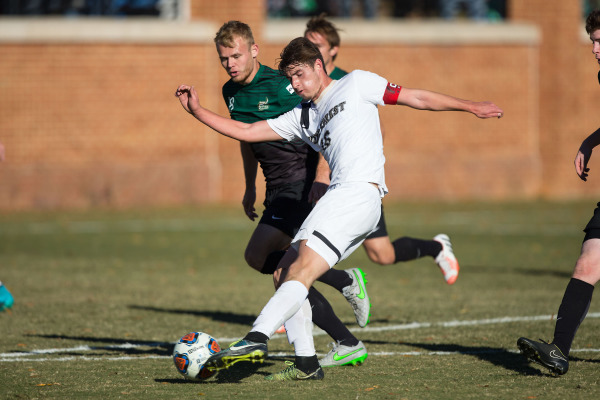 Ian Harkes, a senior from Fairfax, Virginia., is returning to Wake Forest for his senior year in order to once again lead the team as a captain and to prepare the incoming freshmen for their college soccer careers.

Being a captain last year and this year, Harkes hopes to continue to make huge strides as a leader in the midfield as well as setting up other teammates for success.
He hopes to achieve this by putting the midfield on the offensive in order to allow the forwards to have more shots on goal.
Harkes served as a team captain starting all 22 games and scored a goal along with four assits this last season. By playing with confidence every game, Harkes hopes to end his college career picking up where the team ended last year when they made it to the NCAA championsip.
How is the team looking for the season?
Pretty good.
I think we were a little disappointed with the opening game because of the loss, but I think it was really good to bounce back and see the guys rally and get this win tonight against Cal Poly.
How much value do you place in the preseason games?
I don't know. You kind of don't want to overthink them too much. We tried to put out mixed groups to get the feel and try to get some freshmen in to give them confidence and to help them mesh with the group.
And obviously we aren't super excited about the two zero-zeros, but we are moving on and hoping this will help prepare us for the future.
How is this year's team different from last year's team both character-wise and tactically?
I don't think a lot has changed. We have a lot of the core guys back, so we are trying to keep the same culture and hardworking team.
We are trying to get the freshmen in when we can and we are going to try to play three people.
Adding new freshmen to make up for the players who have left is definitely important.
We're trying to find some new quick wingers as well as some freshmen to fill in the gaps but keep the same general team.
How has your role changed this year?
My role has changed a little bit, because I want to take more responsibility on myself to push the game a little bit more. I want to find myself more on the attack and to link up with the forwards to generate chances.
How has Coach Muuss impacted the program since he has arrived?
It's been huge. He really brings a winning mentality. He's a competitor for sure, and he doesn't take anything less than our best. So he's really pushing us day in and day out and really continuing the Wake Forest culture.
How do you feel about the youth on this team?
It was amazing to see Ema Twumasi score that awesome goal and Alex Knox is playing with confidence. All the freshmen are playing well and pushing us. We always say we like to play against the best players every day in training because we pride ourselves on every player. We all do a good job of pushing the group.
What are your personal goals for this year?
I'd like to be the driving force in the midfield. But in terms of individual goals, everyone here worries about individual stats in the nations. I'd like to add more assists and help set up the other players more and find myself on target more each game and to get a rhythm.
What are the team's goals?
We are setting our sights on picking up where we left off last year and trying to get to the NCAA championship.
I think another big goal is the ACC tournament. We haven't had a soccer ACC Championship here at Wake Forest in a while. Also just to mesh together as a team.
What are the biggest strengths and weaknesses on the team?
One of our biggest strengths is playing with confidence.
When we come into games and we beat teams on the pass and really find players up top, we expose people, so we are trying to find that rhythm each and every game.
I think some of our weaknesses are moving together up and down the field.
We don't want to let other teams put us under too much pressure and put us on our back. We just have to focus on moving together and gelling together as a team.
Coming in as a senior, how has that affected your mentality for this season?
I'm not putting too much pressure on it, but it is the last go-around so I'm trying to make the best of it each game.
Do you have any big games circled in the schedule?
UVA is always a big one, Notre Dame, and every ACC game.
What's it like being a captain?
It's a huge honor because of all the people who have played in this program in the past.
Getting to wear the armband and represent this team is great, especially for the character of the group that I'm leading. They push me every day.
What is something that keeps you grounded at Wake Forest?
Just how hard the school is on and off the field. I have to work hard at everything I do.
You can't let yourself slip up and it's a driving mentality.
I see you and some of the guys on the team dyed their hair yellow. Is that because of Lionel Messi?
Yeah, a lot of us dyed our hair. But I'm nowhere near as good as him. We always try to live up to our idols.
McKenzie Maddox also contributed to this article.