Deacon Spotlight: Jennifer Kupcho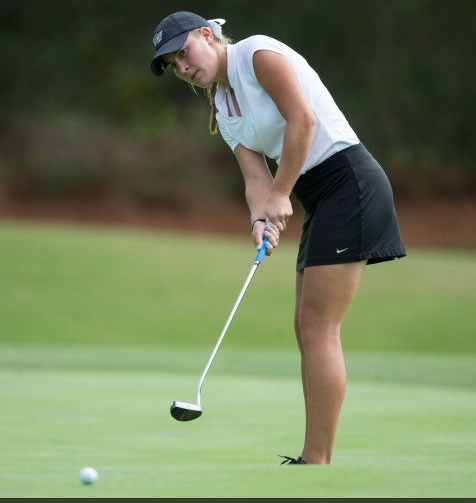 Junior Jennifer Kupcho has accomplished a tremendous amount of success in her three years with the Wake Forest Golf program, and has been receiving accolades throughout her entire career including the 2015 Colorado Women's Golf Association Player of the year, All-ACC team for both her freshman and sophomore seasons, runner-up at the NCAA championship her sophomore year and 21st place finish at the U.S Womens' Open. Kupcho holds the school scoring record with a 70.61, beating her own freshman record of 73.18 during her sophomore season.
As a junior, Kupcho serves as the captain of the team and continues to be a valuable asset to the squad. This Spring alone, she finished ninth in the Evans Derby Experience at Auburn and shooting 65 to tie the school record and was selected for the Palmer Cup team along with freshman Emilia Migliaccio. Going into tournament season Kupcho talks to the Old Gold & Black about this exciting moment in her career as the third ranked ametur in the country.
Lizzie Snyder: First of all, congratulations on tying the Wake Forest 18-hole scoring record earlier this month at the Evans Derby Experience at Auburn, shooting seven-under during your second round at play. Can you comment on how the tournament went and what went into your fantastic performance?
Jennifer Kupcho: I was hitting the ball very well and got on a birdie grove with another girl I was playing with. In my first round of the tournament I was playing pretty much the same golf except that the second round I was making putts so it was really cool to see how that can change the outcome dramatically.
LS: Going into every tournament, how do you mentally prepare to face each individual course and the competition?
JK: I prepare the same for every tournament. I sometime practice some different yardages that I know I will get into par threes or into all the holes in the second shots. All courses are different but preparing similar keeps things good and your confidence up.
LS:  Who is your biggest role model in the golf world?
JK: My brother. Growing up next to someone who has the same goals as you and pushes you was a great experience. We always had competitions and competed to make each other better. We still support and push each other now even though we are clear across the country.
LS:  Can you speak to the dynamic of the team this year? How do you motivate each other to perform your best?
JK: The team this year is the best group we have had since I have been here. We all get along and do everything together. These girls have turned into my family and we love to be around each other. We all work and have our own goals which then translate over to the team goals.
LS:  As a junior, how have you had to step up and be a leader on the team as captain?
JK: I think the past couple years being the best on the team but still being an underclass man was hard. But this year I have been able to step up and really demonstrate how to create a competitive and cohesive team.
LS:  What has been your favorite course or tournament to date during your college career?
JK: I really like UNC Wilmington's tournament. We played it the last two years but not this year but we get to return next year.
LS:  You were just recently selected to be on the  Palmer Cup team along with freshman, Emilia Migliaccio. What are you most excited about going into this tournament in France this July?
JK: I think traveling with her will be a lot of fun. I'm also really excited to get to know and compete alongside the men college golfers because I don't really know that many guys besides our team here. Also France won't be too bad either. I've never been so I hope we get to tour.
LS: When you're not studying or practicing, how do you spend your time?
JK: I enjoy spending time with my friends. We like to watch movies and cook. I don't really have much time so when I do it's a miracle.
LS:  How are you preparing for the ACC Tournament and NCAA tournament ahead? What is the biggest thing on your mind going into tournament season?
JK: I'm trying to get my game back. I've kind of had a rough year this year so I'm grinding and working hoping it will all come around for the final tournament. I don't really have any goals I'm just trying not to worry and work with my team.
LS: As the third ranked amateur nationally, do you see yourself playing golf as a career in the future?
JK: Yes. I want to go professional. I definitely want to graduate before I go but that has been a long time dream of mine so I can't wait to make it a reality.