Christian Beal Shines in Spring Scrimmages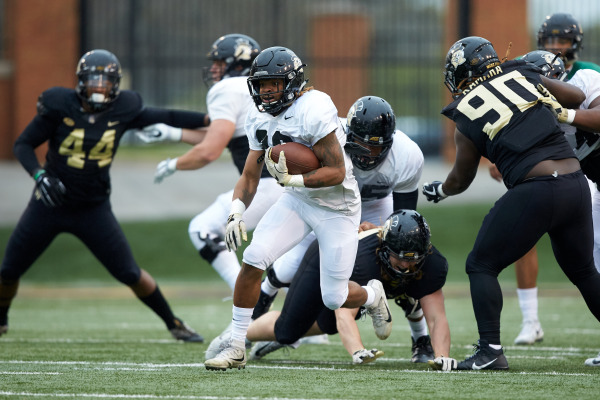 In 2017 only four schools in the ACC rushed for more yards than Wake Forest (Georgia Tech, Louisville, Boston College and Clemson) as the ground game gave the Deacs 188 yards per game. With improved experience and depth at offensive line, the by-committee-running game of junior Matt Colburn, freshman Arkeem Byrd, sophomore Cade Carney and senior John Wolford became one of the most dynamic rushing attacks in the conference.
After rushing for 134 yards against Louisville in the Deacs' 42-32 victory, Colburn saw his number get called more often, good for 120 yards at Notre Dame, 237 yards at Syracuse and 150 yards in bowl game against Texas A&M.
At the season's conclusion it appeared as though the Deacs had found their feature back and that the by-committee philosophy may take a back seat moving into 2018.
Then came along the spring performance of redshirt freshman Christian Beal, who spent all of 2017 under the constraints of a redshirt.
Beal, a native of Winston-Salem hailing from East Forsyth High School, had perhaps the most impressive spring of any Demon Deacon, especially on the offensive end. Playing in just the second and third scrimmages of the spring, Beal rushed for a combined 164 yards and four touchdowns, on just 25 carries, giving reason to believe that the Deacon running attack will have multiple faces once again in 2018.
"Christian is going to be a really good player for us," Clawson said. "He's a home run threat. He's going to be in the mix. We have every type of back you can want. If we can keep Cade Carney, Matt Colburn and Christian Beal all healthy, we have three tailbacks that can do a lot of good things with the football. They're physical, they make people miss and can run for big plays. That's exciting."
When Beal absorbed a hit at the goal line in his first scrimmage, an audible yell of, "That's what I'm talking about, baby," was screamed from Carney on the sideline.
Beal shared after his first scrimmage that Colburn and Carney have been more than supportive of his offseason success, tell him it is "his time to shine."
"We're all just one unit," Beal said. "Matt and Cade definitely keep me in line … I look up to them because they've been playing some of the best college teams in the ACC. One day I want to be just as good as them."
Beal's success this spring has proved that Wake Forest will boast some serious depth at running back with the number one issue potentially being finding enough time on the field for each of its backs.
Combined with red shirt sophomore Kendall Hinton's rushing dual-threat at the quarterback position, Wake Forest should comfortably rush for at least 200 yards per game in 2018 and will likely look to the running game to open up the passing game, getting playmakers like freshman Greg Dortch and freshman Scotty Washington involved.
As Wake Forest concludes its spring practices, the coaches should feel great about the possibilities of their running game this season. The Deacs have a feature back in Colburn, but with so much talent in the backfield, we will likely see a by-committee effort from Wake Forest in 2018.