Wake Washington Fosters Artistic Endeavors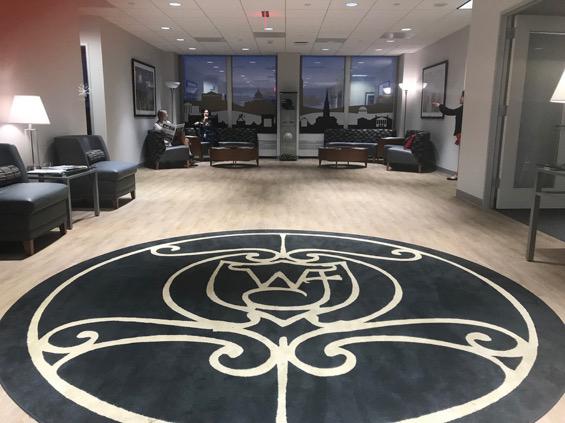 It has been over a year since Wake Forest officially planted its flag in the heart of arguably the most powerful city in the world: our nation's capital, Washington, D.C. Since the Wake Washington program launched last fall with Department Chair and Professor of Politics and International Affairs Katy Harriger, students and alumni alike have benefitted from a Wake Forest presence in D.C.
This semester, students are taking courses in the Art History discipline with Dr. Bernadine Barnes, Department Chair and Professor of Art at Wake Forest. Students take classes at the Wake Center on Mondays and Wednesdays. On Fridays, students have the opportunity to apply their lessons from the classroom in a hands-on experience at the various museums of the Smithsonian Institution, thereby expanding their intellectual curiosity for the study of art and history.
"We see things we couldn't see just by being in the classroom," Barnes said. "Everything here is trying to create our history."
Between trips to Thomas Jefferson's Monticello, visits to historical monuments and classes in various museums of the Smithsonian Institution — such as the National Portrait Gallery, American Art Museum and National Museum of African Art — students are able to soak in all of the history, architecture and art that the city has to offer.
"What we are seeing here in Washington is different than what you see in New York or London," Barnes said. "There is a particular slant that reflects what our own national identity is. It is an important place for us to be."
Additionally, students are able to gain professional experiences through their various internships. By partnering with the Office of Personal and Career and Development, the Wake Washington program ensures that students are well-equipped to represent Wake Forest and to leave their mark in the nation's capital.
"Everyone I meet has made it so easy to transition into the professional world," said junior Clara Schinzel, a Politics and International Affairs major who is interning at Precision Strategies. "Since I am from Sweden, it is a great opportunity to work in the capital with the Wake Forest community."
The opportunities for Wake Forest students in D.C. are seemingly endless, and they are able to intern in a variety of fields beyond the political arena. This semester, for example, students are interning at the National Portrait Gallery, the White House Historical Association, the John F. Kennedy Center for the Performing Arts and the National Museum of African American History and Culture.
"Even in a city that is focused on politics, I have been able to pursue an internship in the arts," said Maggie Grundy, a junior Art History major who is interning at the National Portrait Gallery. "There is a huge art scene in DC that offers so much culture to our nation's history."
With Wake Forest's position in D.C., it's an exciting time to be in the nation's capital for fellow Demon Deacons.
Jennifer Richwine, executive director of the Wake Washington Center, said, "Wake Washington builds a reputation for smart, savvy, hard-working interns — there aren't many schools that are doing it the way we are doing it."
After completing course work and internships at the end of the semester, students are able to craft their "30 seconds elevator pitch," Richwine said. This pitch can capture their unique, personal narrative, which, in turn, has the possibility to perpetuate lasting benefits for their future careers and various professional paths.
Throughout the semester in Washington, students take advantage of the growing network of Wake Forest alumni who work in D.C. During the program's first two semesters — Fall 2017 and Spring 2018 — roughly 175 alumni and members of Wake Forest families participated in events through the center, whether it was through networking events, hosting dinners for students, or speaking to students about their career and success.
"Students are blown away by the Wake Forest family beyond the walls of the campus," Richwine said. "Everyone wants to be involved. Alumni want to have the experience that students have today, so they want to be of help."
The Wake Center aims to foster an interconnected relationship between alumni and students in which they learn from each other's interests, experiences, and ambitions in the professional world. As the program continues to grow, the relationships between alumni and students will hopefully continue to grow.
These relationships can help to create lasting connections amongst the Wake Forest community, and, as a result, build a stronger, and more accessible bridge between Winston-Salem and opportunities in our nation's capital.