Spotlight: Chaundee Brown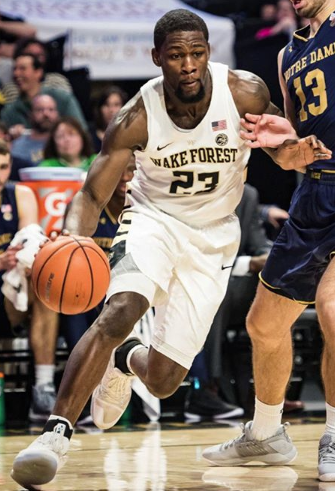 Chaundee Brown is a sophomore on the Wake Forest Men's Basketball team. He received numerous accolades during his high school days at The First Academy in Orlando, FL., including being named 2016-17 Gatorade and 4A Florida Player of the Year.
He continued to perform during his freshman year at Wake Forest, making 29 starts and averaging 7.6 points and 3.0 rebounds per game.
He played in the team's first exhibition game against Belmont Abbey last Friday, notching 15 points. Fans can catch him and the other Deacs hitting the courts again when they face off against North Carolina A&T at the regular season opener in the LJVM Coliseum this Saturday, Nov. 10. 
Will May: Balancing being a Division I athlete and a student can be stressful at times. Do you have any advice you'd like to share about dealing with those responsibilities?
Chaundee Brown: Basically just stay focused. There's going to be a lot of distractions in your life, and especially when you get here you have to look at what motivates you and what you want to be in life. That's what I'm doing right now, just staying focused on my school and basketball and not worrying about anything else. Just stay focused.
WM: Do you have any advice for young athletes going through the recruiting process?
CB: Be patient with your decision. Pick a school that fits your playing style and needs you as a player. Don't just pick a school by name, for example Duke, or another high-rated school. You have to look at where you think you're going to play at, and what team fits you and your playing style best.
WM: What are the most important things you do to train?
CB: I would say eating and hydrating are really big, key things. Recovery, too. Last year I hadn't been using the cold tub a lot. This year I realized that it's a long season, and my body's going to need that. Being in the cold tub for 10 minutes made a huge difference for the next day.
WM: Do you have any idols or role models on or off the court who have contributed to your success?
CB: Basically my parents, really. My parents and my coaches are always telling me to keep working and to get to the next level, all the way to the NBA. I keep working, and I basically do it for them.
WM: Is reaching the NBA one of your goals?
CB: Yeah it's been my goal since I was three years old. I've been playing for it. Hopefully whenever God wants me to go there he'll take me there, but yeah, that's my goal.
WM: What's your fondest memory from your time on the team?
CB: Just winning, really. There were a lot of games where I was helping my team in every way possible, getting a lot of rebounds, assists, and just having fun with the guys, laughing with them. I can't think of a specific one right now.
WM: What would you say are the team's goals for the season?
CB: Basically our goals are to win the ACC and the national championship. We're working towards that, we just have to come in and be focused, pay close attention to detail, be locked in, try to build each day and get better.
WM: How do you feel about the team's performance at the exhibition game this past Friday? Is there anything you think could have gone better?
CB: Our communication on defense, first of all. I feel like we talked on the court, but I feel like we need to get better about communicating, and that it would make a huge difference.
WM: What are your thoughts on the upcoming regular season opener?
CB: It really excites me, I've been waiting for this
since the summer. I'm ready for it, to see the crowd and the fans come watch us play, and see all we've been working on through the summer and fall pay off.