Deacon Profile: John Budd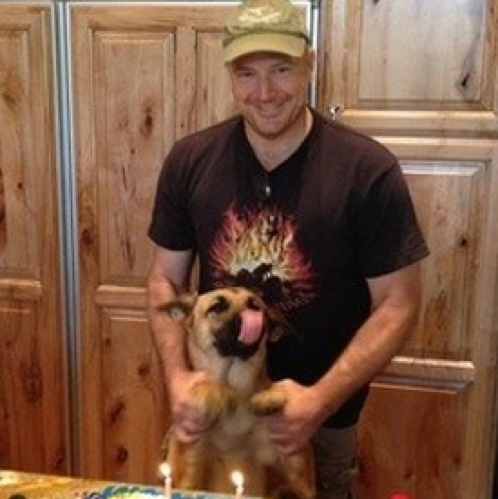 Veteran John Budd has traveled around the world through military and civilian aviation for more than three decades, but his first stop when he arrives home is his yoga mat.
A Winston-Salem native, Budd is the owner of Yoga Dogz, a nonprofit yoga studio in Reynolda Village dedicated to extending yoga beyond its usual wealthy, female, bendy practitioners.
So, how does a U.S. Army helicopter pilot like yourself get started in yoga, of all things?
I was in a lot of pain. I was physically hurting, and I did it to heal my body. At the time, I didn't know how much healing I needed. I started in martial arts with Tai Chi, and it helped a lot. As different life events would increase and decrease my pain, yoga helped me to control energy in my body.
How did you get started teaching?
I had reservations about becoming a yoga teacher. I come from a right-wing, religious family, and the idea did not jive with most of my friends. I wanted to walk away and do something else, but it haunted me. I felt called to teach yoga.
When did you decide to do your teacher training?
It became real when I went to marriage counseling at my church. I remember I was going to throw my yoga application away after the meeting, but I mentioned it to my counselor and he looked like he had seen a ghost. He said he had a dream in which God had told him to tell me to go teach. After that, I left everything. I left my kids. I left for nine weeks to go become a yoga teacher, and it was a magical experience.
Why did you decide to open your own studio?
I wanted to make yoga accessible to everyone. It's important to welcome everybody and anybody: heavy, old, young, stiff, inflexible, injured. I really didn't create the studio to make a profit, I created it to be a place to help people.
Is that why you made Yoga Dogz a nonprofit?
Yes and no. The studio was losing money and I was trying to sell the business, but I couldn't. Turning it into a nonprofit was a solution because then it didn't matter that we were barely breaking even! Now, the money we make goes back into teaching at Taylorsville Prison and the Winston-Salem Street School to bring yoga to underserved populations. It's hard for people to pay for yoga and I want to give it to everyone.
You have a lot of people working at Yoga Dogz now: 16 teachers ranging in ages and styles. How did you meet and hire all of the instructors?
At first, I was teaching all the classes — 20-something a week. Then everyone just started coming into the studio space and before I knew it, we had this beautiful staff. We are always growing as teachers and I want to make it place for both students and teachers to grow, so when people want to teach, I let 'em teach.
How has yoga impacted your military work?
After practicing yoga, I started to see my enemy in Afghanistan differently. I looked at them and I realized I was a lot like them. Now yoga is my battlefield. I used to think I would change the world with a gun, and now I'm changing it through yoga. The only problem with yoga in the military is if the enemy starts practicing yoga also, there will be no one to fight!
You described yourself as a man of faith. Do you ever feel that your Christianity comes in conflict with your yogic beliefs?
My faith is more real and more authentic than it has ever been. You do not have to give up your faith to practice yoga; it has made me a stronger Christian and father. It took words and belief systems and made them more authentic like the ability to forgive, and the ability to love. Yoga brings these things to life for me. Anybody is welcome to come in and practice and I don't care what they believe. I don't worry about it.
What do you envision for the future of Yoga Dogz?
When I opened Yoga Dogz, I wanted to hand it over to someone else. I'm good at starting stuff, but I have a challenge running and maintaining it, but I've found a revived energy lately because of some of the amazing people who walk in here.
It is really encouraging to see the youth embracing yoga. Look, I may never do anything but teach at prisons, do yoga and fly a little bit. All of y'all will probably go on to do incredible things. If you keep growing and doing things, there's no telling where it will go.
Finally, and the most pressing question: where are the dogs in Yoga Dogz?
From "dogs of war." I had a friend who always used to say, "I was a line dog pilot." I keep it simple — I just do yoga!