UFC: What's Really Being Fought For?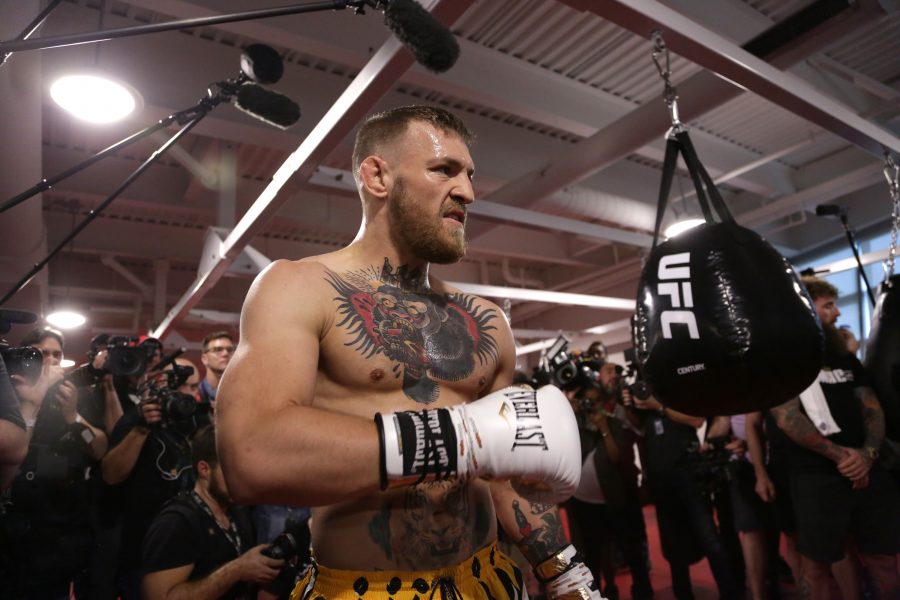 Jp Melinson
January 31, 2019
Dana White does not want to showcase the best fighters in the world in the best fights. White is concerned solely with taking your money. This is the central issue surrounding the latest UFC Fight Night at the Barclays Center in Brooklyn on Jan. 19, with the main event being the Henry Cejudo – T.J. Dillashaw bout. Ordinarily, fights between two incumbent champions are huge. Being a two-division champion is what elevated Conor McGregor to his current status as a pop-culture icon. It landed him a fight with Floyd Mayweather.
That's the problem. The outcome of Mayweather – McGregor was, to anyone with remote knowledge of combat sports, a foregone conclusion. Every boxing fan alive knew that Conor McGregor was about to be paid a ludicrous amount of money to embarrass himself in front of millions of people.
That fight was a blatant cash grab by all parties involved. In that respect, Mayweather – McGregor is not too different from Cejudo – Dillashaw.
The UFC flyweight division is weird. There have been two men to ever hold the UFC flyweight championship. The first was Demetrious Johnson, who made 11 successful defenses of the belt (the most consecutive defenses in history) before dropping it to Cejudo in August. Johnson is no longer with the promotion and is now on the roster of ONE Championship. Since then, Cejudo has made one defense of the belt at the Dillashaw fight on Jan. 19.
Late in 2018, UFC announced that the flyweight division would be dissolved and many of its 125-pound fighters were released outright without the option to move up to the 135-pound bantamweight division. This raised some questions about why this fight was taking place. If the flyweight division will be gone by the end of 2019, why is there a need for a title fight in January? Why not have Cejudo, who is an extremely capable fighter (he wiped the mat with Dillashaw, earning a TKO victory 32 seconds into the first round), challenge Dillashaw for the bantamweight belt? After all, the bantamweight division isn't going anywhere anytime soon.
The answer to that question is that White does not promote the best fighters in the world. White promotes fighters that people will care about and pay to see. If they happen to be good, then they get the big time pay-per-view "McGregor" treatment. If not, they can fight James Vick in Nebraska on cable in front of 6,000 people.
White really likes Dillashaw. He has been one of the most marketed fighters in the last year. When White booked Cejudo – Dillashaw, he was hoping that Dillashaw would not only be able to perform an insane weight cut to get down to 125, but that he also would be able to fight at the same level that he does at 135. If the fight went White's way, there would have been another win for Dillashaw and another two-division champ to main event big time pay-per-views.
Cejudo had other ideas. And apparently, UFC does too. The promoters dug themselves a deeper PR hole when, at the time of writing, the official UFC webpage blasts the reader with a photo of a celebratory Cejudo and the headline "STATEMENT MADE," while also noting that Cejudo has been "pleading to keep the flyweight division around." So, if this fight wasn't actually a sham, and there is a possibility that the UFC flyweight division stays put, then the entire announcement of its elimination was an instrument to grab attention for this final fight for the championship. A chance to show that Cejudo and the rest of the flyweights can not only hack it with the big boys, but also cause them some serious problems. This reality is unlikely given the release of many flyweights, but it isn't beyond UFC to bend the rules in order to get what they want. White wanted Jones – Gustafsson too. When the Nevada State Athletic Commission wouldn't let Jon Jones compete at UFC 232, UFC moved the event on short notice to California.
Whichever of these is the case, one thing is clear; White just wants more money.