Deacon Profile: Daniella Zalcman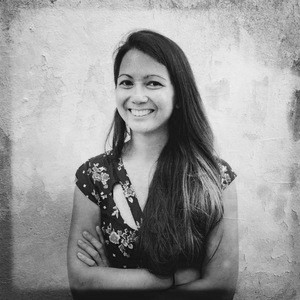 Daniella Zalcman is a multiple grantee of the Pulitzer Center on Crisis Reporting, an organization that collaborates with the Wake Forest Journalism Program. She has produced multiple photographs surrounding human rights issues that have been supported by the Pulitzer Center. Among her awards, she won the 2016 FotoEvidence Book Award for documenting social injustice through her project "Signs of your Identity" that explores the legacy of Canada's Indian residential schools. 
Zalcman just finished teaching for the second year in a row at the university in the "Deep Dive Photojournalism" course, a one-credit, independent study of photojournalistic reportage. The class focuses on photography mechanics while delving into the importance of images in the portrayal of independent and communal narratives. 
You majored in architecture at Columbia University, but now you are a photojournalist. Why make the transition?
I always wanted to be a journalist since I was 12. I also knew that I wanted to go to school in New York because it is the center of the media empire in America, and I wanted to start working for newspapers. I did not actually realize that the school that I applied to did not have an undergraduate journalism program. This worked out in my favor because I genuinely believe that it is better for you to major in something else and form an area of expertise in a different field. I started working for my college newspaper and freelancing, and then thought "okay, what would make sense for me? I'm a pretty visual person, and architecture seems really interesting." So, I ended up doing that for the time I was in college, but I've always intended to become a journalist.
How authentic is in-class photography like this one versus field photography? 
[Photography] is really about doing the craft. And it's hard to do that in a classroom setting in an authentic way. I think that it's important for anyone who is interested in being a documentarian, in any capacity, to think visually, to think about photography even if that's not the path that they want to take. Any writer is going to have to think about how their story will be packaged with photographs. It's an important thing for all of us to be literate in. Generally, we are all raised to think about text and think about how to analyze and consume text — that is a huge part of our education. We are not taught how to think about photography, and we need to work on that, because increasingly, photography is how we consume news and information, and we are looking at more photography with each passing day. We have to be able to think smartly about it.
What do you think is special about the Pulitzer program [that offers fellowships for students to pursue reporting projects]?
I think the opportunity that the Pulitzer Center creates for students is them getting to hear stories from around the world from journalists who work around the world from gold extraction in the Central African Republic to human rights violations to war to climate change — everything. And there are things that haven't always made it to our textbooks, so I think that's really exciting and I love being a part of that.
What project are you most proud of and why?
It's hard, because they are not just projects to me. They are a group of people who have become very good friends. But I think the work that to me is the most meaningful is "Signs of Your Identity." It's looking and thinking about that history and most importantly talking to students about it because I embarked on that project based on my horror that I had never heard of those institutions before, and so, for me, it's really important that I go into middle schools and high schools and talk to kids about that history and make sure that they don't grow up like I did — that they know about it from an early age. 
Your class focused a lot on ethical photojournalism and the danger of a single narrative. How do you think college students could become more conscious of the effects their pictures have?
Well, we have seen very recently that photos you take in your education years can come back to haunt you. So the irony is that I've heard the criticism often for people of my generation and people of your generation that when we're older, the incredible number of self-documentation is going to come bite us in the butt. But, it turns out for people much older who didn't have smartphones and snapchat, it's already coming back to haunt them. So you know I think the generalized takeaway would just be to be a good person — be a responsible person. And, you know, I would hope that it would be less about not taking incriminating photos of yourself — for that not to be the takeaway. The takeaway should be: don't do incriminating things. Don't dress up in blackface, don't put on a [Klu Klux] Klan outfit. That would be a better guiding principle than, you know, to not take photos of it.