Football: Wake Forest defense crumbles in second half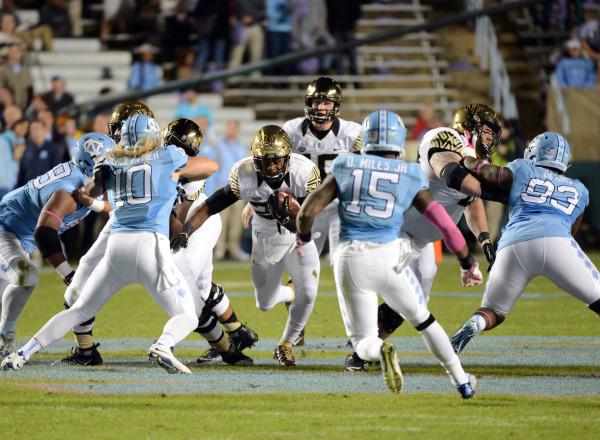 Wake Forest faced North Carolina in two different sports on Saturday, Oct. 17 at 7 p.m. and finished on both the winning and losing sides in men's soccer and football, respectively. Optimism surrounded the Demon Deacons entering their football game against the Tar Heels, just a week removed from its first shutout since defeating Florida State 30-0 in 2006.
Some of the Wake Forest faithful were unsure of the 17-point betting line, finding it almost an insult to the efficient play of the defense to this point in the season. Moreover, fans certainly did not anticipate traveling to Chapel Hill and leaving with the team's worst loss to North Carolina since 1951, losing 50-14.
The game's first quarter could not have gone much better for Wake Forest, as the defense was able to pick off quarterback Marquise Williams on each of North Carolina's first two possessions.
The Deacs were playing with great intensity and focus, seemingly executing their gameplan to perfection. Moreover, Wolford and the offense accounted for 96 total yards, converted three third-down attempts and dominated the game's time of possession, doubling that of Williams and the Tar Heels, resulting in a 7-0 lead at the end of the quarter.
Unfortunately for the Deacs, North Carolina settled down and began to execute a gameplan of its own. Williams opened the quarter with a 57-yard touchdown pass to Mack Hollins and continued to get other teammates involved to rack up a remarkable 235 yards in the second quarter alone, resulting in 29 total points. Following three unanswered North Carolina touchdowns, Wolford responded with a 12-play, 75-yard drive that yielded a touchdown pass to freshman receriver Tabari Hines. The spark this drive produced was short-lived, as the Tar Heels responded and scored again to extend its lead with a 29-14 advantage heading into halftime.
Wolford struggled with injury in both the first and second halves, having re-aggravated his ankle, which he injured in the second game of the season against Syracuse. Hinton, who came in as relief, was reportedly playing with 80 to 90 percent health, still experiencing soreness in his back from the Oct. 3 game against Florida State. Hinton finished with just 21 yards in the air and 37 yards on the ground.
Though the offense struggled in the second half it was the defense that truly lacked its normal flare and energy, continuing to give up big plays to the Tar Heel offense.
"We have a defense that has been playing well all year," Clawson said."We gave up one big play and then kind of gave up. That was disappointing."
"We are excited to move forward and get last week out of our system."
Defensive back Zach Dancel also expressed words of optimism heading into Saturday's game against N.C. State, "We have to put the past behind us and focus on this week," Dancel said. "This week of practice is what is important now."
The Deacs will face the Wolfpack at 12:00 p.m. on Saturday and play with recent history in their favor. Wake Forest has not lost to N.C. State in Winston-Salem since 2001 and has the opportunity to extend its dominance against third-year head coach Dave Doeren, who has yet to win a game in ACC play this season. Expectations are difficult to live up to, especially for a team as young as Wake Forest. It was expected that the Deacs would compete with the Tar Heels for four quarters, play with stout defense and take shots at the North Carolina secondary that was missing players due to suspension.
Even though Wake Forest failed to compete at its expected level, encouragement can be found in the fact that certain suppositions were made for the Deacs, since expectations exclusively surround teams of excitement and promise. Wake Forest is beginning to show promise under coach Clawson and it's a good thing fans anticipate their team to play competitively week in and week out, contrasting apathetic sentiments surrounding the program in the past. Expect the Deacs to continue to mature and improve, but remember it's a process.
"Each game is an opportunity to get better," said offensive lineman Phil Haynes. As the young Demon Deacons continue to develop, expect them to truly take advantage of these opportunities to show improvement.