Editor's Note: the following article contains strong content and imagery related to issues of race that may upset some readers. Reader discretion is advised. A special thanks to the Howler, Wake Forest's yearbook, for providing many of the photos included in this timeline.
Throughout the twentieth century, the Wake Forest yearbook, the Howler, published explicitly racist images and text. Racist illustrations were used to portray the university's law and medical schools, athletic teams and student organizations. Blackface images were printed regularly in association with greek organizations. While disturbing and frequently grotesque, these images are a valuable source for understanding the extent to which racism permeates the university's social and academic structure. By engaging with these images, and by situating them in their spatial and temporal context, a social history of the university can be achieved which does not preclude the overt racism of its students and faculty. 
A shallow reading of these images may facilitate an awareness of the university's history of racism; a more thoughtful engagement might bring to bear the ways in which racism is enforced, perpetuated and formalized at contemporary Wake Forest. Who and what is implicated in these images? Have the spaces and institutions reflected in these photographs changed? How is racism embodied by white Wake Forest students, faculty and staff today?
We have these images because they were commemorated. They were deemed indicative of the social and academic environment at Wake Forest, and so published in its yearbook. One can only imagine the scenes which escaped photographic posterity, as well as those that didn't but were considered unsuitable for publication nonetheless.
Story continues below advertisement
The following timeline documents both moments of racial injustice and progress as related to Wake Forest. 
1833: Wake Forest Plantation and Samuel Wait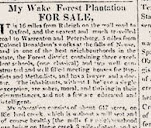 In 1833, the 650 acre Wake Forest plantation was purchased from slave owner Calvin Jones to be used as the university's first campus. That year, Reverend Samuel Wait accepted the role of president of the Wake Forest Manual Labor Institute. Wait owned two male and two female slaves according to the 1840 census. According to a Slavery, Race and Memory Project report, "the men were likely employed in agriculture on Wait's farm and the women likely worked in the Wait household." The women were named Dicey and Mary according to a 1939 bill of sale.
The Calvin Jones House, depicted in the photo, was inhabited by Samuel and Merriam Wait. In 1834, it is likely that Ellich, Charley, Harry and Harry's wife, slaves rented from a neighboring plantation to work on the campus, lived in the Jones House alongside the Waits. In 1835, 10-20 slaves were moved onto campus to begin construction on several buildings, including Wait Hall. Two slaves were killed during the construction process and may be buried on the original property.
1906: Racist illustration associated with University Track team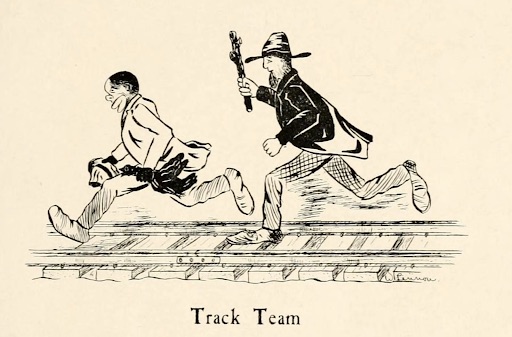 Beginning in at least 1903 and continuing throughout much of the early and mid 20th century, Wake Forest University's yearbook the Howler repeatedly published racist images and employed racist language. Blackface imagery and references to Blackface appeared frequently. Racist language, including numerous epithets and slurs, were used ubiquitously until at least the 1950s. Images of the Confederate Flag were commonly published in association with fraternity activities until at least 1987.
This illustration in the 1906 edition of the Howler depicts a white person chasing and presumably beating a racist caricature of a Black person. This illustration was placed at the head of the page dedicated to the University track team.
1908: Racist poem used to describe Tom Jeffries ("Doctor Tom")
A bronze plaque displayed in front of Tribble Hall celebrates Tom Jeffries as an esteemed member of the Wake Forest community. Jeffries was born into slavery in Virginia and worked for much of his life as a gardener at the original Wake Forest campus. Jeffries sat in on classes throughout his tenure at Wake Forest, earning him the nickname Doctor Tom. Jeffries was reportedly popular among students, and his commemorative plaque emphasizes that he was an admired campus figure. However, a poem dedicated to Jeffries in the 1908 edition of the Howler reflects the extent to which overt racism coexisted with, and seemingly defined, the students' perceptions of him. Much of the university's language surrounding Jeffires' legacy neglects to include this aspect of his Wake Forest experience.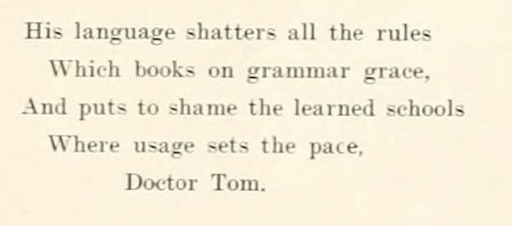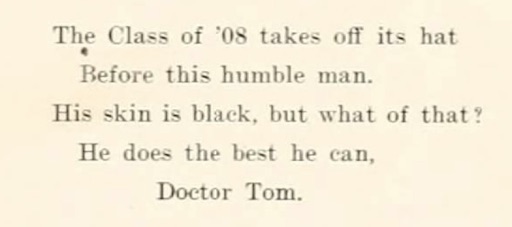 1911: Lynching Illustration associated with Law School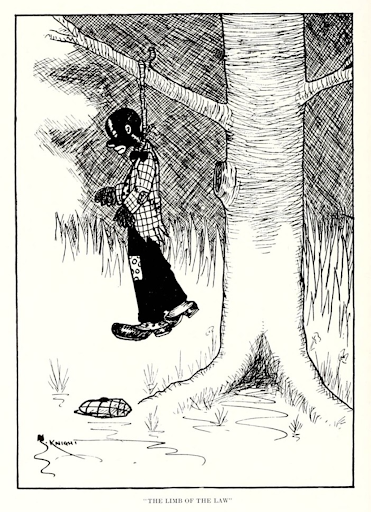 This illustration of a lynching, captioned "the limb of the law," was printed opposite a page dedicated to the University's law school in the 1911 edition of the Howler. The illustration appears to have been created by W.L. Knight, who is listed on the following page as the Treasurer of the "Law Class Officers."
1926: Slur used to describe Black cadaver
In at least four instances throughout the 20th century the Howler printed images of deceased Black bodies. In each case the images were associated with the university medical school. A photo from the 1926 edition depicts white doctors posing with a heavily mutilated cadaver and is captioned with a brutal slur.
Editor's Note: The Old Gold & Black chose to withhold the publishing of any imagery due to its graphic nature.
1959: "Heil Hitler" and Swastika displayed on Sigma Phi Epsilon wall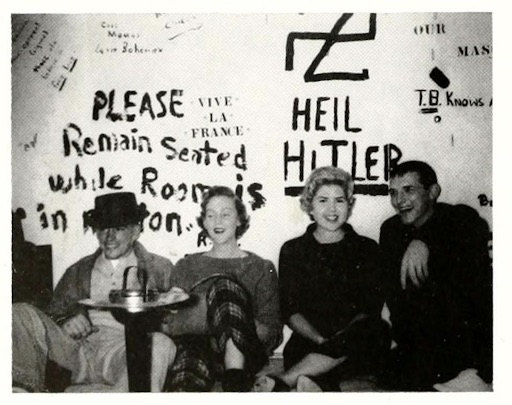 1960: F. W. Woolworth Sit-In
In February 1960, 12 Winston-Salem State students and 10 Wake Forest students were arrested for participating in a lunch counter sit-in at F. W. Woolworth in downtown Winston-Salem. In this photo, Wake Forest student George Williamson, a participant in the sit-in, emerges from an elevator in Winston-Salem City Hall guided by a police officer. The Wake Forest students made their way downtown after receiving calls from student leaders at Winston-Salem State, according to reports from the Old Gold & Black.
1962: Desegregation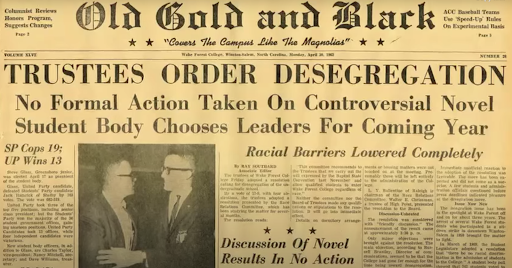 In April of 1962, the Board of Trustees approved a resolution to desegregate the undergraduate college by a vote of 17-9. The resolution required that the university "allow qualified students to enter Wake College regardless of race." The resolution met minor pushback according to an Old Gold & Black article.
"The main objection, according to Russel Brantley, Director of communications, seemed to be that the college had gone far enough for the time-being regarding desegregation." Edward Reynolds was the first Black student admitted to the university. Reynolds, born in Ghana, transferred to Wake Forest from Shaw University.
1962: Martin Luther King Jr. speaks on campus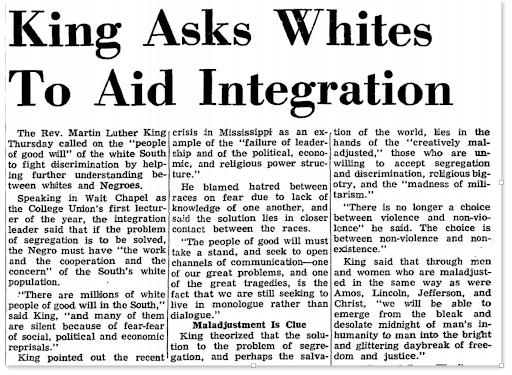 Martin Luther King Jr. spoke in Wait Chapel on Oct. 11, 1962. King called on apathetic white students to take an active stance against racism.
"There are millions of white people of good will in the south, and they are silent out of fear — fear of social, political and economic reprisals" said King to an audience of "2,200 students, faculty and townspeople."
1962: Blackface at Alpha Phi Omega "Ugly Man" Competition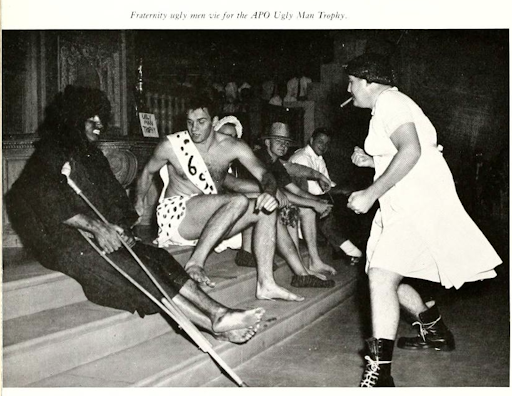 A student in blackface is seen dressed for the Alphi Phi Omega "Ugly Man" competition.
1966: Blackface Minstrel Show on Magnolia Quad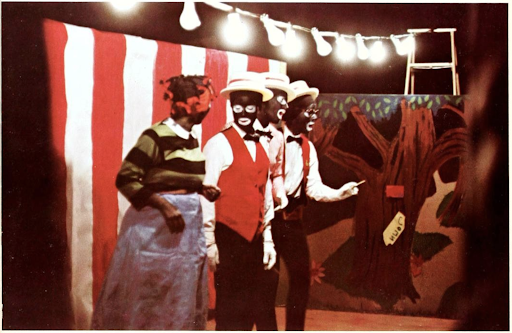 During a carnival event sponsored by the junior class on Nov. 5, 1966, members of the "Fideles" organization performed a blackface Minstrel show on the Magnolia Quad. 
1967: Norwood Todmann excluded from team portrait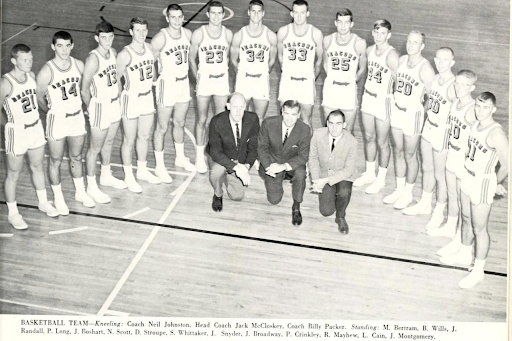 The first Black member of the Wake Forest Basketball Team, Norwood Todmann, was excluded from the team portrait printed in the 1967 edition of the Howler. His individual portrait was included, however it appears he was not allowed to stand for the team photograph.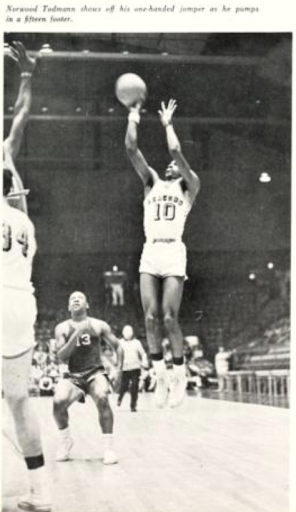 1976: Sigma Pi fraternity members dress in blackface and KKK hood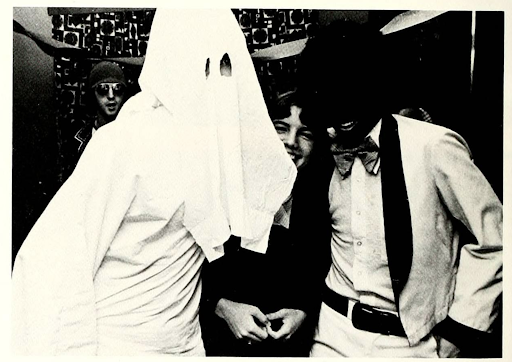 This image, published in the Sigma Pi fraternity profile in the 1976 edition of the Howler, depicts an individual in blackface next to an individual dressed as a member of the Ku Klux Klan.
1977: Fraternity blackface Performance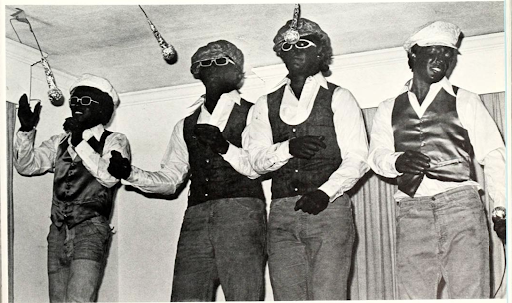 Four men perform in blackface at an unidentified fraternity event.
1978: Students photographed wearing keffiyehs and holding automatic weapons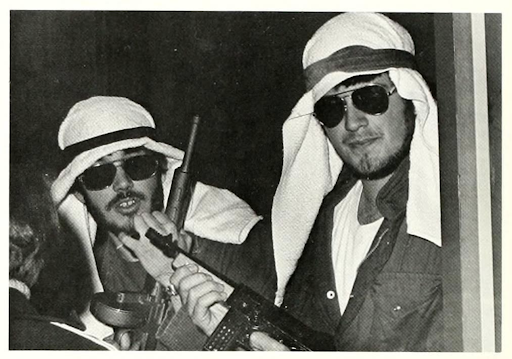 Unidentified students are photographed in keffiyehs holding replica automatic weapons.
1979: Blackface image captioned with allusion to racist campus culture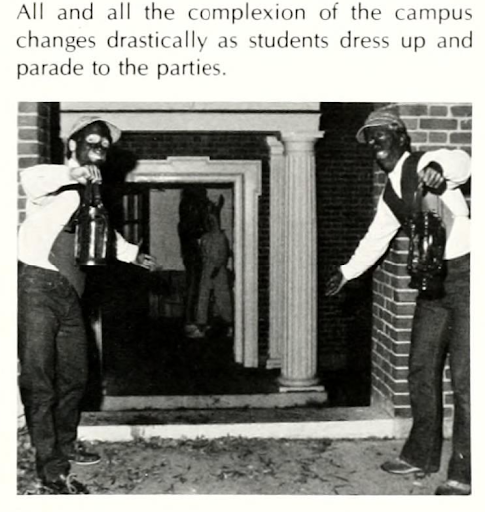 The Howler's 1979 Halloween spread alluded to the popularity of blackface as a fixture of the campus's party culture. Above an image of two students wearing blackface while gesturing toward a fraternity party, the Howler commented that "all and all the complexion of the campus changes drastically as students dress up and parade to parties" (1979, 27).
1979: Fraternity displays Confederate flags for affirmative action event, prompting counter protest and flag burning
In 1979 the university hosted Black city leaders for the Equal Opportunity and Affirmative Action Banquet. Fraternity members displayed Confederate flags from their dorms in protest of the event. This incident precipitated a counter protest march by Black students and a ceremonial burning of a Confederate flag. This event garnered significant publicity and resulted in the KKK offering their assistance to the relevant fraternity. The fraternity denied the assistance of the KKK.
In a subsequent opinion column published in the Old Gold & Black, a white student wrote, "I do not doubt that your anger is justified, but I urge you to use your expression of it constructively."
1982: Admissions personnel Martha Allman and Kevin Pittard pose in front of Confederate Flag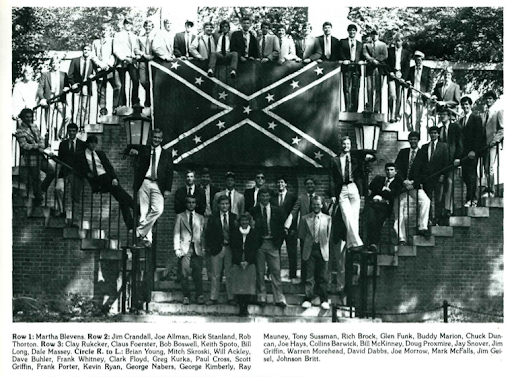 Images from the 1982, 1983 and 1984 editions of the Howler depict Senior Assistant Provost Martha Allman and Associate Dean of Admissions Kevin Pittard, both undergraduate students at the time, posing before a Confederate flag with members of the Kappa Alpha fraternity.
1989: Arrest of John McLemore and discriminatory security practices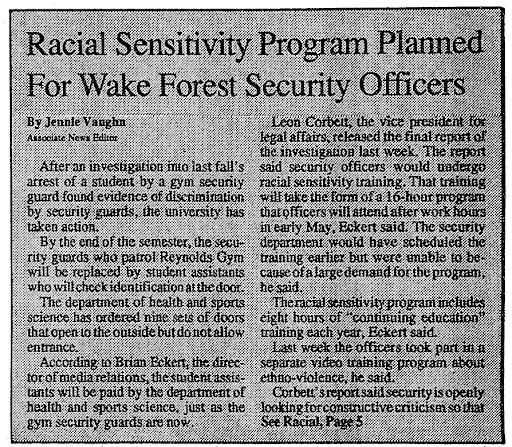 John McLemore, a Black third year law student, was arrested for refusing to produce his student ID when confronted by a security guard at Reynolds Gym. This was not a usual request for gym users, and a subsequent university investigation faulted the officer involved and exposed a broad system of discrimenation among the university's security guards. The incident prompted other Black students to describe similar experiences involving demands by security guards that they produce their student IDs in various circumstances on campus. The university's investigation into McLemore's arrest led to the creation of a "Racial Sensitivity Program" for security officers.
1985-90: Divestment from apartheid-era South Africa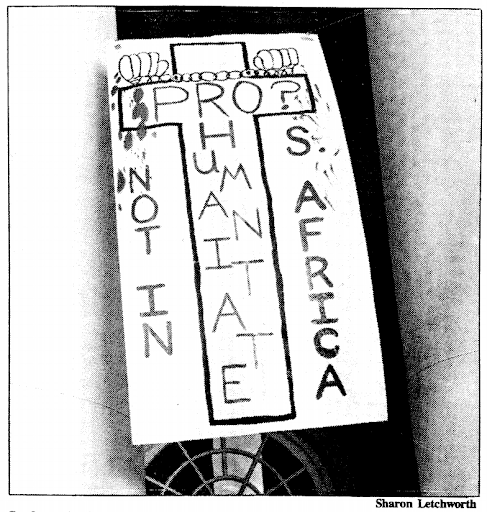 As early as 1985, students voiced criticism of the university's investments in apartheid-era South Africa. Beginning in at least 1988, a campus organization known as Students Against Apartheid began hosting protests targeted at the Board of Trustees.This photograph depicts a sign reading "Pro Humanitate? Not in S. Africa" displayed on the Quad by members of Students Against Apartheid ahead of the 1988 Homecoming football game.
1991: Black face imagery and racist/transphobic party themes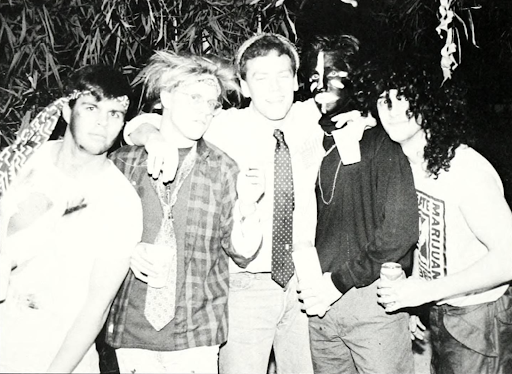 The Pi Kappa Alpha fraternity hosted annuel parties with "Jungle" and "Tribal" themes. This photograph shows a student wearing Black Face at a "Jungle" themed event. The Delta Kappa Epsilon fraternity hosted a "Transvestite" themed party the same year (1991, 224).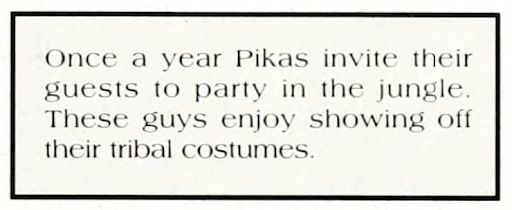 2003: The Howler suggests that Black homecoming kings and queens are unrepresentative of Wake Forest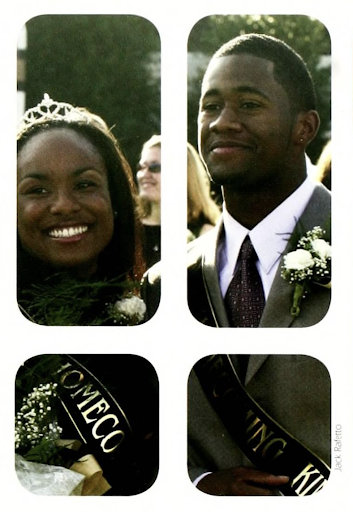 The homecoming spread in the 2003 edition of the Howler criticized the election of a Black homecoming king and queen. In the article, Nancy Rinehart questions whether the university will "continue its 12 year tradition of electing a homecoming king and queen that represent only a small portion of students, or will we change our ways and elect the male and female that best represent our school?" According to Star News Online, the article resulted in a petition drive, a discussion forum and calls for apologies from Howler staff and university officials. Marlena Reese was crowned as homecoming queen and Michael Damond as homecoming king of the 2002-3 school year. (2003, 105)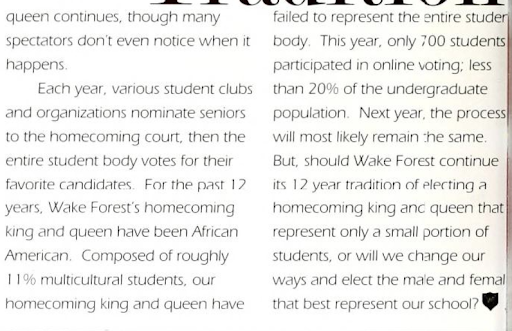 2007: Kappa Alpha "Rap Video Party"
In the "Themed Parties" spread of the 2007 edition of the Howler, the Kappa Alpha fraternity is described as having hosted a rap video themed party. Immediately following this description, the Howler described another popular event hosted by KA known as the "White Party," during which "attendees dress entirely in white attire." The Howler then relates the fraternity's primary social event, their Spring Formal colloquially referred to as "the Old South." This event reportedly celebrates "the fraternity's southern heritage and historical background" and is decades old, having been inaugurated by a KA member impressed by the chivalry of Confederate General Robert E. Lee. Attendees typically wear Civil War attire.

In 2014, Kappa Alpha's rap video themed party was reported through the bias-incident reporting system according to the Winston Salem Journal. A student told the Journal that she heard the event described as a "Dress Like a Black Person party." Another student reported that she heard a student say they would "ask a Black person how to dress ghetto" ahead of the party. When the party drew criticism, KA members reportedly directed attendees to not dress up for the event. However, this stipulation was not observed and the party was cancelled.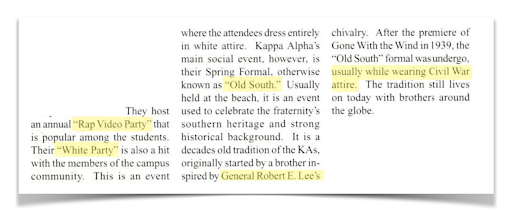 2014: Bucket of urine placed outside Muslim chaplain's office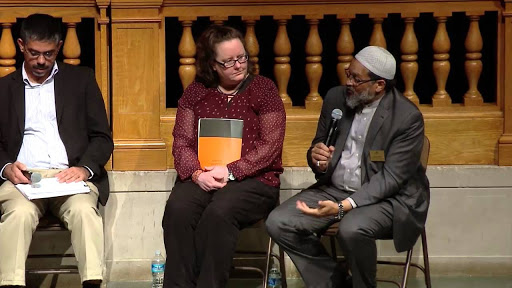 In November 2014 an unidentified person placed a bucket of urine outside the office of Associate Chaplain Imam Khalid Griggs. According to the Washington Post, Griggs was repeatedly targeted by "an alumni campaign labeling him a radical jihadist." The campaign was headed by Don Woodsmall, a graduate of the Undergraduate College and the Law School. In the days following the incident, Griggs' office was filled with flowers gifted by students, faculty, staff and community members.
"These deliveries often cause my eyes to water, especially when students, heretofore unknown to me, hand me cards or flowers while tearfully articulating their sorrow and regret that such an incident had occurred" Griggs told the Winston Salem Journal. In this photo, Griggs speaks at a panel discussion on Islamophobia hosted by the Office of the Chaplain in 2015.
2015: WFU Intercultural Center Inaugurated
Though the Office of Minority Affairs was created in 1978 by Dr. Herman Eure, the decision was made in the Fall of 2015 to change the name to the Intercultural Center as the university's demographics became more diverse. Since 2015, the WFU Intercultural center has supported underrepresented Wake Forest students through programming and student engagement efforts. The ICC has helped to bring public figures such as Ibram X. Kendi, Ron Stallworth, Michael Eric Dyson and Ishmael Beah to campus.
2018: Freshman uses racial slur against RA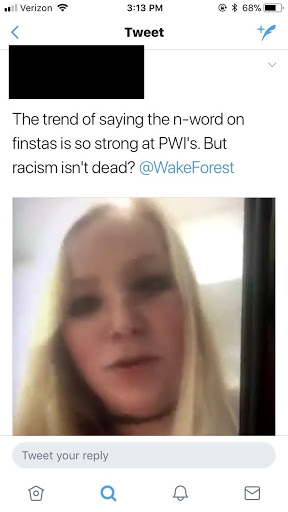 Freshman Kara Nelson posted a video on her "finsta" Instagram account in which she drunkenly admitted to having used the n-word against her Resident Advisor. A screen shot of the video was posted to Twitter by a fellow student, who added that "the trend of saying the n-word on finstas is so strong at PWI's." Wake Forest's Twitter handle was tagged in the post. Nelson later left the university as a result of her racist language.
2019: Racist student government campaign post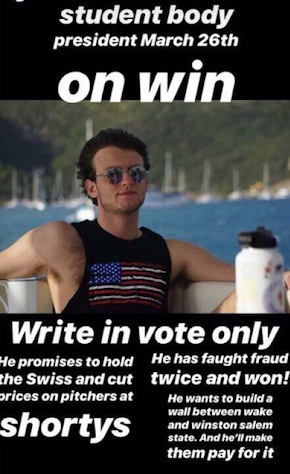 A Wake Forest student made a racist Instagram post promoting Kal Maier's write-in campaign for Student Body President. The post, drawing on the rhetoric of Donald Trump, facetiously referred to the Maier's alleged desire to "build a wall between Wake and Winston Salem State." The post sparked outrage among Wake Forest and Winston Salem State students.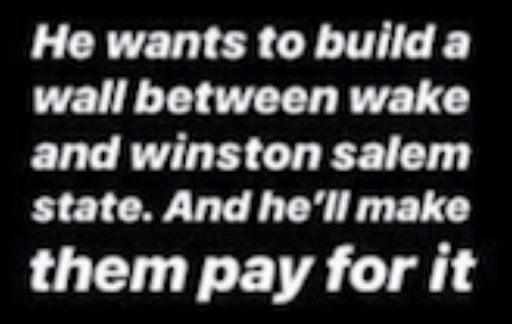 2019: Racist emails sent to faculty and staff
On Sept. 10, 11, and 12 faculty and staff members received threatening emails which contained racist, homophobic and anti-semetic language. The emails resulted in an increased security presence on campus. According to the Washington Post, the emails contained references to "the standards set by well raised white men." Joseph Soares, the Head of the Department of Sociology and a recipient of one such email, described the language as "a white supremacist call for genocide."
2020: Hatch apologizes for WFU's ties to slavery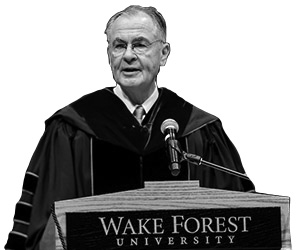 At the Founder's Day Convocation in February 2020, President Nathan Hatch acknowledged and apologized for the university's involvement in the institution of slavery.
2020: President's Committee on Race Equity and Community report released 
In June 2020, the President's Committee on Race Equity and Community released its report concerning the ways in which the University can take active measures in combating racism. The report called for minimum standards for the enrollment and hiring of minority students, faculty and staff, a drastic expansion of the University's  financial aid budget, and substantial increases in the University's investment in the Winston-Salem community. 
Editor's Note: The first event on the timeline was originally misdated as taking place in 1883, when in fact it took place in 1833. The organization "Fideles" was also mislabeled as Phi Mu.