Deacon Spotlight: Crawford Wade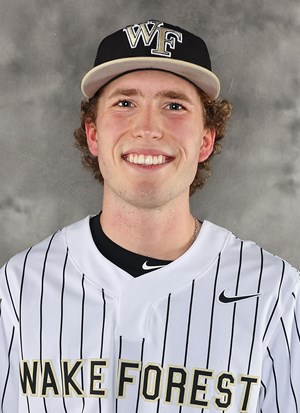 Crawford Wade is a freshman pitcher from Charlotte, N.C. on the Demon Deacon baseball team. The 6'4" lefty has appeared in four contests this season, mainly in relief duty. The No. 14 overall prospect in N.C. is averaging a strikeout an inning and has posted a 3.86 ERA through 4.2 innings pitched.
Wake Forest's last five games have either been canceled or postponed due to COVID-19 issues amongst the players. Wade has been in quarantine at the Best Western Plus since March 1 and will not be able to travel with the Demon Deacons to Miami for their game on March 12.
Cooper Sullivan: You have been committed to Wake Forest since the fall of your senior year. You and your family have been Wake Forest fans practically your entire life, so what was it like when you first got that offer to play baseball here?
Crawford Wade: I originally committed to the Air Force Academy [during my] sophomore year. When I started attracting some pro attention, there was a possibility I could've gotten drafted after high school, so I was planning on being kind of close to home for that. With the Air Force, you have to serve afterward and it's hard to balance baseball and the Air Force, so I wanted to find somewhere closer to home where I could focus more on baseball. I decided to decommit from Air Force after my last fall tournament in October. Wake was my first visit after decommitting, and as soon as I got to campus I thought, "Yeah this is where I have to be." My grandpa had always been the biggest Wake fan out of anybody — he had a whole basement dedicated to Wake Forest in his house. I have a twin brother, and there's a photo of us at a Wake Forest football game when I was maybe a couple months old. I was in gold and black and my brother was in Carolina blue and white. My brother's at UNC now and I'm at Wake, so it's just cool to see. My grandpa was a big driving force in [my] coming to Wake. He passed away in 2017, but I feel like being here connects me to him. He's one of the biggest role models in my life. Also, knowing that Wake Forest has a top-tier pitching facility was one thing that just grabbed me. It was a no-brainer once I got the call to come visit and got the offer. I was really invested in other schools like Miami, Notre Dame and NC State, but as soon as I got here I thought 'I want to come here.' Even since sophomore year of high school, my dream was to play baseball at Wake Forest, so I worked my ass off to make it happen.
CS: You've pitched four games so far this season.What did it feel like when you walked onto the mound the first time?
CW: I was nervous. I was actually super calm the whole way up until the game, but as soon as I got the "get hot" call in the bullpen I started shaking. I thought, "Oh my gosh, here it goes."
CS: Did you know you were going to pitch in that game?
CW: No, I wasn't planning on it. I went out there just to keep my body warm, but then my coach came up to me and said, 'Hey, you need to get going,' and I thought, 'Holy crap, this is it. [It's the] opening day of my freshman year, [and] I get to go in.' I was still really anxious, especially when I heard my name called. Before I got to the mound and threw that first pitch to the catcher, I was freaking out. Every single one of my outings after that first pitch I have been calm and in the zone, I just hate the build-up. After that first pitch, it's go time. There's not enough time to be nervous.
CS: What pitches do you have in your arsenal?
CW: Fastball, changeup, curveball. The fastball has been pretty good recently. I've had a little bit of a jump in velocity, sitting around 91, 93, topping out at 94 [mph] in the past two games, which is something I'm not really used to yet. My curveball is very 12-6. The fastball is a rising fastball, and my curveball is more drop-down, so they pair well. They spread apart and change the eyesight of the batter, and my changeup is in there just to get a guy to look silly.
CS: What are you trying to improve upon the most this season?
CW: My ability to gain more control, throwing my curveball wherever I want it and [curving] when I want it. Right now, I have my fastball for strikes, and I'll always have that extra pitch like my changeup, or if that's not working, my curveball. But I want to be more accurate with my curveball and place it more precisely. I changed my mechanics a lot over the fall with [Assistant] Coach [John] Hendricks, and I still haven't gotten comfortable with the new mechanics, so that's taking a little bit of a hit on my curveball. Once I get more comfortable and once the hinge and "glide down the mound" motion becomes muscle memory, my curveball will be a lot better. Right now, when I go down the mound, my front shoulder leaks open a little bit. That was why I had my worst outing against Notre Dame. My front shoulder was leaking and I hit a batter on the leg, but that's because I'm still trying to figure out my mechanics a bit.
CS: The team itself is very young. There are only eight upperclassmen, and ten of the freshmen are pitchers. Has the collective youth built team camaraderie?
CW: As a freshman, I was prepared to come in and be intimidated by those upperclassmen like I was in high school. But from day one, the team chemistry has been amazing, especially within the bullpen. From day one, I felt comfortable going up and talking to [Ryan] Cusick, Tony Menedez, Will Fleming or any of the guys in there. I can go up to any of our coaches, or any of our teammates, and just talk to them. Of course, it was scary going up to Bobby Seymour, knowing all the info about him, or Chris Lanzilli, our top guys. But honestly, they made it super easy by coming up to us and starting conversations. That's benefited our team already because without the chemistry it's super hard to make it to the playoffs or go to Omaha. I know it's the same for all of our guys: we feel comfortable going up and talking to any of the upperclassmen. We are with them every single day, and they're honestly some of my best friends now.
CS: Besides the talent difference, what is the main difference you see between this coaching staff and others you've had in the past?
CW: The way they can develop us is the biggest difference. The baseball knowledge all of our coaches have is incredible, whether it's Hendricks, Coach Wise (the pitching lab coordinator) or [Head Coach] Tom Walter. All of our coaches know so much about the game, how to get better and how to optimize your mechanics to be the best version of yourself. That makes it super easy to develop. They know so much more about the game and there is so much experience, especially with Coach Hendricks. He was a pro scout for 15-plus years, and he pitched for Wake Forest. The knowledge of every single coach on our team makes it so much easier for them to teach us and help us make our baseball game so much better.
CS: How does having several players quarantining in the hotel affect the team?
CW: Well, it's been hard. I've really wanted to stay on track, but that's been difficult. Our coaches have been there for us. I've gotten multiple calls from Coach Strahm — our physical trainer — and Coach Walt. I get texts and calls from all of my coaches saying, "Hey, do you need me to drop anything off?" We brought equipment to the hotel. We have this throwing sock so that we can practice throwing without a partner, or we can do certain drills by ourselves in our rooms. Of course, it's not going to benefit us as much since we aren't on the field. But we are doing the best we can do here. I know the guys that are on campus just started up small group activities either yesterday or Friday. We are going to be missing a bunch of our pitchers [for the Miami game], so we will have to take some more guys on our travel roster. Myself and many of the guys here won't be able to go. After that, we will probably go back to normal once all of us get back.
CS: How has this affected you mentally?
CW: I hate it. All I want to do is work out and stay on track. I'm trying to eat right and sleep right, but my appetite is terrible right now. It sucks. It's such a mental game. Especially since you are stuck in a hotel room by yourself while all your buddies are practicing and working out, it's a little depressing. I just want to go out, do stuff and see people. I get back on March 11, so right now, I'm just focusing on schoolwork. But as soon as I get back on campus on Thursday, it's go time.