CRC provides comforting resources for students
Recovery communities prove to be a vital resource on college campuses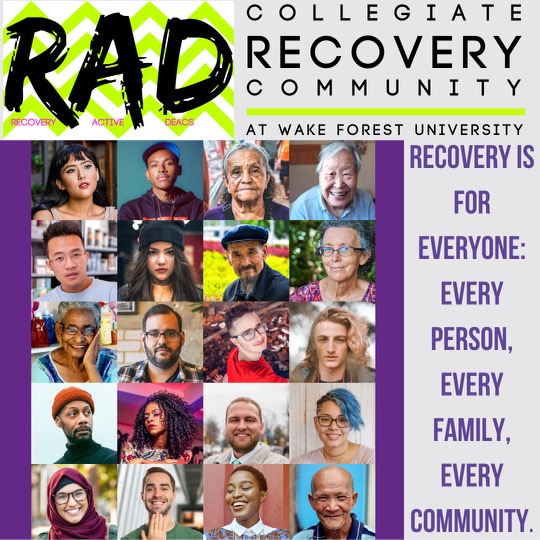 Every September, the Collegiate Recovery Community (CRC) of Wake Forest recognizes a national recovery month that aims to celebrate those in recovery and spread the message of a life free from addiction to those in need. This year, however, things look a bit different for the Wake Forest CRC, affectionately known as RAD (Recovery Active Deacs). Over the past year, the WFU CRC has worked to redefine itself to reach a wider audience and provide help to even more students.
To start off, the Wake Forest CRC has maintained a vision which, according to their bylaws, is to provide a "model recovery-minded community that engages and encourages Wake students in their pursuit of sustained recovery and an enriched college experience."
This means that the community works to provide a network of support to students who are either in recovery or are thinking of entering recovery. The community has kept this vision for its nearly five-year duration. Now, it has decided to make a change to its scope.
In the past, the CRC focused solely on helping those students who identify as in recovery from alcohol and other drugs. The community has since expanded to provide a network to those identifying as in recovery from a variety of addictive behaviors, including, but not limited to drugs, gambling, porn and eating disorders, etc.
The CRC has also started to promote other recovery methods as opposed to teaching only an abstinence-based recovery. This has allowed the group to be open to alternative, but valid, methods of recovery that a person may identify with. The CRC reached this decision after looking at their own reach and finding an understanding that other recovery methods are valid and that the mental health of all students suffering from addiction is most important. It was necessary for them to see how addiction can then take many forms and so one approach may not work for everyone.
These two changes to the definition of the CRC will hopefully lead them to engage with a larger community of students and provide a more tailored service to them. The original vision still stands, and it is perhaps even more enriched with this new definition the group has undertaken.
Currently, the group is looking to this year's national recovery month, with this year's theme being "Recovery is for everyone." This is an important theme and happens to align nicely with the group's recent redefinition in that recovery is for people suffering from a variety of addictions and can be treated in a multitude of ways. "Recovery is for Everyone" also means recovery is for people from a variety of backgrounds. It should not be denied to someone based on race, sex, gender, religion, or any other part of someone's identity.
To celebrate this month, the Wake Forest CRC will be posting daily inspirational quotes on their Instagram @wakeforestcrc and provide a "Symbols of Recovery Board" for all students to see and experience how recovery can be symbolized in a variety of ways. They will also be looking to celebrate the recovery of their members through a variety of events.
These are only some of the things the recovery community is looking to do this month, and it goes to show the profound impact it tries to have on students. Almost every student who has been a member of this group attributes a lot of their success to the community, whether it be in academics, professional endeavors, or even personal relationships. The community is an important part of a members' time at Wake Forest and it allows them to have a college experience their addiction may have denied them.
For this reason, a collegiate recovery community should be seen as an important thing to have on a college campus as more and more students come to terms with their addiction and look for a community that can help them through those troubling times.
Currently, the group is happy to e back on campus with all its members. They are even finding comfort in their member lounge, which had been closed due to the pandemic. They are now using this time to connect and look at their recovery journeys and see where they can all go from here, as recovery only offers a way forward, never backward.
If you or someone you know is in recovery or thinking about entering recovery, have them reach out to the WFU CRC at [email protected]. If you or someone you know is currently struggling with addiction, you/they should be encouraged to also reach out as well. The University Counseling Center is also a great resource for those experiencing addictive behavior.