All eyes on Omaha as WFU baseball kicks off this weekend
With high preseason rankings at the team and player levels, expectations are high
Ahead of the Demon Deacons' first weekend of games at David F. Couch Ballpark, enormous expectations fill the air around a squad that features a top-rate pitching staff and a highly touted lineup that is ranked in the preseason top ten by multiple outlets including Perfect Game (No. 5), D1Baseball (No. 6) and Baseball America (No. 9).
Along with those honors, the Demon Deacons were bestowed the honor of preseason ACC favorite along with Atlantic Division rival Louisville in the annual ACC Coaches Poll. They face the Cardinals in a three-game weekend series in Louisville in mid-April.
The Demon Deacon offense retains a majority of its lineup from last season, in which they scored in the double digits on more than 20 occasions, including four outings with 20 runs or more. Together with a pitching rotation that features names that are gaining national accolades, the team seems to be set for a run to Omaha, assuming all goes to plan.
PITCHING
Simply put, junior Rhett Lowder is on fire. After a record year that saw him earn ACC Pitcher of the Year honors, Lowder enters this season as not only the presumed favorite for the award again, but it can be argued that he is the best pitcher in all of college baseball. He also received preseason All-American honors from Baseball America.
Lowder, who was ranked second in wins last year with 11, also had a 3.08 ERA through 99 innings pitched. His elite changeup and mid-90-mph fastball allowed him to strike out 105 batters last year. The MLB has ranked him No. 14 on their overall prospect rankings list for the 2023 MLB draft.
Despite the heralded success of Lowder, the rest of the pitching staff has also seen recent success within the past year. Both Lowder and right-handed junior Teddy McGraw spent last summer with Team USA's Collegiate National Team, and McGraw has been receiving national acclaim, as well.
McGraw, who contains an arsenal of pitches including a slider and an off-speed changeup, finished last season with the lowest opposing batting average (.203) of anyone in head coach Tom Walter's rotation, including Lowder. He also placed No. 32 on D1Baseball's Top Prospects for the upcoming MLB draft.
The Demon Deacons also have a load of talented arms in their bullpen, not the least of whom is junior Camden Minacci, who also received preseason All-American honors by D1Baseball and Perfect Game.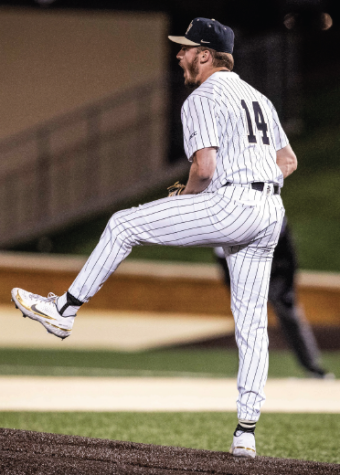 Minacci became a key arm out of the bullpen last season, making the most relief appearances for the Demon Deacons with 30. Six of those appearances resulted in saves, and his 59 strikeouts in 45 innings pitched proved crucial in late game situations. 
Despite the accolades that each of those arms is bringing to the table, there are multiple other names that will provide valuable minutes out on the mound, including sophomore Josh Hartle, junior Tulane transfer Michael Massey, junior Seth Keener and senior Reed Mascolo, just to name a few.
BATTING
Lowder was not the only player on the team to be selected as a 2023 Preseason All-American by Baseball America. Hype surrounds the two corners of the infield with both junior first baseman Nick Kurtz and junior third baseman Brock Wilken also being named to the prestigious list.
Kurtz achieved the honor of Freshman All-American status from five different outlets last season (Perfect Game, D1Baseball, Collegiate Baseball, Baseball America and the NCBWA). After appearing 53 times at first base last season, he is expected to remain a mainstay on the right corner of the infield. 
Wilken will seek to improve upon an astounding performance last season in which he had 23 home runs (second in single-season program history), 77 RBIs and a career-high of 69 hits. Wilken sits at No. 21 on D1Baseball's Top Prospects list for this upcoming draft, and Perfect Game and Collegiate Baseball have also selected him for Preseason All-American teams. He will man the hot corner just as he did last season, and it appears he will be batting cleanup.
Another impact player this year will be Tulane transfer and junior catcher Bennett Lee, who will replace the recently drafted Brendan Tinsman (Los Angeles Angels) behind the plate. Lee, who earned American Athletic Conference Newcomer of the Year honors in his freshman year, appeared in every game for the Green Wave last season. According to D1Baseball, Lee is also one of the highest-touted transfers going into the season, ranking No. 30 on their Impact Transfers list.
As for the interior of the infield, the Demon Deacons return good production at second base with Brooklyn, N.Y. native sophomore Danny Corona. Last season, Corona made 48 starts at second base, with a .355 on-base percentage (OBP) and 39 RBIs. He can get hot, as he went on a seven-game hit streak last season, including five RBIs over that span.
If there is one spot that will be toughest to fill for the Demon Deacons this season, it is both the leadership and production that were lost when the Toronto Blue Jays drafted shortstop Michael Turconi last summer. Turconi, who started every game last season in addition to being named team captain, had a .314 batting average to go along with 15 home runs and a team-leading five triples.
Multiple people will fight to replace Turconi, including incoming Lafayette transfer and graduate student Justin Johnson and incoming freshman Marek Houston. Johnson, who didn't see any action last season with the Leopards, had a promising 1.010 on-base plus slugging percentage (OPS) last summer with the High Point-Thomasville HiToms. Meanwhile, Houston has a chip on his shoulder this season after going undrafted out of high school. It seems as though Walters is high on Houston and will seek production from him this season.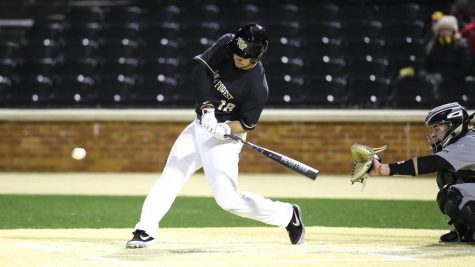 Another name to watch out for is sophomore utility man Tommy Hawke, who can spread his defense all around the diamond (and in the outfield). The speedy, multi-faceted Hawke led the team last year in both OBP and stolen bases as a freshman. After being named a Freshman All-American by Baseball America for last season's performance, he'll be an integral piece to maintaining a strong lineup throughout the scorecard.
Other names to pay attention to the starting lineup include senior Adam Cecere, junior Jake Reinisch, sophomore Chris Katz and sophomore Gio Cueto, each of whom played a significant role in last year's success that brought the Demon Deacons to the NCAA Tournament.
The Demon Deacons start their season at David F. Couch Ballpark this weekend, playing Youngstown State on Friday, Feb. 17 and Illinois on Saturday, Feb. 18.