Coverage is key to equality in sports
How equal broadcasts can give female athletes the respect they deserve
If you're anything like me, you might have spent the last week mourning the excruciating death of your March Madness bracket. You might have also watched with white knuckles as the team you picked to take it all the way got knocked out of the tournament. You might have audibly groaned as your family, friends and coworkers climbed your group's rankings to tower over yours with their total points. 
Or maybe your bracket is one of the ones to which I'm losing. Maybe you're doing well, and the promised prize of a betting pool or simple bragging rights is just days away from fruition. 
Regardless of how your bracket is fairing, you likely assumed from the offset that I was talking about the men's March Madness tournament. There's no shame in that assumption. It's a fair bet, given that in 2022 ESPN had 17.5 million brackets completed for the men's tournament and only 1.5 million (11 times fewer) for the women's tournament. Last year, the men's championship game averaged 10.7 million viewers, while the women's game averaged only 4.85 million.  
There's no doubt that there's a gender discrepancy in the world of athletics.
At the NCAA Tournament in 2021, this discrepancy was on full display when University of Oregon player Sedona Prince posted a TikTok showcasing blatant differences between the men's and women's weight rooms. 
The discrepancy expands to other collegiate sports, as well. According to the Women's Sports Foundation, collegiate institutions spend only 33% of their scholarship budgets, 24% of their athletic operating budgets and 16% of their recruitment budgets on women's athletics. University coaches for women's team sports earn 63 cents for every dollar earned by the coach of a men's team. 
"
As support for female athletics surges, media coverage must shift to reflect that, and broadcasting rights must allow for female athletes to capitalize on their own success.
At Wake Forest, coaching salaries align with this trend. In fiscal year 2019-2020, the last time Wake Forest employee compensation was published, men's basketball coach Danny Manning earned a total compensation salary of more than 2 million dollars, making him the second most paid employee on campus behind university football coach Dave Clawson. Then head coach of the women's basketball team, Jen Hoover, did not even rank among the top 18 highest paid employees. 
Turning to professional athletics, the discrepancies deepen. A 2021 study out of Adelphi University found that professional female athletes make anywhere from 15 to 100% less than their male counterparts. Tennis is the only promising example, where the average female earns an impressive 84% of the average male's salary. 
Even long before female athletes can consider a career in collegiate or professional sports, the opportunities are grim in comparison. The Women's Sports Foundation reported that female athletes in high school have 1.3 million fewer opportunities to play high school sports than men. 
The most infamous argument for gender discrepancies in sports claims that female athletes get paid less than men because they bring in less revenue than men. This justification has historically enabled unequal pay in sports but neglects two key components — coverage and broadcasting rights. 
Leagues and teams generate revenue from three primary sources: media rights, gate receipts and sponsorships –– but the lack of coverage and equal broadcasting agreements for female athletics perpetuates inequalities in all three revenue streams.  
Despite the fact that women comprise about 40 percent of athletes, women's sports only constitute four percent of total media coverage, and female athletes receive only 0.4% of corporate sponsorships. 
Additionally, existing broadcast agreements undervalue the growing support for women's sports like basketball and soccer. For example, while the men's NCAA tournament has been broadcast across several networks since 2011, the women's tournament was not on network TV until 2021.  
When solely evaluating revenue, it's easy to justify the discrepancies in evaluation at first glance. For March Madness, The Athletic reported that "the total net income for the men's basketball tournament was $864.6 million in 2018-19, while the women's basketball tournament lost $2.8 million  — the most of any NCAA championship." 
However, the biggest pieces of revenue for both tournaments are their TV deals, which the NCAA sells differently. 
The men's March Madness tournament has been sold as its own entity for the past several decades. In contrast, the women's tournament has been packaged with 28 other championships since it was sold to ESPN more than two decades ago. When lumped together with other sports, it is difficult for female basketball players to capitalize on the growing popularity of the game.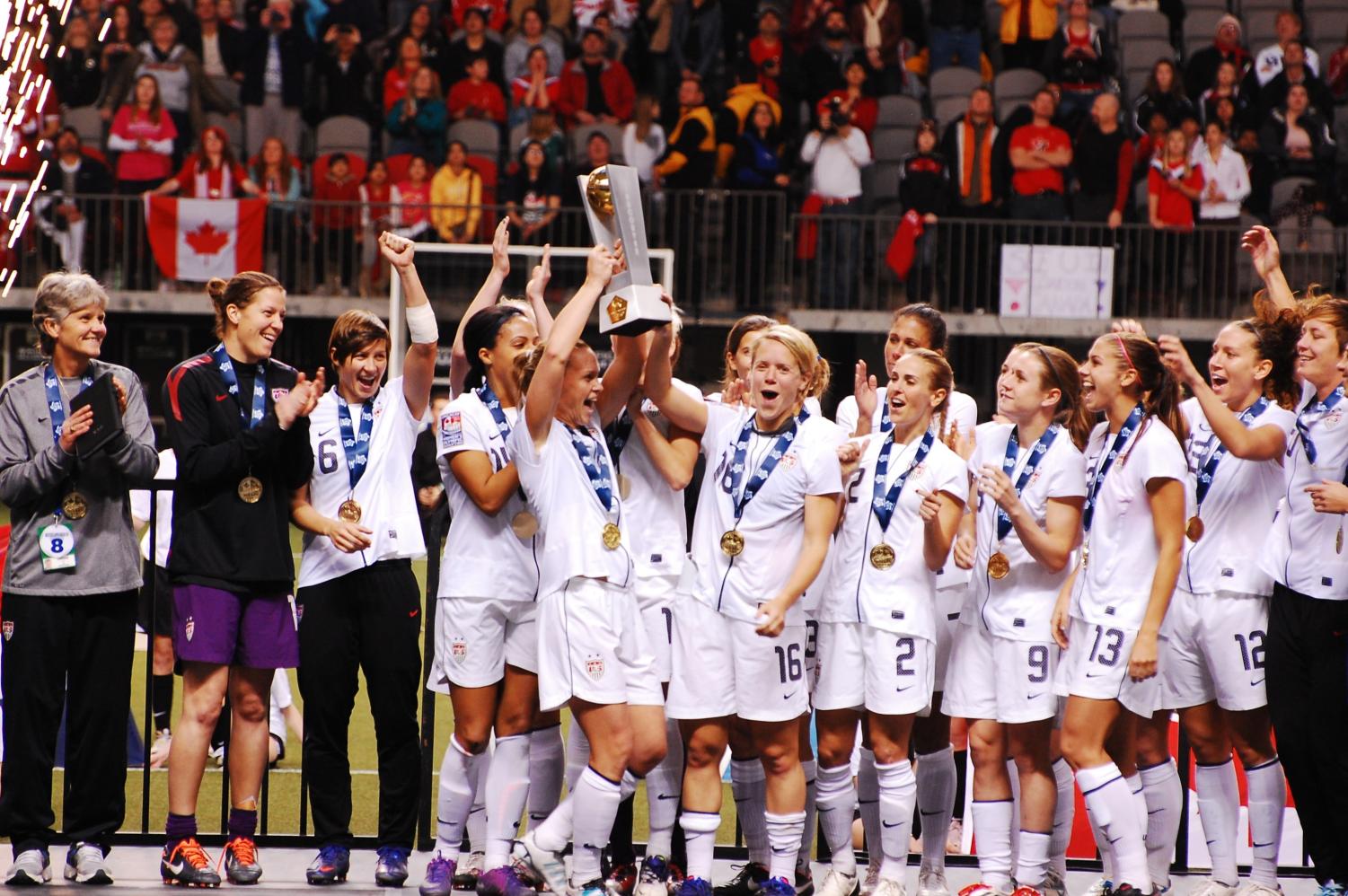 The national women's soccer team faced a similar issue in their fight for equal pay. When comparing game revenue, the USWNT held its own in comparison to the men's team since fiscal year 2016. However, games only comprise one-quarter of the revenue for the United States Soccer Federation, while sponsorships make up half. The USSF sells sponsorships, which include broadcasting rights for all soccer games, as a bundle, making it difficult to distinguish total revenue between the USMNT and the success of the USWNT. 
As support for female athletics surges, media coverage must shift to reflect that, and broadcasting rights must allow for female athletes to capitalize on their own success. 
ESPN's expanding coverage of the women's NCAA tournament and other women's sports has made headway toward advancing equality for women's athletics, but much progress still remains to be made. 
After the USWNT's historic win to receive equal pay from the USSF, the NCAA should similarly step up to renegotiate broadcast agreements for equal coverage. 
It's time to set a precedent for equal coverage. It's time to reassess broadcasting rights. It's time to abandon any gendered assumptions and support women's sports through their successes.