Delay does nothing to disrupt the Deacs
Wake Forest beats Maryland 21-6 after nearly five hour rain delay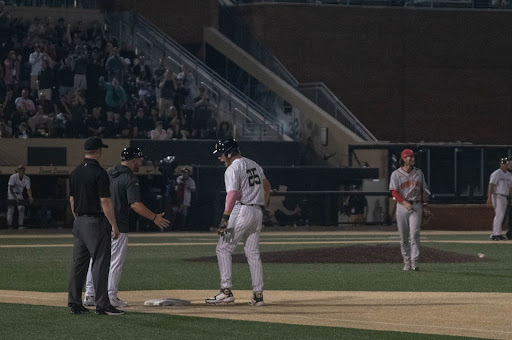 It had been nearly an hour since any rain had last fallen, but the after-effects were still lingering in the air. Flashes of lightning-quick speed from Tommy Hawke filled the outfield as the thunderous booms of a Rhett Lowder fastball hitting leather echoed from the infield. And even with the late start — 10:45 p.m. — it was a relatively early finish.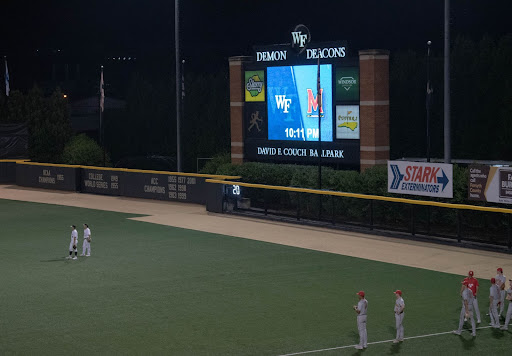 The 4-hour-and-45-minute weather delay did nothing but delay the inevitable, utter dominance by the Demon Deacons from start to finish. It was as if, in all that time away from the diamond, the Maryland team lost their readiness to play baseball. It was clear that Lowder had not.The two-time ACC pitcher of the year greeted a sizable and restless home crowd with three perfect opening innings, striking out six Terrapin batters before allowing a hit. A Nick Lorusso solo-home run broke the streak and got the No. 2-seed team on the board, but luckily for Wake Forest, they had an offensive buffer of their own.
After leadoff man Tommy Hawke struck out to open the bottom of the first, six straight Demon Deacons made it onto base. Four were able to score. With each passing of home plate, the stands and the dugout alike ramped up another notch. Roughly 60% of David F. Couch Ballpark was full of fans, mostly Wake Foresters, but the energy was that of a packed stadium.
"It was awesome," Lowder said of the turnout postgame. "I can still hear the two strike chants that kept me going. It's great. We are so grateful to have — especially at this late start with a lot of uncertainty in the day — to have that amount of people be that loud this late is awesome."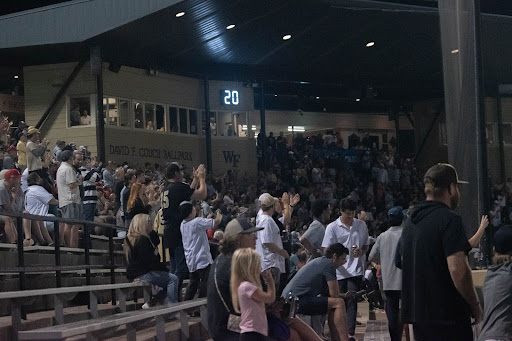 By the end of the third inning, the Demon Deacons had tacked on an additional two runs to their lead, thanks to the extra-base hitting of Justin Johnson and Pierce Bennett. Maryland starter Nick Dean was able to regain his composure after giving up six hits and four free trips to first base and retire the next five hitters for the Terrapins. The right-hander would come out soon after the first of six pitching changes for the night. 
"I thought [Dean] did a good job of competing through it," Maryland manager Rob Vaughn said. "He didn't have a great feel for his stuff tonight, and Wake [Forest] did a great job punishing him tonight. He didn't have a great feel for his secondary stuff, but we needed as much length as we could so that you're not having to throw in [David] Falco Jr., [Kenny] Lippman, [Andrew] Johnson, some of those guys knowing that we needed them."
The Terrapins bullpen struggled to keep the Demon Deacon bats at bay as Danny Corona and Marek Houston were able to drive three runners in during the fifth.
In the opposite dugout, Wake Forest manager Tom Walter was fortunate to use Lowder through the sixth inning, as the right-hander continued racking up strikeouts (11 on the night) and keeping runners off base. Until the top of the seventh, Lowder was able to retire every batter he faced with the exception of Lorusso, who wound up hitting another home run off the Wake Forest ace to make it a 9-3 game.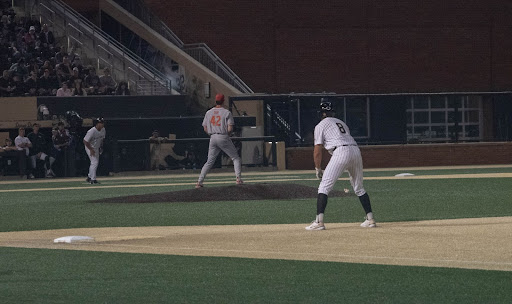 "I left the fastball right over the plate, and he had a pretty good at-bat," Lowder said of the Maryland All-American. "I was pretty tired, so that tends to happen when you get more fatigued. It was my first time pitching at 1:30 in the morning, and I probably could have eaten more throughout the day, so I kind of just hit a wall right there."
Lowder wasn't the only pitcher to succumb to the late-night lethargy. Over the course of the last two-and-a-half innings, there were 15 walks and five batters hit by a pitch (including Wake Forest's Lucas Costello twice in this span, three times in total). Nearly half of the total game time was spent watching a carousel of baserunners jog from bag to bag during the seventh and eighth innings. Pretty soon, Wake Forest and Maryland fans united in a desire for the game to come to an end.
After a few more home runs on both sides and a few more pitching substitutions, the Demon Deacons won 21-6. The last out was recorded at 2:06 a.m.
Maryland will play George Mason less than 12 hours later in a win-or-go-home game. The winner will then have a rematch with Wake Forest at 6 p.m.
Regardless of who wins the first game, Josh Hartle will get the nod for Sunday evening. Walter couldn't care less about the opponent, saying his team would be ready for either one. All he cares about at this time is getting some rest.