Maintaining a vegan diet can be incredibly difficult when you live on a college campus. Vegan college students often have to get creative in order to ensure that they are getting all of their nutrients. However, Wake Forest's Reynolda Campus hosts a variety of dining locations you can go to to get a clean, plant-based meal any day of the week. 
In 2017, Wake Forest unveiled a brand-new vegan station at the central dining hall, The Pit. This station is fully dedicated to providing plant-based meals to the student body, and it contributed to Wake Forest's 2018 ranking as one of the top 10 most vegan-friendly universities. Popular menu items include the sesame-soy soba noodle salad, homestyle pancakes (exclusive to Sunday mornings) and a tuna (but not actually tuna) poke bowl with tons of toppings. 
While the station is consistent, it does not represent the only vegan food options within The Pit. The black and gold grill station stocks plant-based meat substitutes, including Beyond Burger patties, and will prepare a plant-based burger any day of the week. Other stations frequently serve vegan side dishes, such as mixed vegetables and potato wedges, for a well-balanced meal. 
"I think Wake [Forest] does a pretty good job with vegan options," said senior Charlotte Calder. "The vegan station at The Pit has good variety, and most restaurants on campus have at least one or two options, so there's always something."
Story continues below advertisement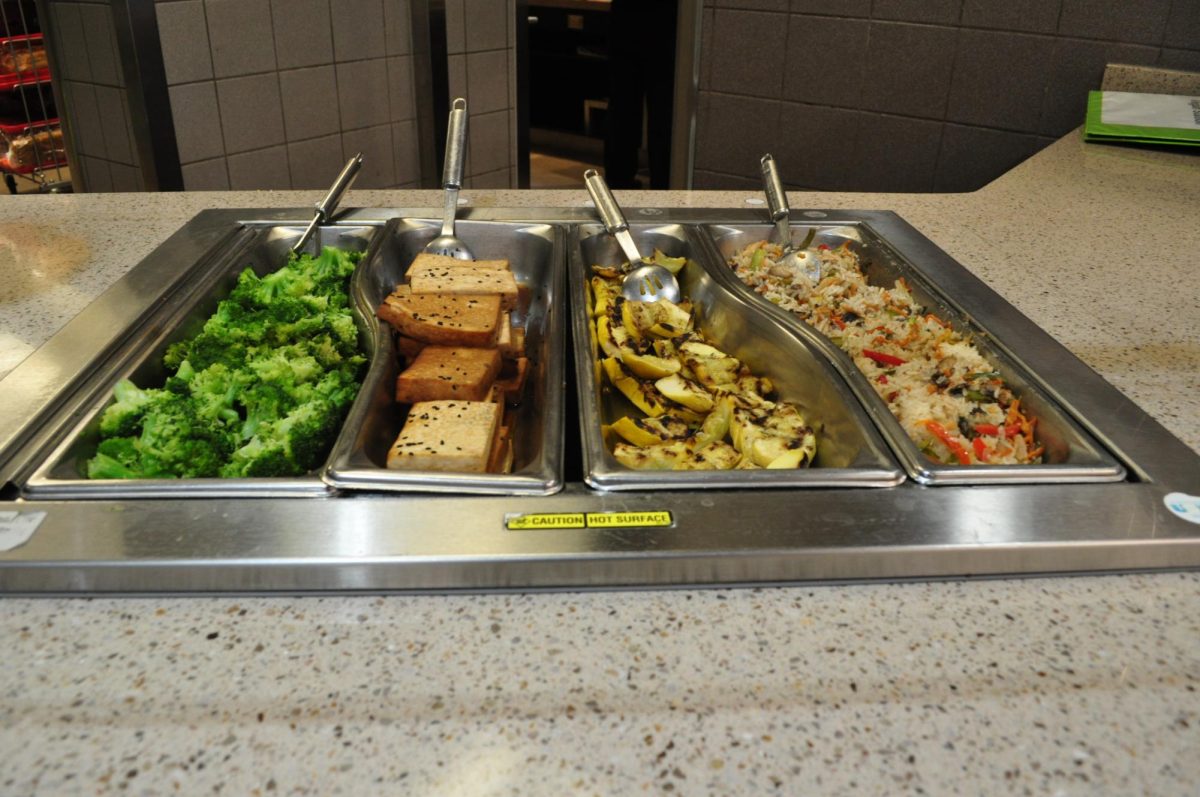 On-campus vegan options are by no means limited to The Pit. The Benson food court hosts a plethora of restaurants that offer vegan options or provide meals that can be made vegan with a few simple tweaks. One such example is Bento Sushi, which includes a variety of vegan-friendly dishes within its menu, including a tofu poke bowl and tofu donburi. If that doesn't seem inviting, you can always head over to La Sabrosa and build any kind of salad, burrito or bowl you want including their vegan chorizo. Just make sure to avoid the sour cream!
Contrary to popular belief, Forest Greens, while providing great vegetarian options, does not compare well to its food court counterparts when it comes to vegan options. Surprisingly, the restaurant does not stock any vegan protein options, so if you really wanted to eat there, you'd be largely limited to vegetables, lacking texture and variety in your meal. 
"I do think more vegetarian options could be available, but Wake Forest does a better job than other campuses I know of to provide different options," senior Chloe Menzies said. "Off the top of my head, I can think of at least five places on campus with customizable vegetarian options. My personal [favorite] is the Benson vegetarian dumplings."
Over at North Campus, vegan options can also be found. Village Juice is prolific amongst the on-campus vegan community with its selection of vegan smoothies, salads and pre-packaged snacks. Some of the most popular plant-based options offered by Village Juice are their toast meals. These include the avo-vegan toast slathered in housemade avocado spread, herb oil and microgreens, and the nut butter and banana toast served with cashew butter, banana slices and honey. Also on North Campus, you can head over to Einstein Bros Bagels and grab an avocado bagel to be eaten on the go, or to be enjoyed in Farrell Hall. 
If you are in search of a simple snack to eat between classes instead of committing to a full meal, Smith's Coffee Shop in the ZSR Library stocks a limited amount of vegan pastries, including a chocolate chunk cookie and an oatmeal cream pie. All coffee shops on campus offer plant-based milk options, so you can still get a latte wherever you are. 
Have you tried any of the vegan options of campus?
Sorry, there was an error loading this poll.
Despite how vast vegan options on campus may seem, vegans still occasionally feel as if there is nothing for them to eat. This often has to do with the types of foods that are offered at on-campus dining areas at different times of the day or additional dietary restrictions that some vegan students may be limited by. However, being aware of what's good, where things are and when to get them is always helpful. Harvest Table Culinary Group, Wake Forest's dining provider, did not respond to the Old Gold & Black's request for comment in time for publication.