Controversy arises after Louisville football game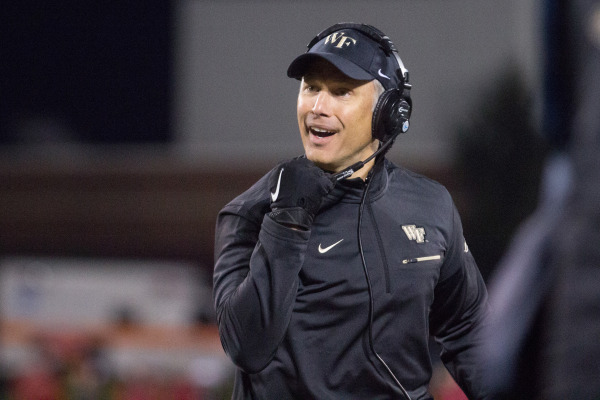 Dan Collins of the "Winston-Salem Journal" reported on Wednesday, Nov. 16 of a possible breach of Wake Forest's game plan prior to its game last week against No. 6 Louisville.
Documents were discovered inside Papa John's Cardinal Stadium that showed specific plays the Demon Deacons had yet to use in a game this season.
A member of the Wake Forest traveling party found the documents Friday, nearly a full 24 hours before Saturday's 6 p.m. kickoff.
"There somehow was a breach, and I've shared it with our AD. We are trying to figure out what happened and how it happened," said head coach Dave Clawson in the ACC coaches call on Wednesday.
"We're trying to figure out how information got out of our office, and that's where we are with it now. We're trying to figure out how a breach happened, and we're doing everything we can internally to make sure that all of our information that pertains to us stays in-house," Clawson said.
At first, athletic director Ron Wellman declined to comment when the story first broke Wednesday morning but later issued a statement on the potential scandal.
"While in Louisville for last Saturday's football game, a member of our official travel party found a number of documents pertaining to our Louisville game plan," the statement read. "We are investigating the matter internally to prevent future breaches. I have also notified [ACC commissioner] John Swofford and [Louisville AD] Tom Jurich about this matter."
Louisville coach Bobby Petrino claims to have no knowledge of the situation and expressed how he takes a lot of pride in the way his staff operates their program.
On Wednesday, Petrino issued an official statement to clarify his position.
"As I've stated already this season, my coaching philosophy has always been to play the game with sportsmanship. Right now, our focus is on our game tomorrow at Houston and finishing the 2016 season strong," Petrino said.
Both Petrino and Louisville athletics have been the center of scandals in the past. In 2012 Petrino faced discipline for an inappropriate relationship he had with an assistant while working as the head coach at Arkansas. Just this year, it was reported that the Louisville basketball program was involved in recruiting violations that included strippers and prostitutes for recruits on their visits to campus.
Therefore, if confirmed to be true, a scandal surrounding Petrino and Louisville Athletics in obtaining an opposing team's game plan would not come as a surprise to many.
The truth of the situation is that Wake Forest dominated three quarters of this game, despite the lopsided final score. One could speculate that with a breach in its game plan, Wake Forest was unable to execute some of its offensive plays that potentially could have turned a few of its four first half field goals into complete touchdown drives.
A breach in game plan is significant, especially in a game that was close, even if the scoreboard did not show it.
All that Clawson and his team can do now is move forward and prepare to upset Clemson, a victory that would have the potential to shake up the entire college football landscape.