Wake Forest football faces Utah State, looks to start 3-0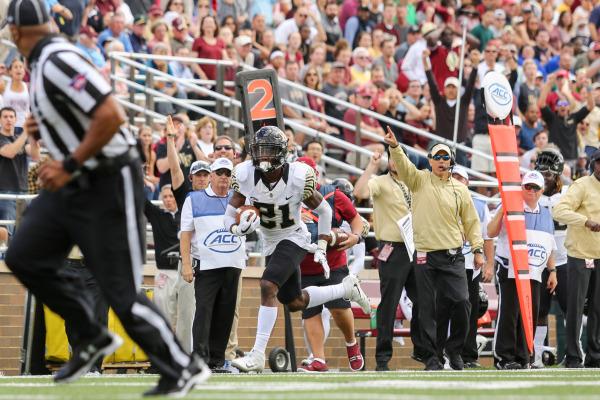 Wake Forest forced four turnovers in its dominant performance last week at Boston College, defeating the Eagles 34-10, securing its largest ACC victory since 2013 and largest conference road win since the Deacs shutout Florida State 30-0 in 2006.
Senior quarterback John Wolford continued the stellar start to his senior campaign, complementing two touchdowns with 151 yards through the air and 92 yards on the ground.
In two games, Wolford has looked comfortable in the pocket and has not committing any turnovers. His quarterback rating of 173.2 is an ACC-best and should give Wake Forest fans a reason to be excited, especially as the Deacs prepare for their homecoming matchup against Utah State on Saturday, Sept. 16.
With an average of 36.5 pass attempts per game, the Aggies of Utah State have shown through two weeks that their offense is pass-heavy. Senior quarterback Kent Myers has a significant amount of experience as a starter, yet has been vulnerable to mistakes so far this year. Myers has already thrown four interceptions to just two touchdowns so far this year, already half the total from his junior campaign. Through two games, the Demon Deacon defense has come up with four interceptions of its own, giving reason to believe that the outcome to Saturday's contest could be aided once again by winning the turnover battle.
The Wake Forest faithful may remember that the Deacs traveled to Logan, Utah in 2014 to face the Aggies in what was then just Wolford's third start in old gold and black. In this contest, Wolford was 20 of 50 for 257 yards, two touchdowns and two interceptions. Inexperience on the offensive line led to Wolford being sacked six times and throwing an ill-advised throw that was picked off and returned for a touchdown in the first quarter. Few Wake Forest fans probably remember the details of this game, having blocked out most of the 36-24 loss from their memories.
One can only speculate, but I can think of at least two individuals that I have not forgotten this game — John Wolford and Wake Forest Head Coach Dave Clawson.
Saturday's contest is not just the next game on the schedule, but it is an opportunity for Wolford and Clawson to show just how far this program has come in three years. In three years the Deacs have been patient, developed their players and grown in confidence and talent.
Expect Wolford and Clawson to make a statement. This Demon Deacon team is not the same one that rushed for negative 25 yards against the Aggies back in 2014, nor is it the one that committed three turnovers leading to two defensive touchdowns.
This Wake Forest team has greater confidence, experience and maturity, giving me the impression that this one will not even be close.
Wake Forest wins big as Wolford and Clawson show how the program has evolved into one of the more competitive teams among Power Five schools.
Prediction: Wake Forest 37, Utah State 13