Eight All-ACC honorees lead Deacs to 7-5 season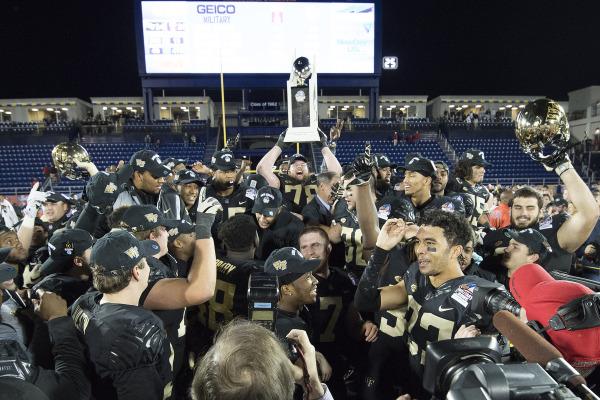 Two of the last four collegiate football programs to win the national championship have been members of the ACC, as has the reining Heisman Trophy winner.
The conference has made significant strides in recent seasons to surpass the SEC and Big 10 as the best among the Power 5.
This year, the ACC continued its dominance and the teams within the conference's two divisions have become more balanced.
Wake Forest was projected by many outlets to take a step back this year after exceeding expectations in 2016, winning seven games and reaching a bowl. Some even predicted the Deacs would win as few as four games in 2017 and would finish last in the Atlantic division of the ACC.
To the surprise of those other than the Demon Deacon faithful, Wake Forest finished with a record of 7-5, which included victories over ACC Atlantic giant, Louisville and in-state rival North Carolina State.
The Deacs were most notably led by the play of senior quarterback, John Wolford, but took significant steps forward this year by many who received less recognition throughout the season.
Improved play on the offensive line contributed to Wake Foret's program record 5,402 yards of total offense and the recognitions of center Ryan Anderson (second-team), lineman Justin Herron (third-team) and lineman Phil Haynes (third-team) to All-ACC honors.
Senior tight end Cam Serigne (first-team) set an ACC record for receiving yards by a tight end and freshman wide receiver Greg Dortch (second-team) notably recorded four  touchdowns against Louisville, despite playing through what would be a season-ending injury.
Defensive end Duke Ejiofor (second-team) led the Deacon defense to one of the top ranking units in terms of tackles for loss in the country.
Senior kicker Mike Weaver (second-team) played as good as any specialist in the country this year and notably kept Wake Foret in a position to win when the Deacs traveled to Syracuse in November. In this game Weaver connected on three field goals, including two of 40 yards or more.
Wake Forest had the third most All-ACC selections (8), trailing just Clemson (13) and Miami (10).
The 2017 regular season was an overwhelming success for the Deacs and the All-ACC selections were indicative of this fact.
Wake Forest now waits patiently to learn where it will play its bowl game.